My children love VeggieTales and I love that I can put on a fun, quality show that teaches them a good lesson. I love VeggieTales too. What can I say? They are just so cute and funny. My husband and I tease each other about Silly Songs with Larry. When we were teenagers, we used to sing the "Cheeseburger" song all the time. Ok, so I just admitted that we enjoy a little kids' show, but it's all good clean fun! And the kids think is cool and funny that Mom sings along. I could have made the "cool" part up – I think they might prefer that I let them enjoy their VeggieTales in peace, but I'll pretend otherwise.
Veggie Tales is back with two more great additions to their incredible library of shows. This time it's with the all-new "Family Builders" series. These movies are each a combination of three stories, including two classic bestselling VeggieTales, lots of music and bonus content.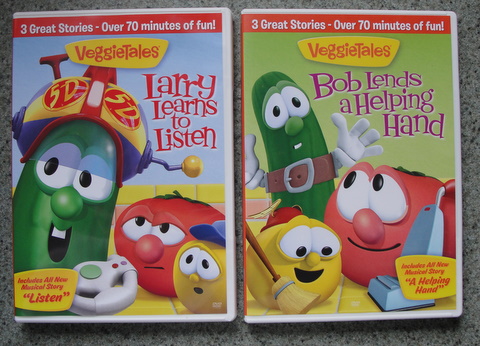 VeggieTales: Larry Learns to Listen is about a valuable lesson Larry discovers when he won't listen to his friends and read the directions to his exciting new toy. As a result, his toy won't work. Thankfully he has good friends who help him out, but he learns how important it is to pay attention to others and how God uses friends and family to help us each day. Included in this DVD are the two classics: "Pistachio" and "Josh and the Big Wall" as well as two sing-alongs with "Larry Learns to Listen" and "Song of the Cebu."
VeggieTales: Bob Lends a Helping Hand brings kids along as Bob and Larry learn about how they can be "superheros" by helping others. "Tomato Sawyer and Huckleberry Larry's Big River Rescue" and "Lyle the Kindly Viking" are included in this movie, plus another fun sing-along song with more bonus materials, like an interactive book.
My kids enjoyed these new DVDs very much and have asked for them by name often since we have had them. We have been talking about listening to parents lately in our household and it was wonderful to have some "back-up" from VeggieTales with this. Helping is another wonderful lesson for the kids to be reminded of. With three siblings, each of our children are quickly learning that we all must help each other and be kind.
I am so thankful for a wonderful company like Big Idea Entertainment who has made it such a priority to help children learn and grow in the Lord. There is sadly far too much mindless tv these days and VeggieTales is so refreshing.
Buy It:
You can find these Veggies Tales DVDs in stores now.
Disclaimer: Thank you to the sponsor for the free product I was sent to review. I received no monetary compensation and my opinions are my own and were not influenced by the sponsor.