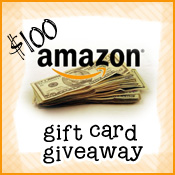 Is your blog traffic lagging after the holiday rush? This is a great event to bring in traffic and gain some new followers!
Why should you join this event when there are many others out there?
With this event, there will be no more than 10 blogs participating, plus I provide individual Rafflecopter forms for each blog. Instead of the big blogs getting all the traffic with one big form, there will be more traffic to YOUR blog. With daily tweets, that makes it even better.
Check out our last Amazon Gift Card event.
Details:
Dates: January 16-30
Cost: $12 gives you 4 links (Google +, GFC, Facebook, Twitter, RSS feed, a Picket Fence vote, etc.) + daily tweets on your individual Rafflecopter form
Prize: $100 Amazon Gift Card
At the end of the giveaway, I will combine all entries and choose a winner with Random.org.
Sign Up:
To join, please fill out the form here and follow the instructions for payment via Paypal there.
Blogs are listed in the order that payment is received.
This event begins Monday!
Email me with any questions!