Samuel and I recently had the privilege of trying out some great products from Nuby! We were allowed to choose which items we wanted to try, and let me tell you, that was a hard choice because Nuby has so many great looking products!! In the end, we chose the Grip N' Sip sippy cup, the Easy Go Suction Bowl and Spoon, Loopy Lights, Tickle Toes Turtle, and their new Tub Time Turtle. Samuel liked the idea of a turtle theme with those last two. 😉

As soon as our box of goodies arrived, we wanted to dive right in and try everything out! But we paced ourselves and spread the fun out over a few days. Samuel wanted to play with the toys first, so we started with Loopy lights. Nuby's Loopy Lights is a fun toy that is designed to stimulate baby's hand and eye coordination. It lights up and plays a little tune when the center button is pressed, and the various hard and soft surfaces around the ring provide great teething material. This toy is really lightweight, and the button in the center is not hard to press, so it really is perfect for little hands!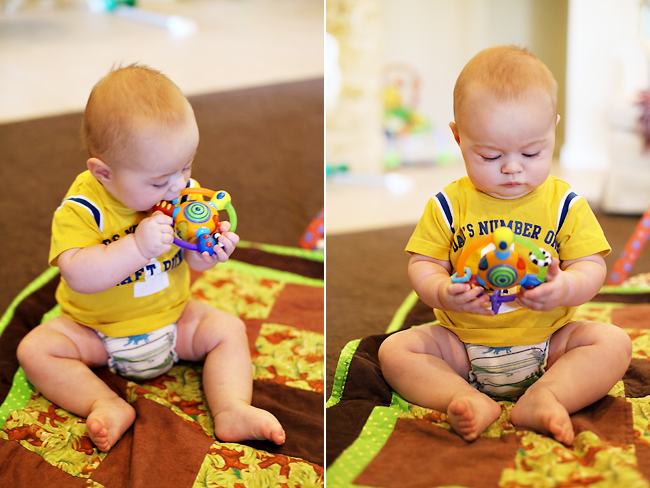 Another great Nuby toy that Samuel got is the Tickle Toes Turtle. This turtle is adorable! He is super soft, and when you squeeze his foot he breaks into gales of giggles and chuckles. It NEVER ceases to make Samuel smile, and he often begins to laugh as well! There are many adorable Tickle Toes characters available in addition to the turtle, including a duck, bear, monkey, hippo, alligator, rabbit, lion, frog, and a dog.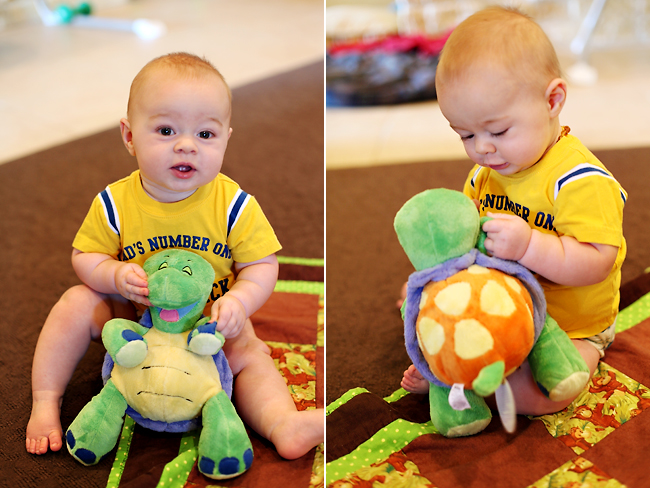 Samuel loves bath time! And, of course, any decent bath includes toys! Nuby's new Tub Time Turtle offers lots of bath time fun for the little ones. It floats on the surface of the water, so it is always within easy reach. I really like this feature as Samuel seems to easily lose his toys in the water. But the fun part is when you lift the Tub Time Turtle out of the water. The water cascades out of the colander-like bottom, creating a fun waterfall! Samuel loves putting his hands under it and feeling the water as it hits his hands. I see many fun baths in our future with this toy!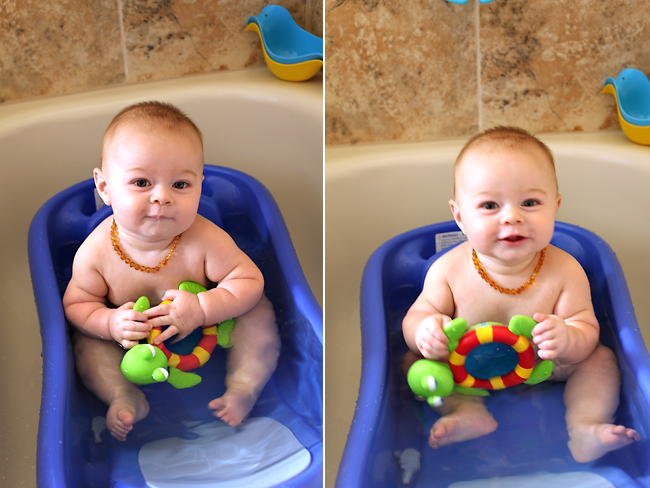 Of course, meal times are also very important! And Nuby provides many wonderful products to make meal times easier. Samuel got to try out the Grip N' Sip sippy cup. I took a real chance on this item as Samuel has never really gotten the hang of tipping a sippy cup back in order to drink out of it. But I decided we should give sippy's another try, and I'm so glad we did! The soft, silicone spout is easy to clean and is no-spill. Even better, the 1-piece valve requires very little suction, which is better for natural palate and teeth development. The soft easy-grip handles on either side of the cup make it easy to hold (although you'd never know this as Samuel has taken to chucking everything on the floor lately), and something I really love is the cover that snaps on to protect the spout! While Sam wasn't as proficient at drinking out of this cup as he is with straw cups, he did much better with this one than any other spout sippy. And that's a win in my book! We'll be keeping this one. 🙂
Finally, the last product we tried is the Easy Go Suction Bowl and Spoon. I wanted something I could easily use on-the-go, and this bowl and spoon set looked promising. We tried this out at home first, just to see how we like it. I put some banana chunks in the bowl and handed Samuel the spoon that goes with it. Of course, he is not old enough to feed himself with a spoon yet, and it's easier to pick up banana with your fingers anyway, but he sure enjoyed holding that spoon! This bowl is generously sized, so you could put just about any time of snack or meal in it. It has a suction base to help keep it in place while baby eats. It also has a lid that snaps firmly over the top of the bowl, and a little slot for snapping in the spoon. I really love the lid and spoon. We own a similar bowl of another brand, and the lid snaps of so easily, and the spoon does not stay in place. But I am so impressed with the lid and spoon storage in the Nuby bowl! This is something I can definitely toss into a bag without worrying about the lid coming off or the spoon dislodging and getting dirty. The only problem we experienced was with the suction base. It would not stick to the top of our wooden table. I suspect it would do just fine with most restaurant tables though!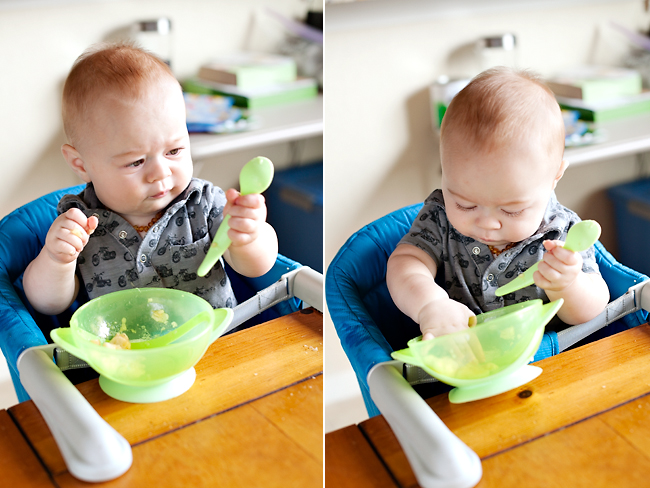 In the end, I am very impressed with the quality of our Nuby products and will not hesitate to recommend them to my friends!
Nuby products can be purchased directly from Nuby, Amazon, and many other retailers that can be found through Nuby.com