Note: This is a guest post from Savannah, who blogs at HammockTracks.
Good hearty breakfasts can be time consuming to make and create lots of dishes. I recently created 24 mini quiches in about 30 minutes of prep time. They baked for 20 minutes and then I did one dish clean up. Over the next week, whenever I needed a quick breakfast I would grab a quiche and pop it in the microwave for 20 seconds. My son would eat them on the way out the door to college and the kids were able to make their own meal without dirtying any dishes.
I use a gluten free cornbread mixture in the eggs. When the quiches cook the cornbread settles to the bottom and creates a crust. Keep in mind that any of your favorite omelet ingredients could be substituted for the zucchini and sausage. And of course these could be frozen for future use, too.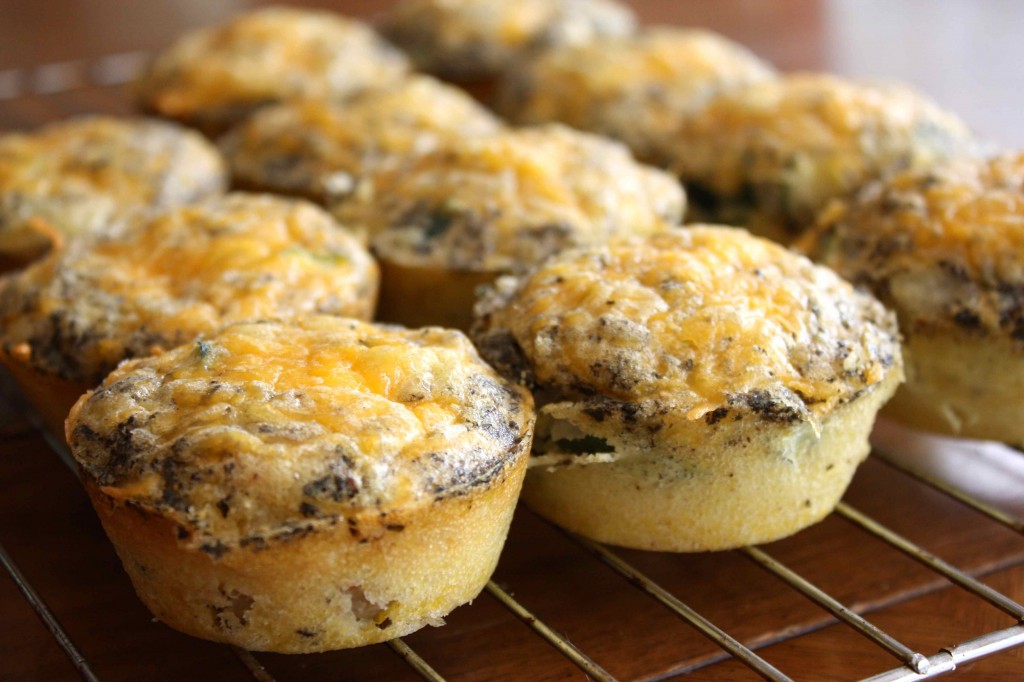 Zucchini and Sausage Mini Quiches
2015-04-20 17:48:00
These tasty mini quiches are perfect for making ahead and reheating for a quick on-the-go breakfast later.
Ingredients
1 1/2 average size zucchini, diced
1/2 onion, diced
1 teaspoon salt
1/2 pound bulk sausage, browned and crumbled
1 cup yellow cornmeal
1/4 teaspoon baking powder
1/2 teaspoon baking soda
1/2 teaspoon salt
3 tablespoons vegetable oil
1 cup buttermilk
7 egg, slightly beaten
1/2 teaspoon pepper
1 teaspoon basil
2 cups cheddar cheese, shredded
Instructions
Brown the sasuage and set aside. Spray non stick pan with cooking oil and add onion and zucchini. Sprinkle with salt. Cook until the onions are transparent, stirring occasionally. While cooking combine cornmeal, baking powder, soda and salt in large mixing cup. Add buttermilk and eggs mix well. Stir in oil pepper and basil. Liberally spray 2 muffin tins (12 muffin each) with vegetable spray. Spoon sausage into each muffin hole, dividing evenly. Do the same with the zucchini and onion mixture, adding to top of sausage. Pour egg and cornmeal mixture over vegetables. Stop after pouring every other muffin to stir batter with whisk. If you do not, the cornmeal will settle in the bottom of the bowl, and only the last few muffins will have a cornmeal crust. Top each muffin with cheese.
Bake in 350F for 20 minutes.
Allow to cool a bit before gently lifting them out of the muffin tin with a spoon. I waited until I could hold the muffin tin without burning my hands. Then I gently pulled the edge away from each quiche and slid a spoon inside the muffin cup. I inched the spoon around the edge and popped out each quiche.
Living Well Mom http://livingwellmom.com/
–Erika