The stockings are hung by the chimney with care, in hopes that Saint Nicolas soon would be there…
Does Santa ever get stumped on what to put in the stockings? I'm sure he gets tired of those cheap (or sometimes not) toys that kids barely pay attention to before ripping into the real stuff. What about something the kids will actually love?
My friends, I have the answer for you and Santa! It's easy homemade playdough for Christmas! This is simply my original easy recipe for homemade playdough jazzed up with a little peppermint extract. And it takes just a few minutes to make a batch.
The result? A super fun DIY stocking stuffer the kids love that costs you (or Santa) just pennies. It's a win-win!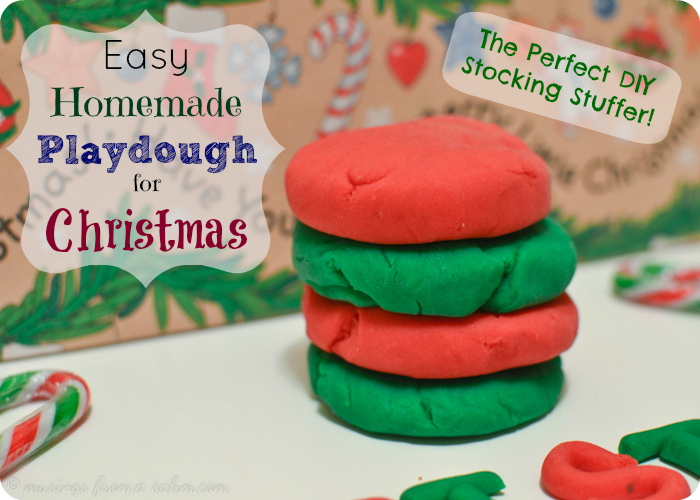 Here's the step-by-step directions on how to make it. It may look daunting, but believe me, it's not. If I can successfully make multiple batches while trying to grab my almost 2 year old off the kitchen table, wiping up spilled water from my 3 year old, and breaking up a fight between my older two, you can definitely make it. It's actually kinda hard to mess up…of course you have to read the recipe and I DO recommend using these ingredients.
What You'll Need:
1 cup flour
1/3 cup salt
2 teaspoons cream of tartar
1 cup water
1 tablespoon vegetable oil
1/2-1 tsp peppermint extract (gives it a holiday scent!)
food coloring
*Note: this batch will make approx the amount of 4 store bought playdough containers. If you want to make a variety of colors, you can half the recipe too. (I use just under 1/4 cup of salt for each half-batch.)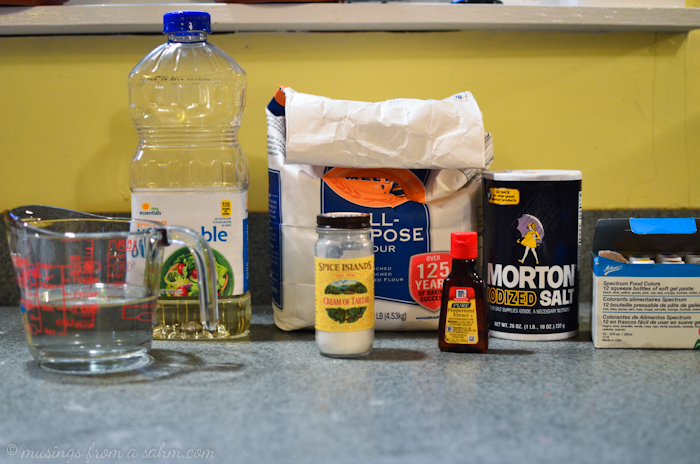 One common question I get is how do you get such vivid colors? I do by using AmeriColor food color: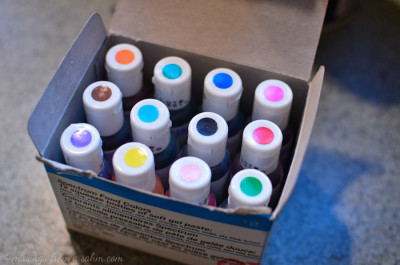 Let's Make Playdough!
Mix the flour, salt, and cream of tartar together in a 2 quart saucepan.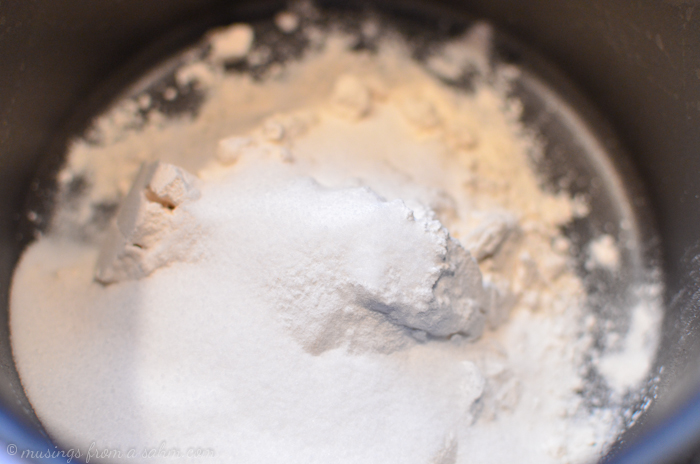 Add the water, oil, and peppermint extract to the flour mixture. Ahhh and enjoy the pepperminty smell!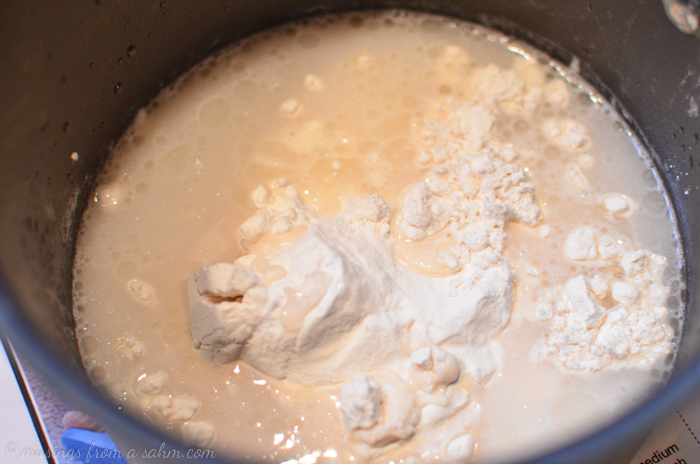 Turn on the burner to medium/low heat and stir.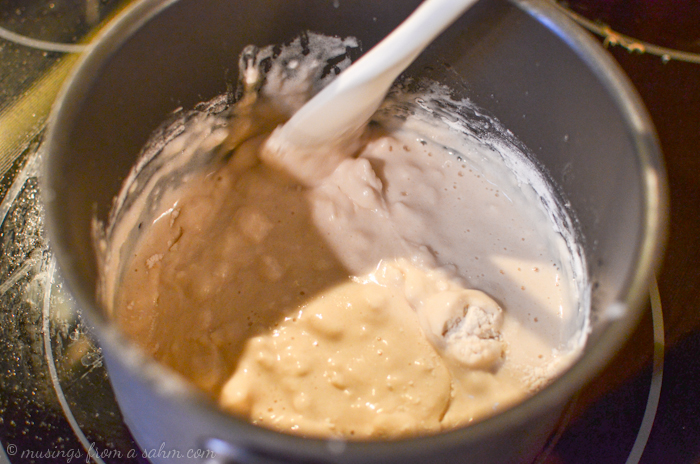 Lumps are ok. If you don't break them up all up during this step – and I often don't – you'll work them out later because it's well…playdough. Believe me, the lumps are a good excuse to have some fun testing the playdough out yourself. You'll see what I mean later… *wink*
Keep stirring until the mixture starts feeling a little more solid. You can tell when it starts separating a little at the bottom of the pan. This could take anywhere from 20 seconds to 2-3 minutes, depending on how hot your stove is.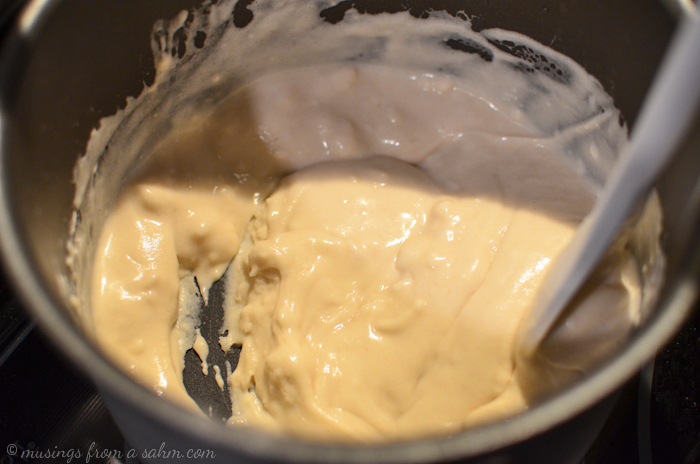 Add the food coloring right away. The playdough begins to solidify quickly from here, so it's easiest to mix the food coloring in just before that point. If you miss that window of time, it's ok – your playdough will still be fine. You'll just have to work the color in fully by hand once it cools later.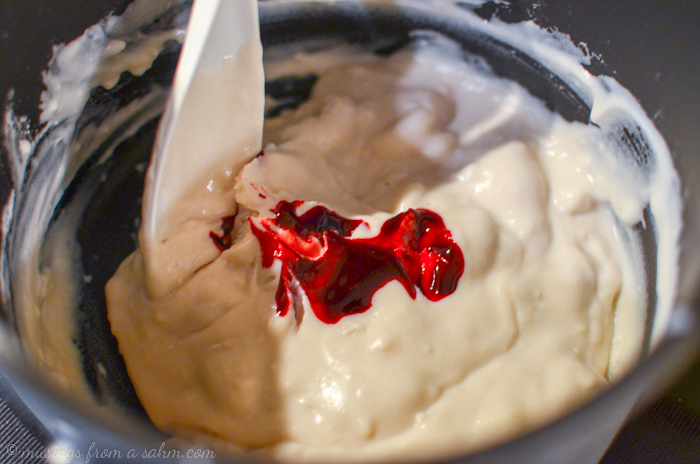 See how it works together into a ball?
And you can see how I still have some white lumps in there… that's ok – I worked them in later.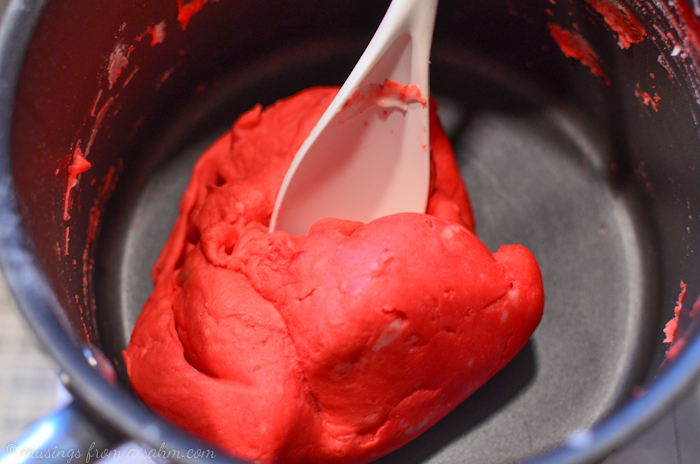 Now dump the ball of playdough onto a plate or piece of waxed paper to cool. It won't be super hot, but I usually let it cool for about 5 minutes before kneading it to get any lumps or food coloring mixed in completely.
That's it! Homemade playdough for Christmas!

I like to store our playdough in ziploc bags. Just make sure you let the playdough cool completely before zipping those bags tight or you'll end up with moisture inside.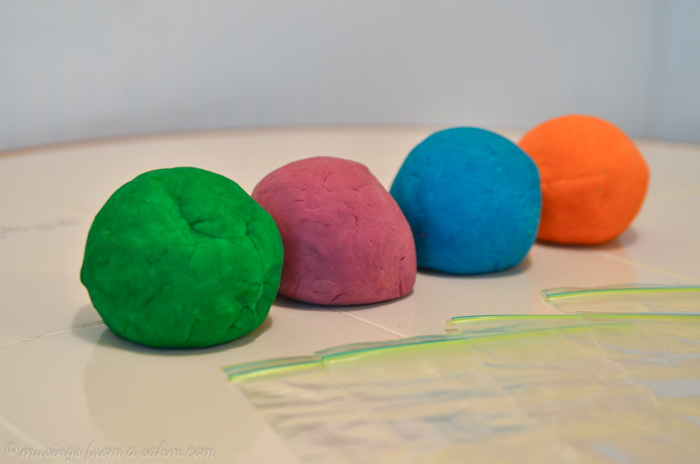 How do I turn this into a stocking stuffer?
Keep in mind that I'm not the most crafty person out there, but I've tossed around a couple simple ideas. (I'm all about simple.)
1) Reuse old store bought playdough containers.
2) Store in a ziploc bag, wrap colored saran wrap around, and tie with a ribbon.
3) My favorite – Put your ziploc-bagged playdough in a crinkled holiday cookie sack bag and tie with a ribbon.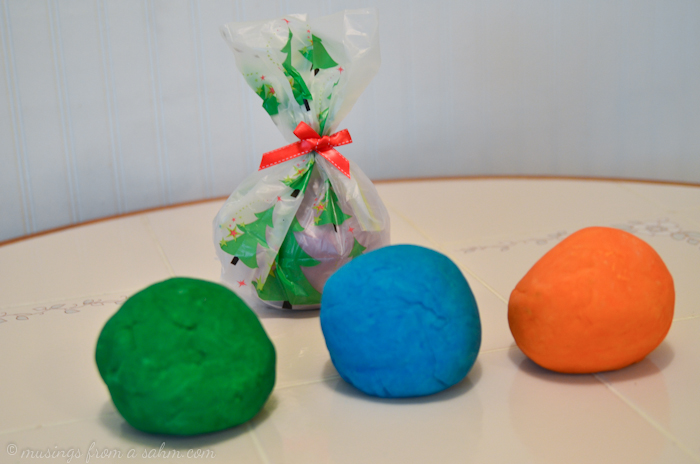 Homemade Playdough is a Perfect Gift for Any Child
You don't have to limit this to just a stocking stuffer. Make a bigger batch and give your child playdough as a regular gift too! It's perfect for any child on your gift list, really.
My favorite way to gift it? Buy cheap plastic cookie containers from the store – they seal tightly so you don't have to use ziploc bags (still recommended if you make different colors.) And with it's very own handle, kids will be in heaven with their homemade playdough for Christmas!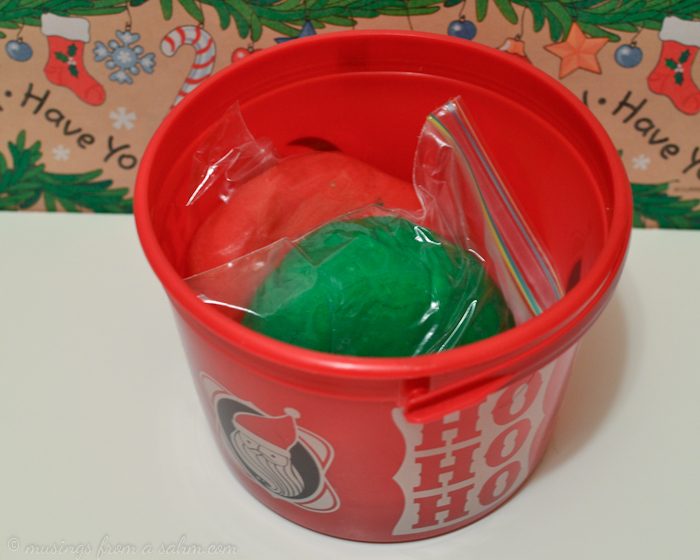 Enjoy!
If you found this post helpful, please be sure to spread the word and pin it (with the easy button above) and tweet, etc. Thank you!
Merry Christmas and Happy Holidays, friends!
Questions? Check out my Easy Homemade Playdough FAQ page!
Note: this post may contain affiliate links