January is perfect soup-making season. And our weather yesterday with a high of 20 degrees and lows near zero was the perfect day indeed to make my Split Pea Soup with Ham recipe. And is this ever a delicious version. Not to mention, it's another great way to use up leftover ham. (Be sure to see my Scalloped Potatoes and Ham recipe from last week too – another yummy winner!)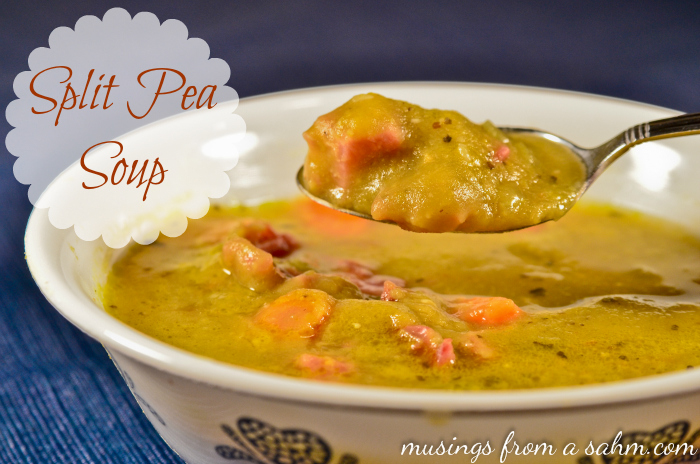 An array of spices adds a gentle flavor and the ham, carrots, and celery add some bulk to the soup. This Split Pea Soup recipe is pretty versatile too, in that you can leave any of those out if you want. Personally, I prefer my Split Pea Soup with ham because it adds the perfect flavor. But if you don't, this recipe still tastes delicious without it.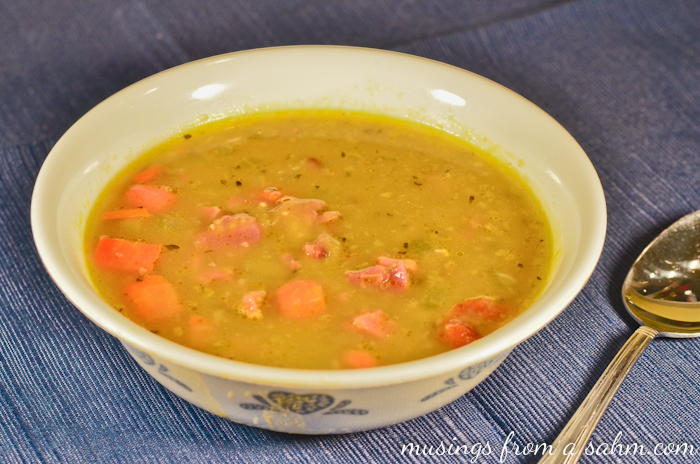 Makes: about 10 servings (2.5 quarts)
Here's What You'll Need:
1 package (16 oz) green split peas
1 meaty ham bone (or ham pieces, chopped)
1-2 tablespoons minced onion
1 teaspoon salt
1/2 teaspoon pepper
1/2 teaspoon thyme
1 tablespoon basil
1 cup chopped carrots
1 cup chopped celery
Rinse the peas in cold water and check over for any of those pesky stones that occasionally sneak into the package. Pour the beans into a large pot, like a Dutch oven.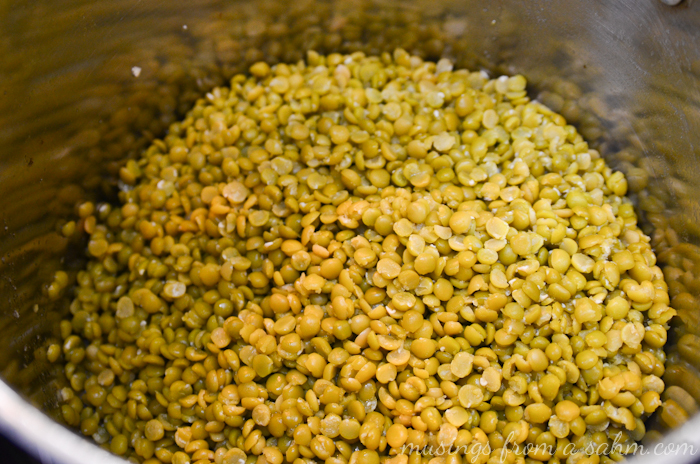 Add enough water to cover the peas by 2 inches. Bring to a boil and boil for 2 minutes.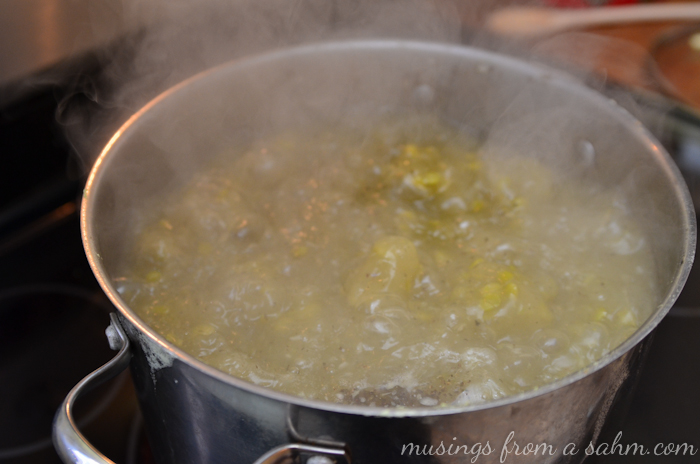 Remove from the heat. Cover and let stand for 1 to 4 hours, until the peas have softened. Drain all the water and rinse the peas.
Return the peas to the pot. Add 2 quarts of water (you can add a little more or less, depending on how thick you like your soup.) Then add the ham bone, minced onion, salt, pepper, thyme, and basil.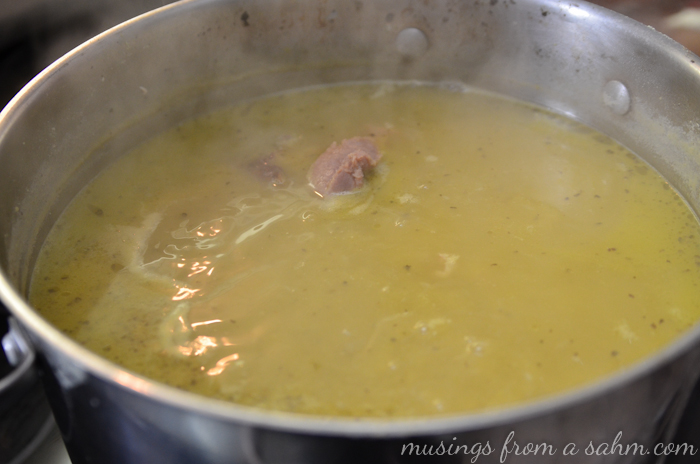 Bring to a boil. Reduce the heat and cover and simmer for 1.5 hours, stirring occasionally.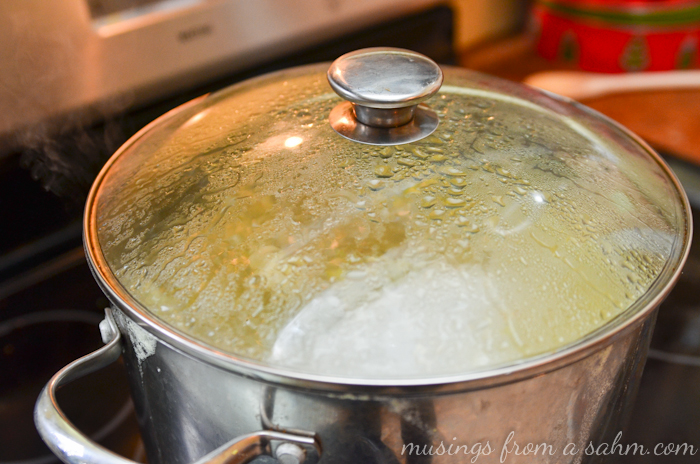 Remove the ham bone, and when it's cool enough, remove the meat from the bone. Throw the bone away and chop the meat into small pieces. Add the ham bits to the soup, along with the carrots and celery.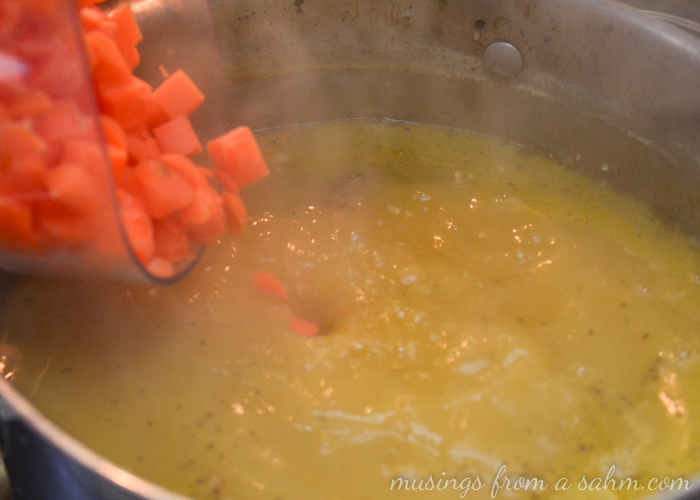 Simmer, uncovered for about an hour, or until the soup is as thick as you want it and the vegetables are tender.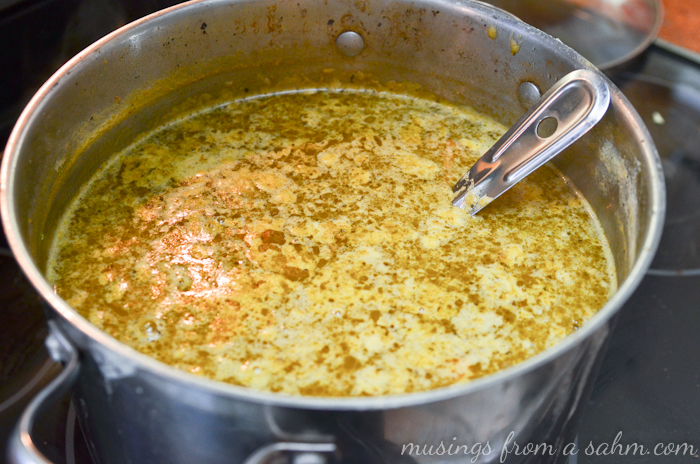 Serve your Split Pea Soup and enjoy!
It tends to thicken up overnight so that's good to remember if you like thicker soup.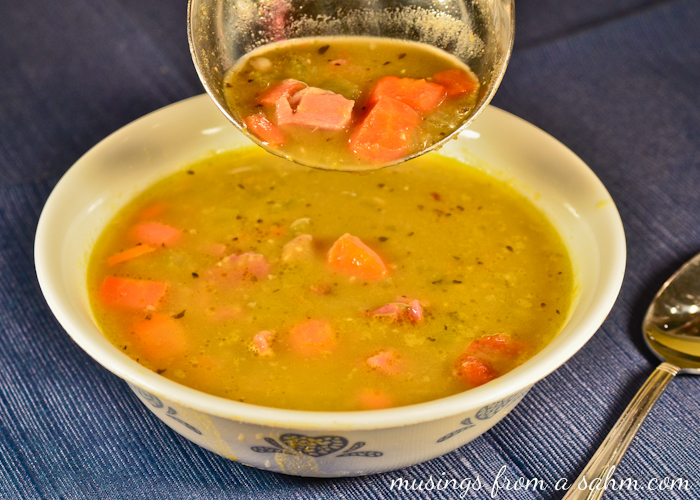 Off topic, goodness is it hard to get an appealing photo of split pea soup.
I mean, it's delicious, but it's green soup – not exactly appealing to the eye, you know? I had to work hard to get these photos because I really wanted to portray how tasty it really is. I hope it works!
Click here for the printable recipe:
If you liked this recipe, please pin it! Thanks!