I've been in the mood to make strawberry goodies this month. After making delicious Strawberry Cheesecake Cupcakes last week, I decided to try a lighter recipe from an old cookbook this week. After a few tweaks, this Strawberry Coffee Cake recipe is definitely going into my make-again recipe binder.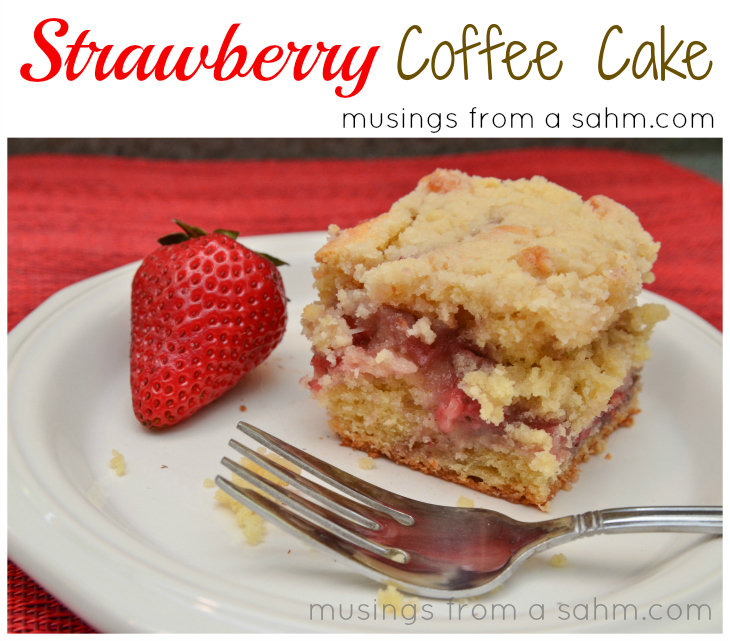 With a burst of sweet strawberry flavor in the center, this Strawberry Coffee Cake is the perfect mid-morning summer snack. And unlike many morning pastries, it's not too sweet either.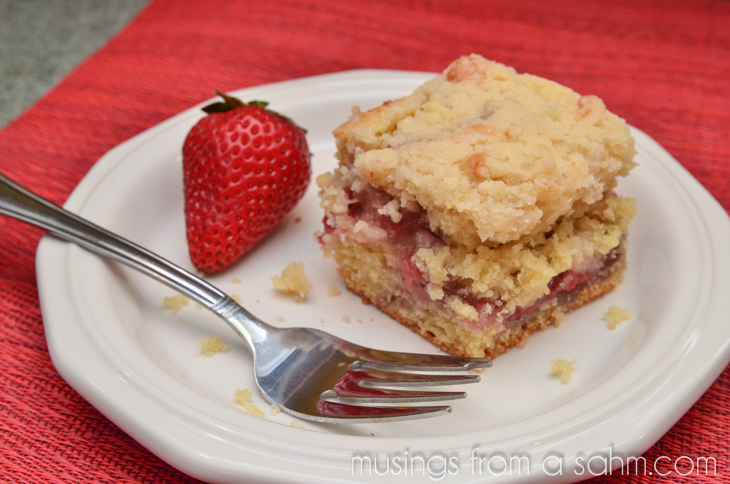 What You'll Need:
2.5 cups sliced and chopped strawberries
2 tablespoons cornstarch
¼ teaspoon cinnamon
½ teaspoon almond extract
3 cups flour
1 cup sugar
1 cup cold butter
¾ teaspoon baking powder
¾ teaspoon baking soda
¼ teaspoon salt
1 cup buttermilk *or sour milk (add 1 tb lemon juice to glass measuring cup, add milk to make 1 cup and let sit for 5 minutes)
2 eggs, lightly beaten
Preheat the oven to 350°, then pull out a medium-sized saucepan. Add the strawberries and cornstarch and heat on medium until the strawberries start to get juicy, stirring occasionally.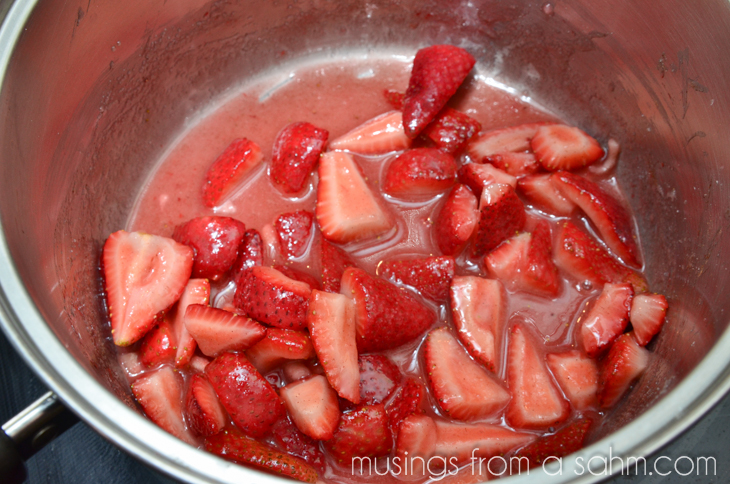 Continue heating and stirring until the mixture is thickened.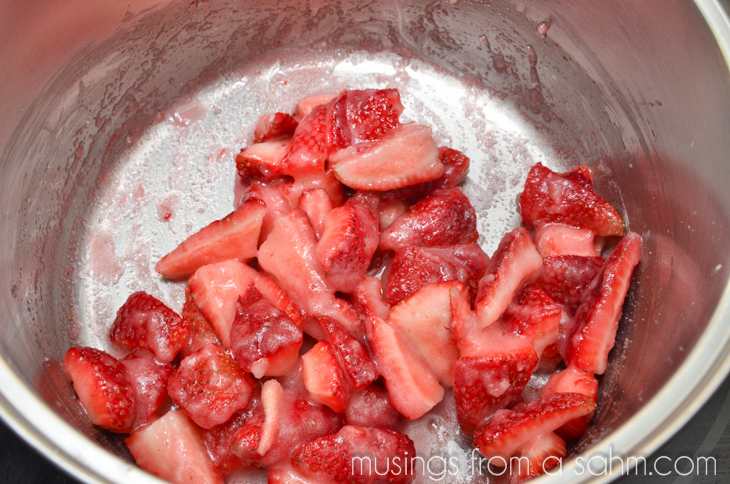 Remove from the heat and stir in the cinnamon and almond extract. Set aside.
In your mixer bowl, combine the flour and sugar.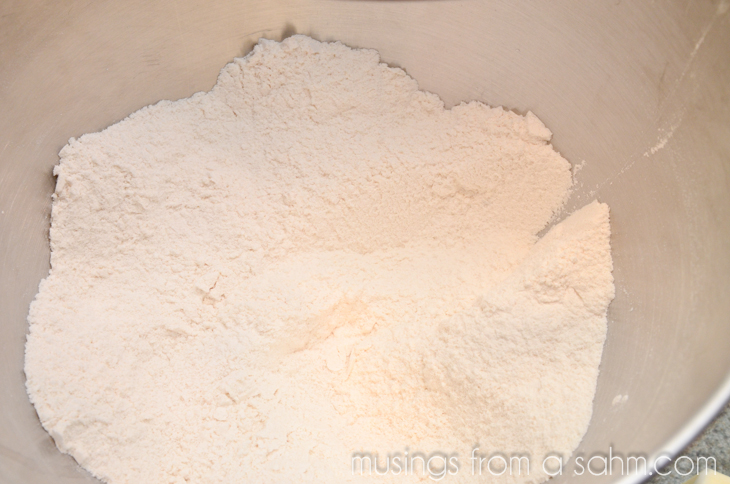 Add the cold butter.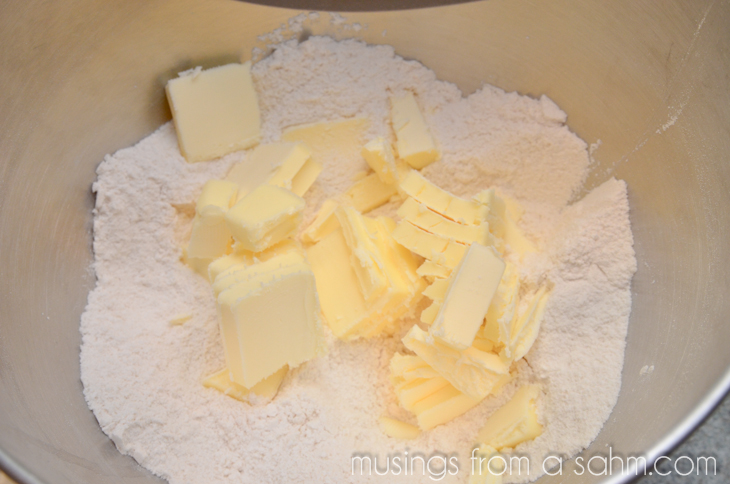 …and mix or cut-in by hand until the mixture is crumbly.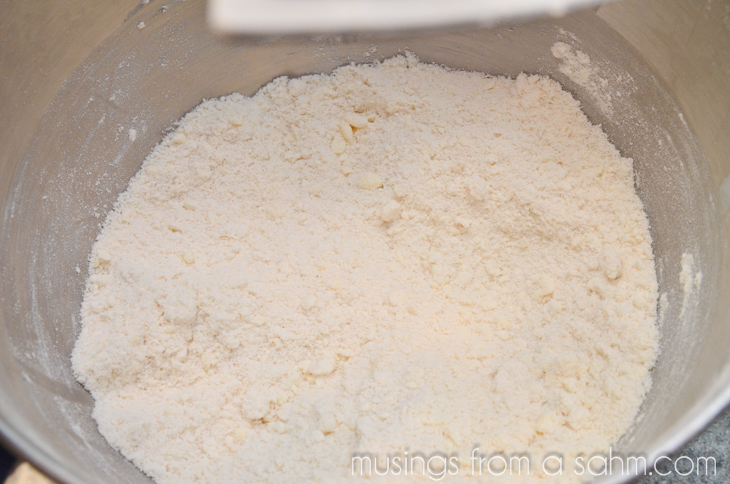 Set aside 1/2 cup for the topping.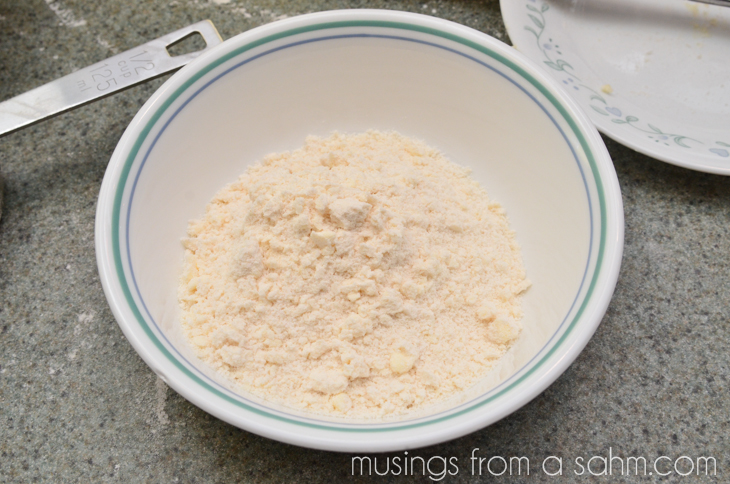 Add the baking powder, baking soda, and salt to the remaining mixture. Then stir in the buttermilk and eggs.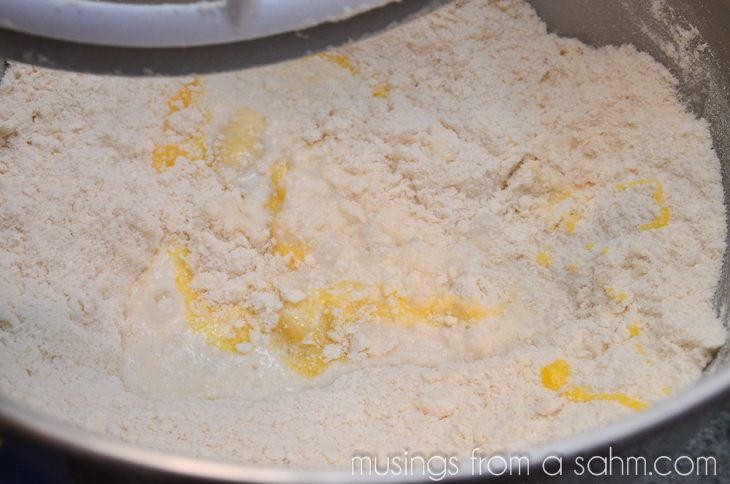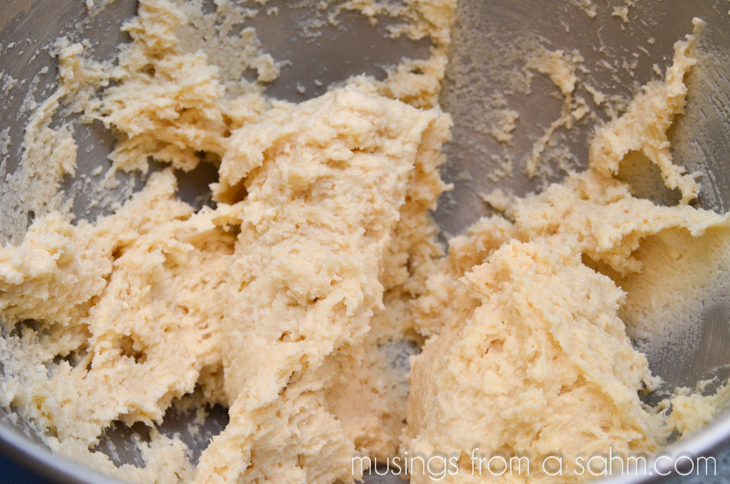 Spread 1 1/2 cups of the batter into a greased 8″ baking dish.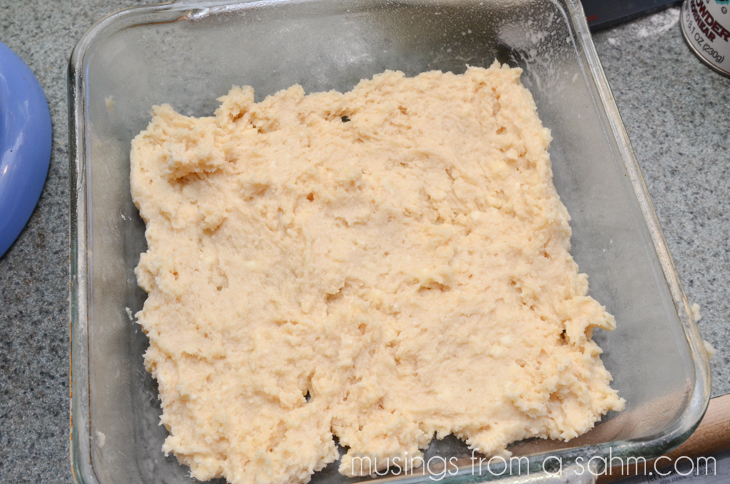 Spread the strawberry mixture on top.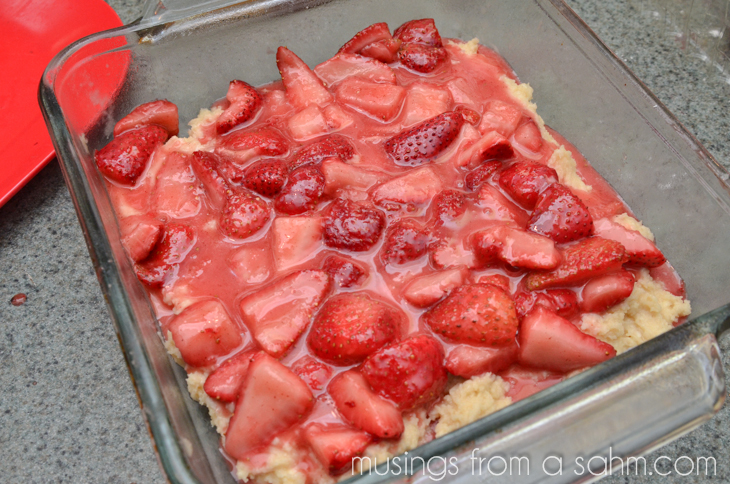 Carefully drop the remaining batter over the strawberries. It may not completely cover the top and that's ok.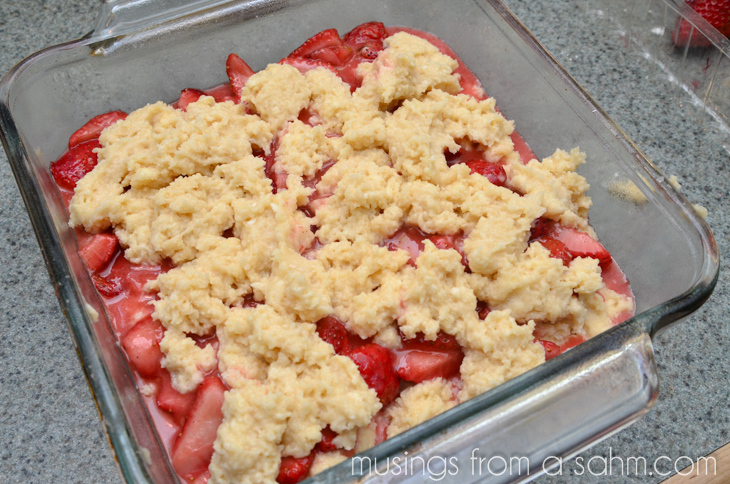 Sprinkle with the reserved crumb mixture. Bake at 350 degrees or until golden brown on the top. Cool on a wire rack.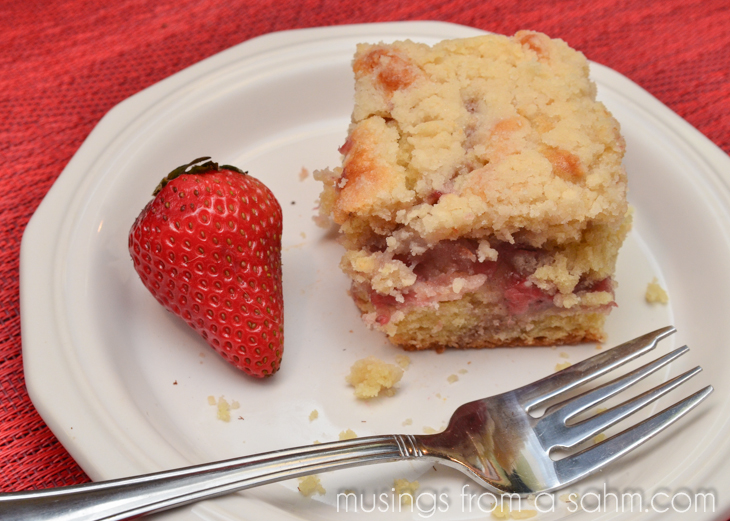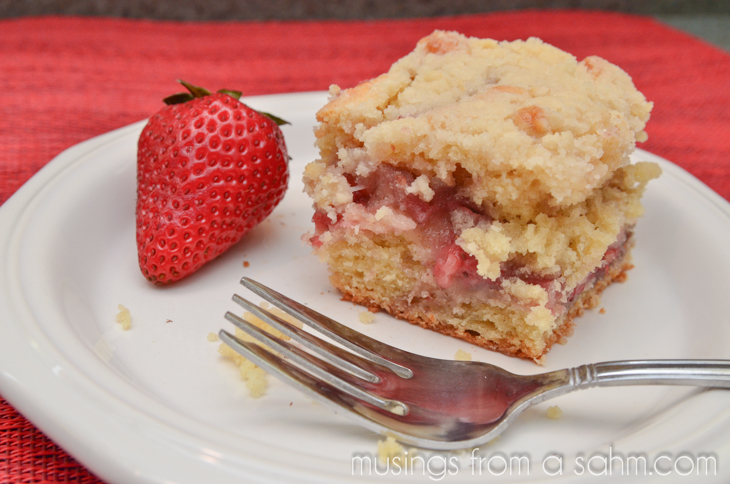 Click here for the printable recipe:
What's your favorite way to enjoy coffee cake?