Are you sick of getting sick? This time of year can seem to bring one illness after another, especially when you have children. Kids love to share germs and when we're busy and tired, we're especially prone to catching it.
But us moms are too busy to get sick. And if we do, we need to get better fast. Right?
Today, I have more than 15 all natural cold and flu remedies that I use myself and want to share with you. They do an amazing job at boosting the immune system, making it less likely you'll get sick. And if you do? These remedies have proven time and time again to reduce the duration and severity of illnesses.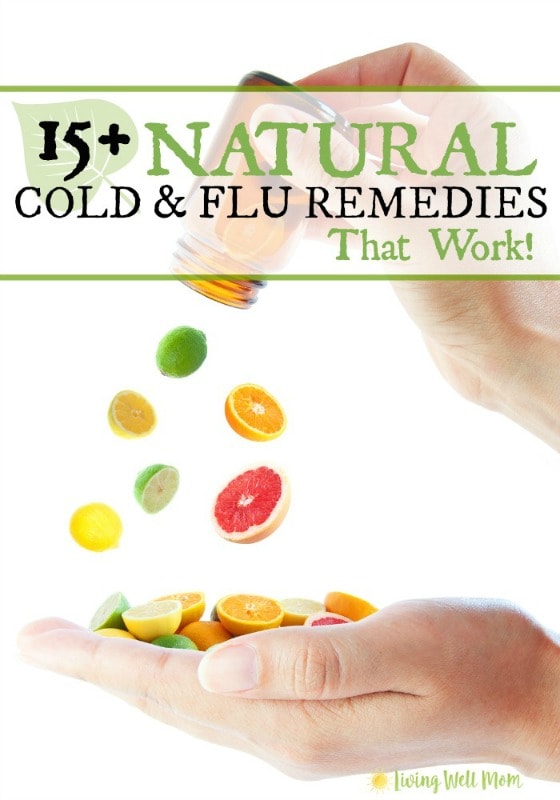 Often, trying just one or two of these natural remedies will help you see a positive change!
Please note that I am not a medical professional and the information presented here is merely for educational purposes and not intended to replace medical advice. It is your responsibility to do your own research, consult with your doctor, and make safe decisions for yourself and your family.
15+ Natural Cold and Flu Remedies:
Vitamin C
This common vitamin is well known for boosting immunity. Since our bodies can't create Vitamin C, the only way you'll get this important vitamin is through food or supplements.
It's almost impossible to overdose on Vitamin C as it's water-soluable, meaning it's not stored in your body. You'll just pee out anything extra your body doesn't need.
I take 1,000mg Vitamin C two to three times daily.
This
is the brand I use.
Vitamin D
Vitamin D does many things, but boosting immunity is one of it's top benefits. Studies have proven how effective Vitamin D is and additionally, that most people are deficient in it.
Chances are you are deficient in Vitamin D too and that's even more likely if you live in a northern climate where you don't get much sun this time of year.
I naturally run low in Vitamin D, so I take 10,000 IUI daily (yes, doctor approved) during the winter. During the summer, I take 5,000 IUI every 3 days (or when I remember.)
If you're feeling sluggish or get sick often, chances are you don't have enough Vitamin D. The best way to determine this is to get a blood test done from your doctor, but if you can't, you should be able to safely supplement with 2,000-5,000 IUI daily. (Studies have shown it's hard to overdose on Vitamin D.
This
is my favorite brand.
Probiotics
Approximately 70-80% of the immune system lies in your gut. If your gut isn't healthy, your immune system isn't going to be functioning in top shape.
This is one of the many reasons why I take probiotics every day, which boost the healthy bacteria in my gut, and thus my immune system.
My favorite probiotic is iFlora
, but you can experiment and see which one works the best for you. Klare Labs
 is another good brand my doctor recommends.
Elderberry
Elderberry is another fantastic immune booster and has been proven to reduce the duration of the flu by 4 days in one study.
You should take elderberry
at the first sign of illness.
Monolaurin
Monolaurin
is a natural fatty acid found in coconut (seriously, what doesn't coconut do?!) and is amazing at boosting the immune system and fighting bacteria. It even helps kill off candida!
My doctor introduced me to this amazing supplement last fall when I got sick. Within 24 hours of taking the first dose, I was feeling better!
Some people like to take monolaurin daily. I usually take it a couple times a week and increase the frequency if I start feeling ill.
Oil of Oregano
This has been one of my favorite herbal remedies for the past three years. Oil of oregano
is highly effective at fighting infection.
Previously I'd get a sinus infection every time I'd catch a cold, since I've started using Oil of Oregano, I haven't had one since! It's been over three years!!
I take oil of oregano if my normal remedies aren't kicking an illness quickly. This one rarely fails! I use this brand, but I'm planning to try this one
 next as it's cheaper.
Immune Strength
I love this powerhouse essential oil blend from Native American Nutritionals. A few drops of Immune Strength in a hot bath does wonders for helping me kick something quickly!
Immune Support Essential Oil Spray
This is one of my favorite natural defenders this time of year. It's almost like a natural hand sanitizer, but without any yucky chemicals or negative side effects.  It really does a great job at minimizing any germs coming into my home. I simply spray it on my hands each morning and it smells nice too!
You can purchase Immune Support Essential Oil Spray here. (not an affiliate link.)
Protective Coat
As I shared in my Natural Cold & Flu Remedies for Kids post, I'm fortunate to have an incredible herbalist in my town. This Protective Coat is a tincture I take daily to help keep my immune system in tip top shape.
Stop It Cold
Stop It Cold is a fantastic remedy that helps kick cold symptoms quickly. I take this as soon as I feel a tingle in my throat or begin sneezing and it's done wonders at warding off illness. Both for me and my entire family!
The key with this and similar remedies is to take it as soon as symptoms appear. If you wait until you're really sick, it won't work quite as well, though it will still reduce how long you're sick.
Flu the Coop
Last fall, I woke up in the middle of the night with a high fever, body aches, a stuffy nose, and was so exhausted, I could barely walk to the bathroom. I had caught the dreaded flu and it came on so suddenly, I didn't have time to take my normal remedies. Fortunately, I had Flu the Coop on hand, which I began taking every 30 minutes (per the directions.) Within 6 hours, I was feeling more human and within 24 hours of first getting sick, my fever had broken and I was on the mend.
This stuff works.
Decongest
I used to get really congested when I'd catch a cold, but not anymore thanks to this Decongest remedy. It's also amazing with kids, who as you know, can be prone to congestion as they don't know how to blow their nose well.
I've heard this remedy may also help prevent ear infections, which often occur due to congestion clogging up the ear tubes.
Sinus Aid
If you're prone to getting sinus infections or headaches, Sinus Aid is a wonderful remedy.
I haven't had a sinus infection in years, but I do occasionally get a sinus headache and this helps clear it right up.
Viral Resolve
When was the last time you saw a remedy for a VIRUS? Everything is antibacterial, but viral remedies are few and far between. Look no farther – this effective remedy does an amazing job at kicking stubborn viral conditions (cold, flu, etc.)
Viral Resolve is one of those remedies I make sure I'm never without!
A few more natural ideas:
Bacteria, viruses, etc. thrive on sugar. If you're coming down with an illness, avoid sweets as that fuels the bad stuff and makes it harder for your immune system. I used to get sick a lot (blame it on kids, my poor immune system due to my leaky gut, etc.) and eventually figured out that if I avoided sugar, I'd cut my sick time in half!
Eat lots of green vegetables. A healthy salad with romaine lettuce, spinach, and whatever other veggies you prefer gives your immune system a natural boost. I always make sure to eat extra greens if I'm feeling under the weather as it really does provide a natural immune boost.
My Healing Chicken Soup recipe never fails to soothe. I make this anytime someone in my family gets sick and they always feel better after a warm bowl of this healthy soup!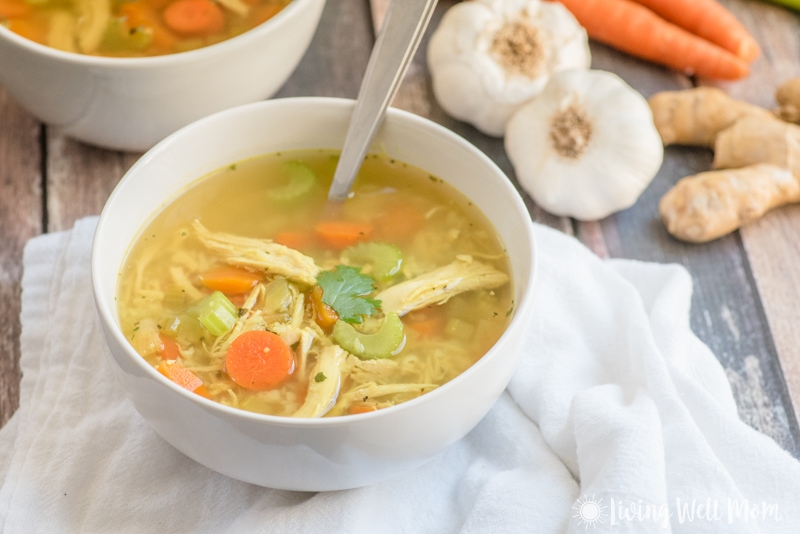 There's quite a variety of natural cold and flu remedies available. While you might not want to run out and purchase every single one of these, if you try just one or two, you should notice a difference. You too can beat the illness this season!