What Is It? A new laundry scent booster: The dissolving scent beads go in before you start the wash – so more scent infuses into your clothes, sheets, and towels – and the freshness is supposed to last for longer than 30 days.
Downy Unstopables go directly into the washer drum (regular or HE) to infuse a fresh, unstoppable scent. It's safe for all colors, fabrics, and loads and can be used with or fabric softener.
(See my update at the bottom.)
I love this product. It works so well.
I want my laundry to have that fresh clean scent. It does, but with 4 kids it seems the "fresh" smell is lost very quickly. I like to use fabric softener but I notice the nice scent doesn't last for long. Downy Unstopables fixes that.
Everything about Downy Unstopables says new and revolutionary (my words), starting with the bottle. The design is sleek & attractive and it just makes you want to pick it up. The unique "squeeze & sniff" bottle design allows you to easily determine which scent is your favorite – there's "Fresh" (clean, airy, crisp" – what I reviewed) and "Lush" (luxurious, relaxing, romantic.
Once you open the bottle, you can see the neat looking little beads inside.
Then you shake a little or a lot into the cap, however much you want.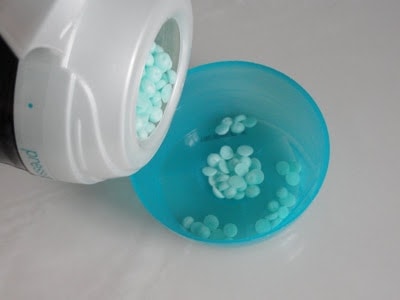 And toss it into the drum of your washing machine before you start the wash. This is fine for use with regular or HE washing machines. Just do not put it the liquid dispenser or your dryer.
Here, I had already poured the beads in before adding my laundry but I wanted to show you a picture of me using it, so I took another photo:
The result was just as I had expected and hoped. The scent was perfect and seemed to last a long time. I haven't had it long enough to say whether it actually does last longer than 30 days, but so far, it's lasted longer than other fabric scents. I am in love with Downy Unstopables and I can tell you this will absolutely be on my shopping list in the future!
Update: the scent definitely does not last 30 days. It really only lasts slightly longer than regular fabric softening scents. The price for Downy Unstopables isn't cheap so this isn't something we'll continue buying.
You can even buy Downy Unstopables
on Amazon.
Disclaimer: I received a free product from Vocalpoint to review.
I received no monetary compensation and my opinions are my own and were not influenced by the sponsor.