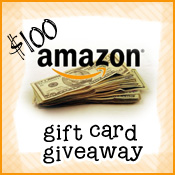 Sign up is closed – all spots are filled!!
Details: $12 participation fee = 4 links. There will be 10 blogs max.
Prize: $100 Amazon Gift Card
When: October 14-28th.
Entry: Entry will be with Rafflecopter. I will provide you with the code. At the moment, I am looking at providing each blogger with a unique code and combining all entries at the end. This will encourage more traffic to your individual blog. Daily tweets will be available too.
Sign up: Entries will be listed in order that they are received.

This will be a fun event that should bring a lot of traffic to our blogs!