I've been so busy the past few months with homeschooling, the review aspect of bloggings, and that little tiny factor I call having 4 kids. It's all been a good busy, but I've realized that I've gotten away from why I started blogging in the first place: to write about me and my family. And to relate to other moms.
I'm going to make that a bigger priority from here on out. I'm not giving up the review/giveaway aspect of blogging; I love that and I think you do too. Just more "about me" posts and realness, such as what it's really like being a stay at home mom to 4 kids.
With that, we are heading out the door in a few minutes to take the kids trick or treating. It is currently about 36 degrees and about to start snowing at anytime. We are supposed to get a potential 6+ inches of snow tonight. Methinks winter is trying to come early this year; this is the weather we usually see a month from now, not around Halloween!
So wish us luck as we "trick or treat" tonight. I think know we're a little crazy, but then again that goes with the job description of parenting.
Here's my dining room right now: piled full of snowsuits, hats, mittens, and all that good stuff as I had to drag it all down from the attic this morning.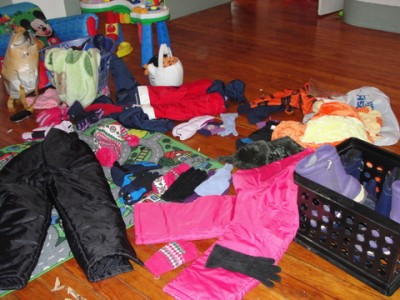 Not pretty, but real. This is me. And my house. Wanna join the fun?