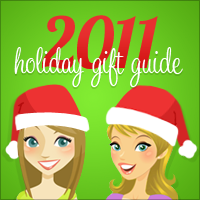 I am so excited to bring you the first sponsor for our Holiday Gift Guide: CitiBlocs!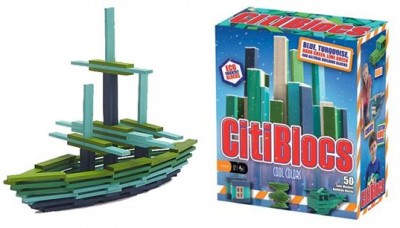 There are many building set toys available, so what makes CitiBlocs building blocks so special? All CitiBlocs are the same size and shape and the distinctive design combined with their lightweight allows for endless building possibilities. Kids can make a simple house or a complicated skyscraper that can't be built with other wooden blocks. Citiblocs are made of high quality New Zealand pine wood and are safe and non-toxic.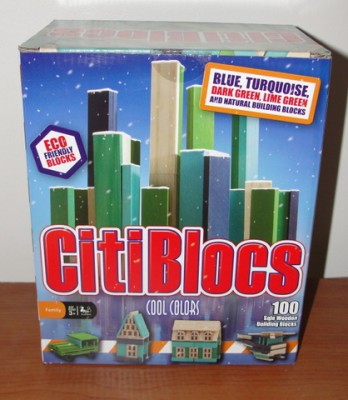 We were sent a 100 piece set in Cool Colors to review. All four of my children – ages 10 months, 2, 5, and 8 years have enjoyed this set for hours of fun! The age recommendation is 3 and up, but in my opinion, these blocks are perfectly safe and suitable for younger little ones too. They might not have the coordination to build things yet, but I didn't have to worry about them choking on the pieces, which are 1/4 inch thick by 1 inch wide by 4.5 inches long. And they loved doing something with their older siblings. Of course this did cause a few problems because Nathan & Emily would start working on a tower and then Luke would knock it down. But that's life with younger siblings and the older ones learn to build their fancier creations when the little ones aren't around.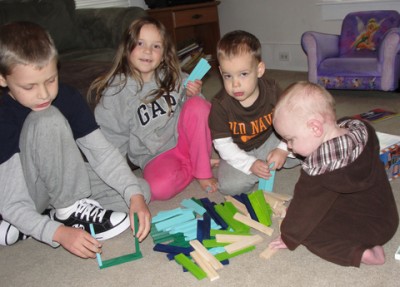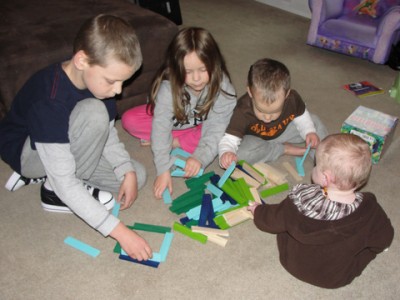 CitiBlocs are very simple to build with: just stack and go. There's no gluing, snapping, or magnets. Use your imagination and build something and then knock it down and try something new!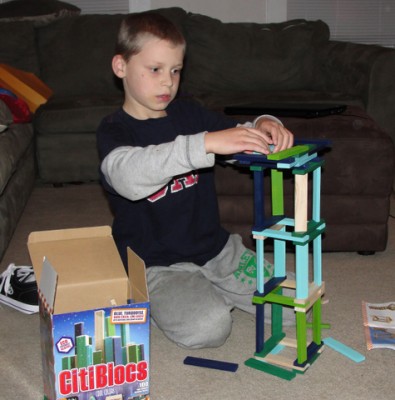 The fun is endless with CitiBlocs. Unlike other toys that eventually lose their luster and get put away in the attic, CitiBlocs is one that the kids keep pulling out day after day. Whether they're making a fence or building a complicated bridge, this toy continues to impress both my kids and myself.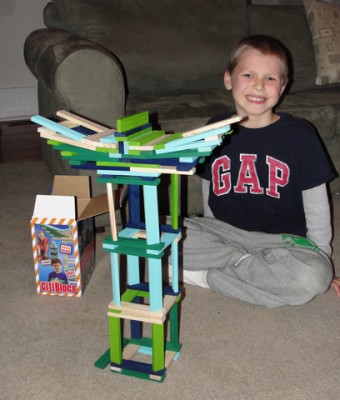 This is a toy I would feel great about giving as a gift and recommending for others. I am so glad CitiBlocs is part of our Holiday Gift Guide and I hope you will keep this awesome toy in mind for the kids on your shopping list!
I can honestly say this has been one of my absolute favorite products to review ever. Not only is the toy itself fantastic, but the price is great too at $24.99 for the 100 pc set.
There are so many toys out there and almost all try to claim educational or imagination-building. CitiBlocs is truly the ideal toy for all kids. With no batteries, bells or whistles, this award-winning toy is truly pure imaginative fun.
Buy It:
You can find CitiBlocs online or in select stores.
A 100 pc set costs on average $24.99
Disclaimer: Thank you CitiBlocs for the free product I was sent to review. I received no monetary compensation and my opinions are my own and were not influenced by the sponsor.