Three out of my four kids have the stomach flu. Joshua got sick on Sunday night and Nathan and Emily did last night. We've been vomit-free for a few hours right now but I'm not holding my breath. It's supposed to last a good 24 hours and then come with a yucky cold after that.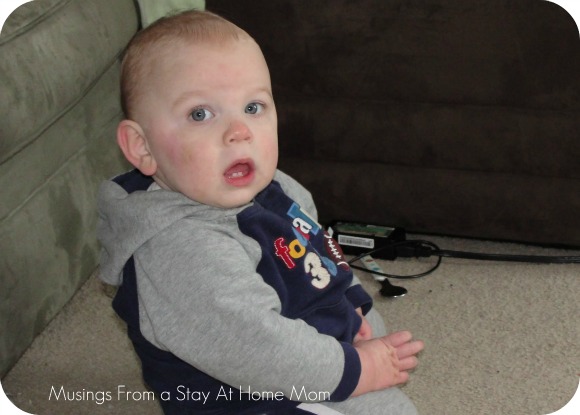 I'm just hoping Luke doesn't get it – a vomiting one year old? Not fun. There's always more concern of dehydration the younger they are too. So far he seems to be okay, aside from being quite grumpy because he doesn't like that his siblings are laying around and ignoring him. I don't blame him – that doesn't happen often.
This time of year is tough. It seems there's always some nasty bug going around and the only way to completely avoid it is to stay home and sanitize Mom & Dad when we go in and out. But that's no way to live, especially in the middle of the winter, so I have to risk it. With 4 kids, especially the two little ones who still suck on fingers (Joshua & Luke) and put things in their mouths (Luke) they're bound to pick up things.
I have different vitamins and remedies that we use to help prevent/get over things quicker and that helps a lot. I plan on sharing those in a post soon because they really do help. But things still slip through all my barriers sometimes.
So we go out but then they pick up something and I find myself in the midst of cleaning up vomit, sleepless nights, and fighting off the illness myself. And of course remembering to take care of myself which I tend to forget to do. I've been feeling kind of queasy the last couple of hours but then I realized that I haven't eaten much today so I may be just hungry. If I disappear for a couple days though, you know what happened.
*sigh* Sometimes it feels like it would be easier to stay isolated at home, you know?
Who else is dealing with the sickies? We'll get through it, right?