I've been on an organizing spree lately and that has spread to Facebook. I have probably "liked" thousands of Facebook pages over the last few years. Many pages are for blogs that I love and want to keep around, but a movie or brand I liked 3 years ago that I really don't care about now? Time to go.
Now I could click through to each page individually, scroll down, and "unlike."
But talk about time consuming! No way!
I googled for a solution. But with Facebook's recent changes, I couldn't find a "how-to" that was accurate. I finally enlisted my husband's help (he's good with things like that) and he helped me figure it out.
You must have the new Facebook Timeline to follow these steps. But as Facebook is forcing everyone to change over by February 9th, you may as well do it if you haven't already. Not sure how? Go to the Facebook Timeline page. I know, I know…but that's a subject for another day.
Once you have your new timeline page, go to your personal page and click on the Likes section:
This will open up your Favorites. Click on the Edit button in the far right corner.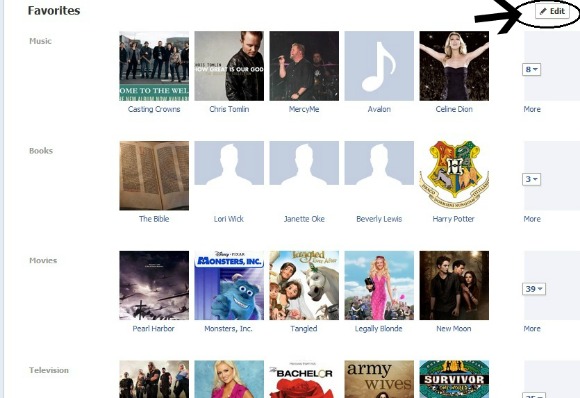 You'll stay on the same page, it just changes to an "editing" format.
Scroll down until you see a break and then "Likes." Click on the link for "Other Pages You Like"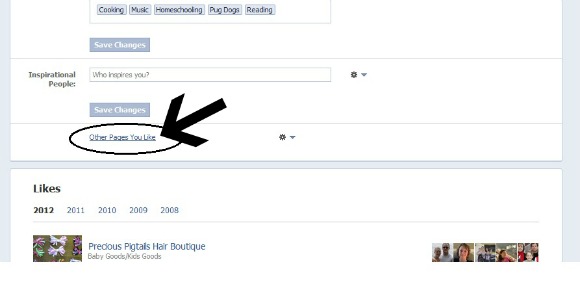 A small box showing your page "likes" will pop up. From here you can "unlike" any pages you no longer want to follow.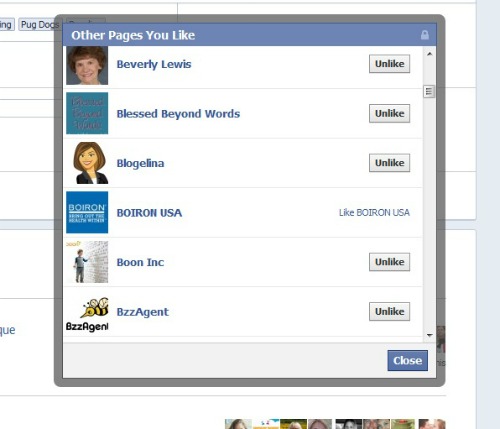 If you accidentally "unlike" a page you do want to follow, just click the "Like…" link and you'll follow them again.
As I went through my very long list, I had to close the box from time to time and re-open it to "refresh" things. You might need to try this too, although you might not have quite as many "likes" as I did!
So now that you've "cleaned out," how about adding MusingsFromaSAHM if you haven't already. Because how could you ever sweep our fabulous fanpage out the door, right? *wink*
If you liked this post, please tweet &/or click the stumble button below so others can see it too! Thanks so much!