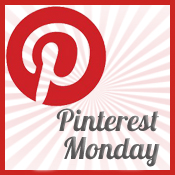 This week I'm happy to welcome my friend Nicole from Mama to Four Blessings as my new co-host of Pinterest Monday! She will now be co-hosting with me each week, so hop over and check out her blog if you haven't already!
This hop is for Pinterest related posts only.
Link to your post of favorite pins or (NEW!) a post you'd like pinned.
Then please comment on or pin the post above yours. If you want to do more, great, but it's not required.
My Pinterest theme for the week is mountains. We live near the White Mountains of New Hampshire and the beauty and majesty of it all is breath taking. It always makes me feel so close to the Lord as I marvel at His creation.
I have some beautiful White Mountain pictures of my own, but since my hubby changed the computer hard drive around (he's a techy and always doing things like that), I can't access them right now so I'll share them in a separate post later.