My husband took me out on an amazing date a couple weeks ago and I consider that our date for Valentine's Day. With our busy schedules, it's hard to plan things so it worked out well that we did it earlier.
Nate surprised me on a Friday afternoon by coming home early with flowers. See how pretty are? My camera did not do them justice!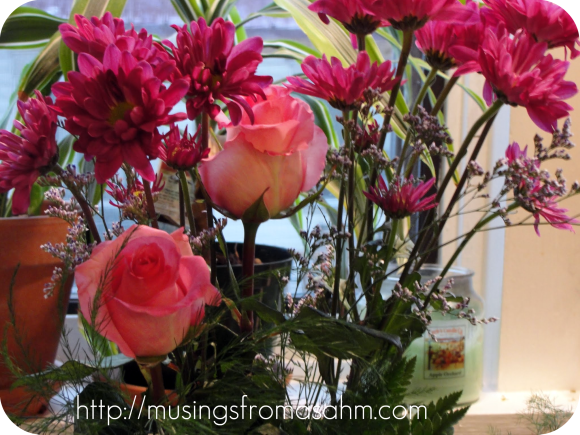 Then he announced that some friends of ours were coming to watch the kids so we could go out and we wouldn't even have to pay the babysitters! He worked out all the details, even arranging for pizza to be delivered so I wouldn't have to think about feeding anyone.
I was so amazed! Not that Nate isn't sweet, but just that he actually planned it and pulled it off! Normally I am the one to figure it all out – and you know how much work that can be!
We went to dinner at a nice seafood restaurant where we had shrimp and lobster (it was delicious!) We're fortunate that we live near the seacoast and can get lobster for reasonable prices. Still it's definitely a "special occasion" kind of thing! Then we went to the movies and saw "Mission Impossible: Ghost Protocol." It was a very good movie. Parts of it were a little corny but for the most part, it was good action and it was refreshing to not have lots of bad language or sex scenes. Finally after stopping at Walmart (my request; I wanted to take advantage of kid-free-time and grab a few things,) we went to another wonderful local restaurant for some appetizers and drinks.
It was an amazing evening and I was reminded of how blessed I am to have such a caring, loving husband. So that was my special treat.
What's your Valentine's Day plans with your sweetie?