I'm participating in the Delightful Discoveries campaign, sponsored by Quaker Oatmeal. Along with discovering their new cereal – Honey Nut Crunch Quaker Oatmeal Squares, we were encouraged to make our own delightful discovery for Leap Day.
As Leap Day approached this week, I thought about what my Delightful Discovery would be. My week started out on a low note with me getting sick. While I felt better, I wasn't 100% by the time Leap Day on Wednesday rolled around. Because I knew we'd be staying close to home that day, I turned my attentions to something at home.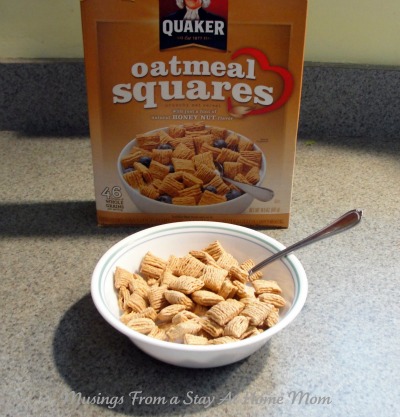 I started Leap Day out with a bowl of some new cereal. Quaker Oatmeal Squares is my favorite cereal and the new Honey Nut Crunch did not disappoint. I'm not sure what I love more: the fact that it fills me up and keeps me satisfied for most of the morning, that it's so quick and easy to serve, or that it simply tastes so good. Quaker Oatmeal Squares is a winner!
Our Wednesday morning continued as usual until noon. It began snowing and when I realized it was going to be a big storm, I asked the neighbor to watch the kids so I could run out to get a few groceries. I cannot run out of milk with my little ones! Thankfully I got my shopping done in plenty of time before the storm.
The rest of the day was spent with the kids playing in the snow, reading stories with the little ones, and baking fun cookies. We had a wonderful day. I realized that my Leap Day Delightful Discovery was just how much fun it can be to stop and enjoy the little things. Like the saying "stop and smell the roses," I'm realizing more and more how it's those little things that can bring the most joy of all.
I'd also like to announce the winner of our Quaker Oatmeal Delightful Discoveries Giveaway – Congratulations to confirmed winner Daiva B!
The Delightful Discovery giveaway may have ended, but you can still get a free sample of the yummy new Quaker Oatmeal Squares cereal from their Facebook page! Head over and send away for your box today!
What did you do on Leap Day? What was your Delightful Discovery?
Disclaimer: This post is sponsored by Quaker. However my opinions are my own and were in no way influenced by the sponsor.