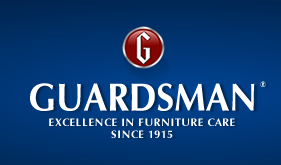 I have a set of wooden end tables from my grandmother. They're special to me because my grandma is very dear to me but unfortunately she has Althzeimers and I know her time with us is limited. So I cherish things that I've received from her, especially these end tables. I've only had them for a few months, but they were already a little scratched and worn by the time I got them. When I had the chance to join this Guardsman Furniture Care campaign, I knew it would be the perfect chance to give these special pieces of furniture some TLC.
Guardsman has been a leader in the furniture care industry for close to 100 years and with their expertise comes new solutions for revitalizing, protecting, and restoring furniture. They have more than 20 different furniture care products for fabric, wood, leather, mattresses, and other furnishings.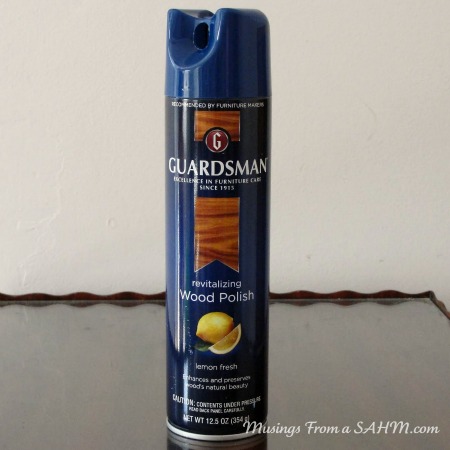 I received the Guardsman Revitalizing Wood Polish. Its special formula helps remove signs of aging and wear by concealing fine surface scratches. There's no wax or silicone so, unlike many other furniture polishes, there's no greasy film left over. It also has special UV protection too.
The Guardsman Revitalizing Wood Polish was simple to use. First I cleaned the endtable carefully with a damp cloth. Then I sprayed the polish on and wiped it off with a soft cloth. I was amazed at the dirt the wood polish removed, just after I had cleaned it! In the picture below, you can see a "before" shot where there are some obvious scratches.


Here's the "After" shot. Look at how much more polished my end table is! While the scratches aren't 100% gone, they are significantly decreased and the whole piece of furniture looks revitalized, just as Guardsman said. I couldn't be happier with the results of the Guardsman Revitalizing Wood Polish; it's exceeded my expectations. The results are so much better than other products I've used in the past. Plus Guardsman is so easy to use, I know I'll be adding this to my regular cleaning routine.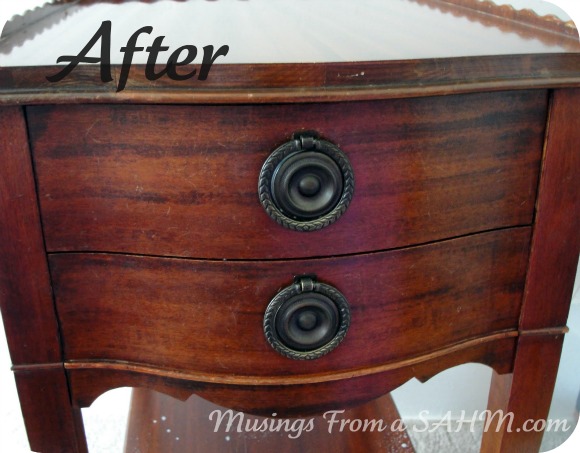 Design star, Tracy Hutson, has teamed with Guardsman to launch their "Stop Cleaning. Start Caring" campaign with the purpose of teaching people how to bring out their furniture's "inner beauty." Love & protect your furniture by taking good care of it with a few simple steps. And it's so easy with Guardsman!
Visit Guardsman.com where you can share a story about your furniture. One lucky winner with the best story will receive a personal design session in their home, along with a $1,500 room re-accessorizing and shopping experience and Guardsman products. To help get this campaign started (which just began March 28th), Guardsman has donated $25,000 to Habitat for Humanity to help low-income families build simple and affordable homes.
Buy Guardsman products online.
What's your furniture story?
I wrote this review while participating in a blog tour campaign by Mom Central Consulting on behalf of Guardsman Furniture Care and received a Guardsman product and a promotional item to thank me for taking the time to participate.