I forgot how exhausting potty training a 2 year old can be. You chase them all day and then the one time they go out of sight, bang! you know the rest… *sigh* I've gotten practically nothing done all week, but it will be worth it if this works.
That's what I wrote on my Facebook page yesterday. And then I decided this was worth blogging about. I wrote half this post last night and then was so tired, I put it aside and finished it this morning.
Just a heads up about this post – if you're not a parent, this may gross you out. Ok, it might still gross you out, even if you are a parent.
First, the weather – it's gorgeous. It's been in the 70's this week and even 80 yesterday. Today is a slightly cooler 60 degrees, but still beautiful. I can't remember the last time I wore capri's and flip flops and got bit by mosquitoes in March. And I love it. Well maybe not the mosquito part (I'm allergic and swell up) but that's just a fact of life.
I've been wandering around outside and snapping photos of spring. Flowers beginning to bloom, the first buds on the trees, grass turning green, and more. But I'll share those in another post; this one is about the family.
Everyone, even Luke, is enjoying the outdoors this week: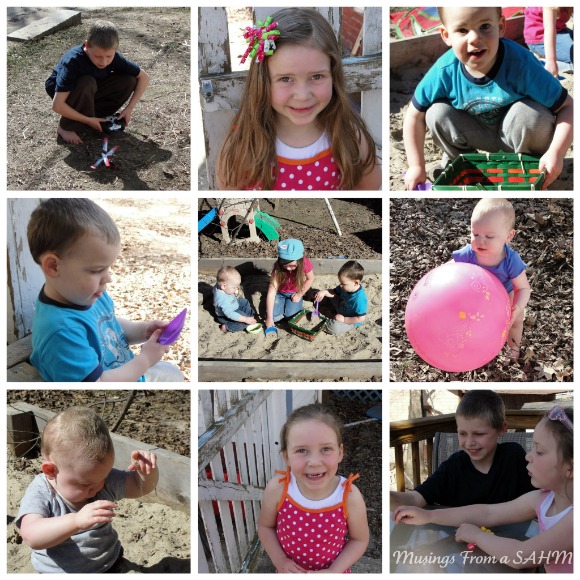 Back to the potty training.
Joshua will be 3 in June and with him and Luke in diapers, we are beyond ready to get this done with. I tried little bits of potty training here and there in the last couple of months without a lot of luck. But I didn't really go for it. I've found you have to be serious about it or they won't be either. If you try it for a day and give up, of course they will too. Naturally there's a time when they simply aren't ready, but sometimes they need a little persistence from Mom.
The warmer weather this week presented a great opportunity, so on Monday morning, we started. I give Joshua 1 Skittle (a super special treat, they never get candy) each time he pees in his potty. FYI, I'm still loving our Munchkin Arm & Hammer Potty
that I reviewed a couple months ago. It's a really great potty and it puts up with a lot.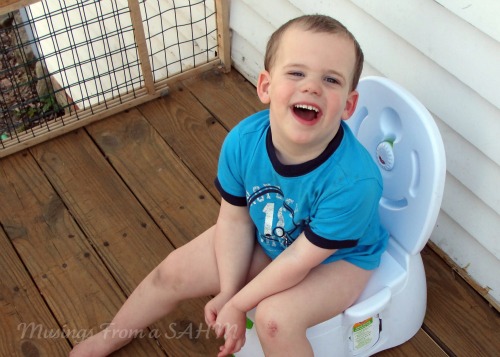 The first day, he had one accident, but he's surprised me by doing pretty well with going pee in the potty. The last 2 days, he'll actually go on his own without me reminding him.
But poop?
Oy.
He just does not seem to get the concept that you should poop in the potty. He held it all day Monday and then on Tuesday, when it was 70+ degrees, he went in the backyard (it's fenced in) and pooped. And again Wednesday. I cannot believe I scooped up my son's poop from the yard. It's one thing to scoop the dog's – that goes with the territory, but my kid's? Gross.
Yesterday, I was determined to keep that from happening. I watched Josh like a hawk and frequently had him sit down to try going. No luck. At one point, I left him on the deck with Emily for a couple short minutes while I ran inside to do something. That's all it took for him to go out in the yard and poop. At least I think he did. I can't find it, but that doesn't mean much because there's still unraked leaves all over the place.
*sigh*
I'm trying to remember when Nathan & Emily were potty trained and neither of them had an aversion to pooping in the potty. I know if I stick with it, Joshua will learn, but ooh I'm tired of scooping poop!
Does anyone have any poop potty training tips that worked for you?