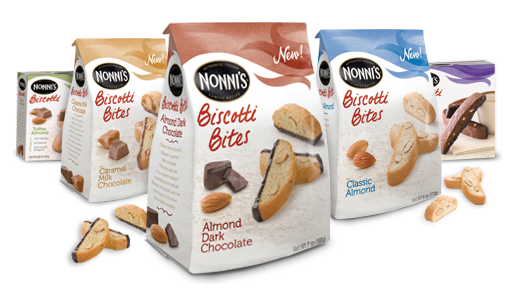 How often do you sit down and take a few moments to relax and enjoy yourself? If you're anything like me, you're probably so busy you don't enjoy "me time" nearly often enough. But it doesn't have to be an impossible feat. Simply adding a special element to your morning coffee time or a out-of-the-ordinary afternoon snack can make your day more enjoyable.
Nonni's Biscotti, the most popular selling biscotti on the market, now offers "Biscotti Bites." These delicious, bite-sized Italian treats are light, made with the finest, all natural ingredients, (including real butter, eggs, and gourmet chocolate) baked to perfection, and are the perfect size for snacking, sharing, or an on-the-go treat.
There are three varieties of Nonni's Biscotti Bites:
Almond Dark Chocolate – a classic almond biscotti dipped in gourmet dark chocolate. This treat takes the tradition of biscotti and adds the delicious taste of fine chocolate
Caramel Milk Chocolate – a light treat with a creamy caramel filling and dipped in gourmet milk chocolate. An indulgent, irresistible combination
Classic Almond – this light, traditional Tuscan cookie is crisp and crunchy with a touch of anise and the sweet flavor of almonds. A perfect addition to a cup of coffee or glass of wine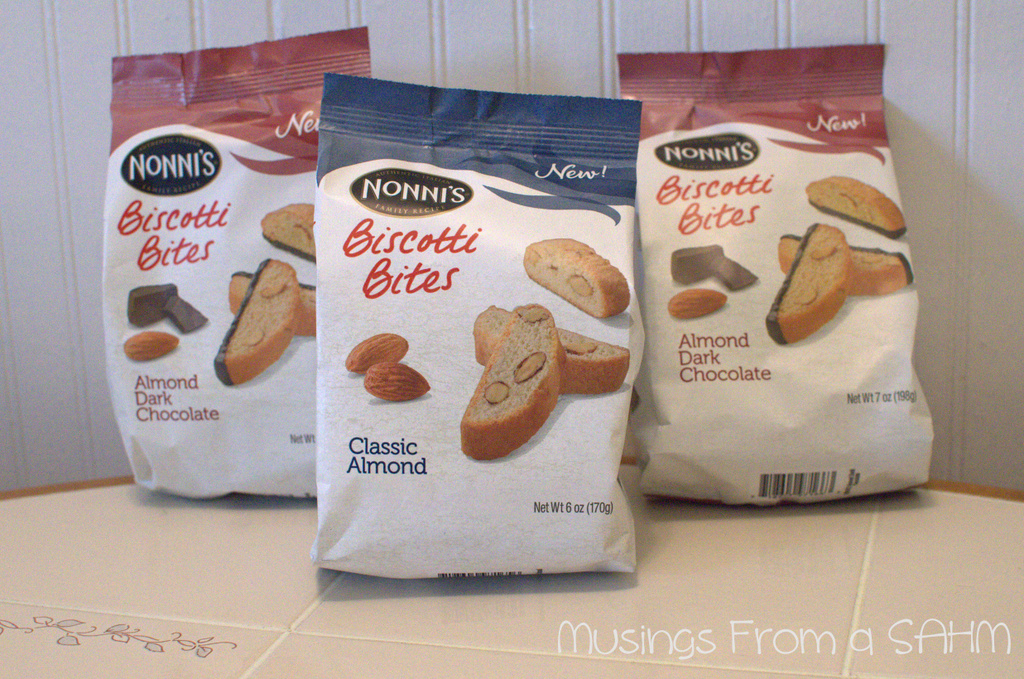 I was sent three bags of Nonni's Biscotti Bites to sample. They are delicious! They're light-tasting, yet flavorful and convenient. Normally, I think of biscotti as a "special occasion" treat, but Nonni's Biscotti Bites combines that element with an accessible, every-day treat.
It seems like most "special treats" are rich and indulgent, but Nonni's Biscotti Bites prove that a special treat doesn't have to be super rich to be delicious. I avoid sweets in the morning but Nonni's Classic Almond Biscotti Bites are light enough that I can enjoy a couple of them with my morning cup of coffee. In fact, my favorite time to enjoy them is late-morning, with a cup of coffee or my favorite green tea, and when I'm sitting down to get a little blogging done. And the touch-of-chocolate Caramel Milk Chocolate Biscotti or Almond Dark Chocolate are perfect for later in the day.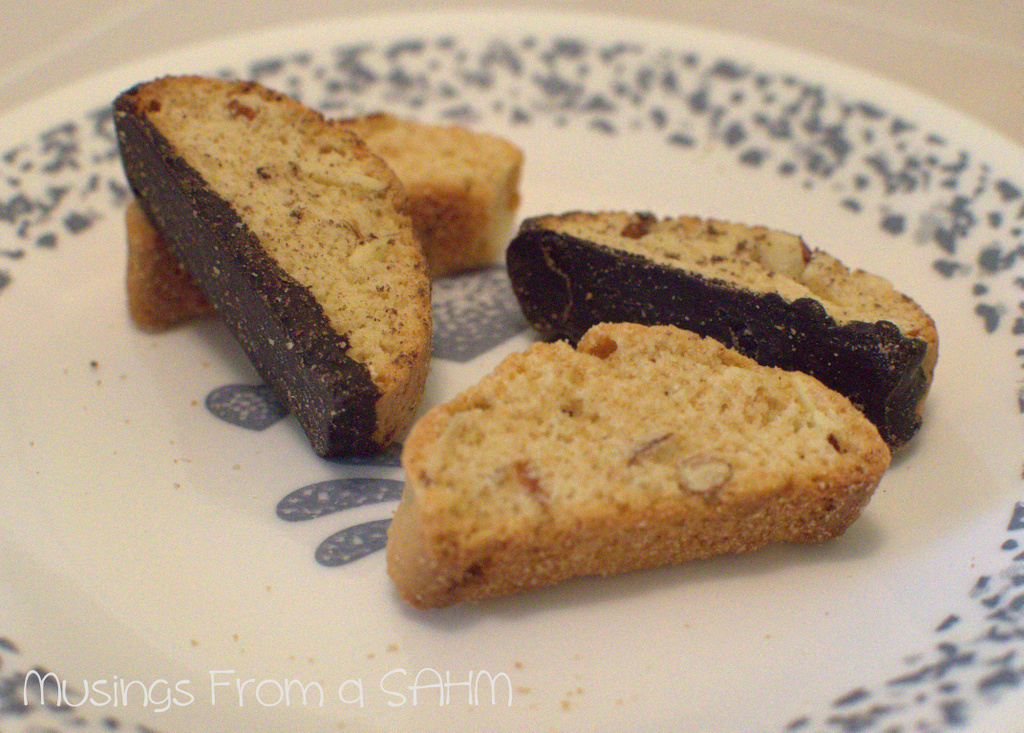 Nonni's Biscotti wants us to find our own "Biscotti Moment." Upload your "Biscotti Moment" photo to their Facebook page and be entered in the sweepstakes for a once-in-a-lifetime trip for two to Hollywood and a weekly chance to win a Nonni's Biscotti Gift Basket. Entries will be accepted on the Nonni's Biscotti Facebook page until June 15th.
My "Nonni's Biscotti Moment" is when I'm able to sit in my favorite place – in my room with the window open, listening to the birds sing, and do some blogging. Adding a nice cup of green tea or iced coffee and a couple of Nonni's Biscotti makes this time more special.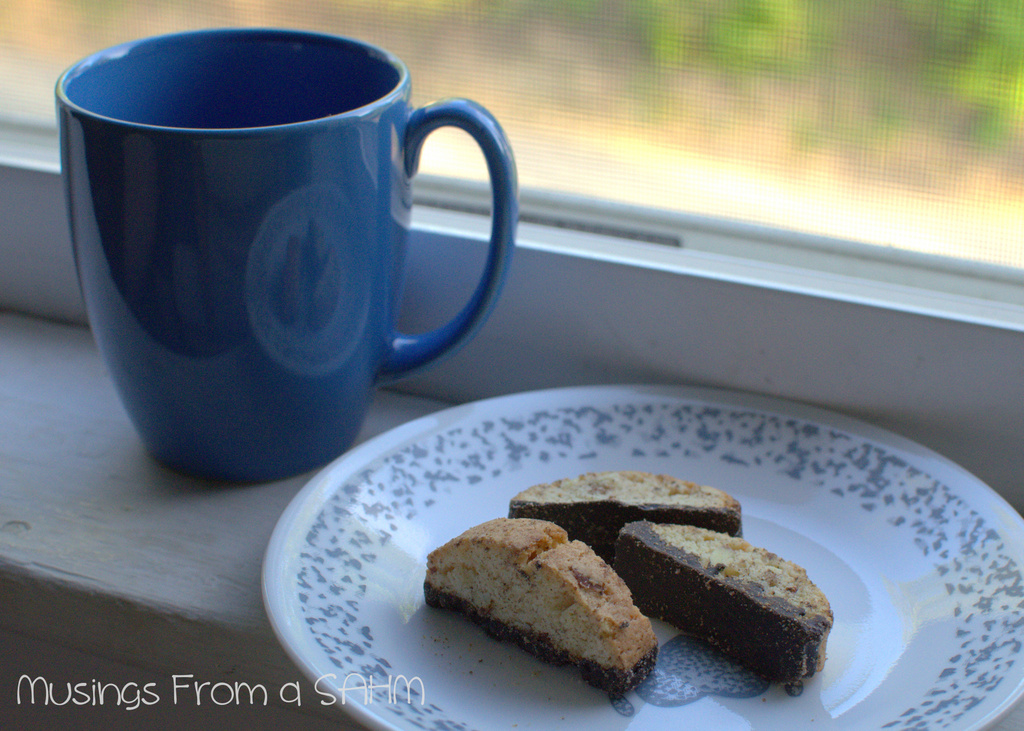 What's your moment? Will you enter the sweepstakes?
Disclaimer: I wrote this review while participating in a campaign by Mom Central Consulting on behalf of Nonni's Biscotti and received a product sample to facilitate my review and a promotional item to thank me for taking the time to participate