I love rhubarb. Whether it's a Strawberry Rhubarb Pie (I'll be sharing my favorite recipe soon) or rhubarb bread, there's many yummy possibilities with this tart fruit (or is it a vegetable?). I first tried this recipe for Rhubarb Custard Bars a few years ago and it was so delicious, I wrote A+ on my recipe card and added it to my "must make" recipe collection. I've made it each year since.
This recipe is the perfect combination of sweet and tart. It's rich, yet not overwhelming with it's shortbread crust, layer of custard with rhubarb, and whipped cream/cream cheese topping.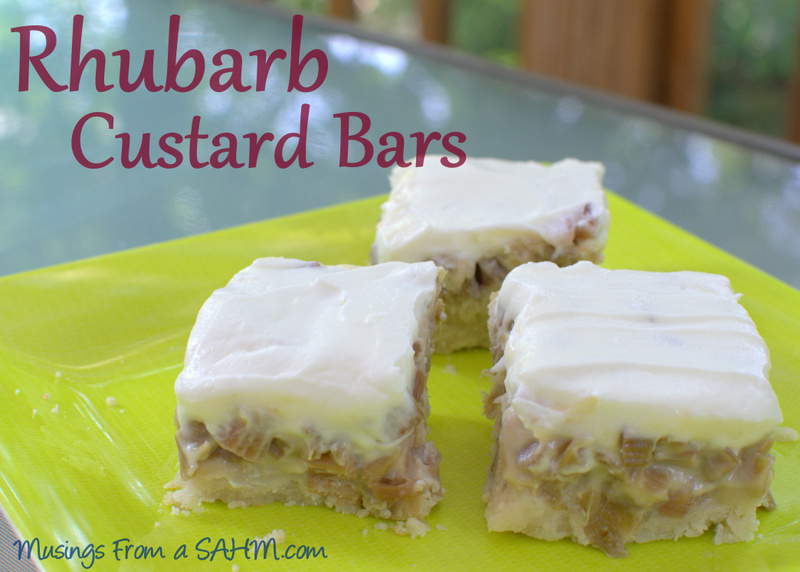 I found this recipe in a Taste of Home magazine. I usually cut in half because the original recipe uses a lot of rhubarb. I adapted it just slightly and added the orange peel because it adds a nice touch. This recipe here is for an 8″ square pan. If you want more, you can see the original recipe on Taste of Home.
What You'll Need:
(Crust)
1 cup flour
2 tablespoons sugar
1/2 cup (1 stick) cold butter
(Filling)
1 cup sugar
5 TB flour
1/2 teaspoon orange peel
1/2 cup whipping cream
2 eggs, beaten
2 cups finely chopped fresh or frozen rhubarb, thawed and drained
(Topping)
First turn the oven on to 350º.
Add the flour and sugar into a mixing bowl. Next add the stick of cold butter. I like to cut it up so it's easier to mix in.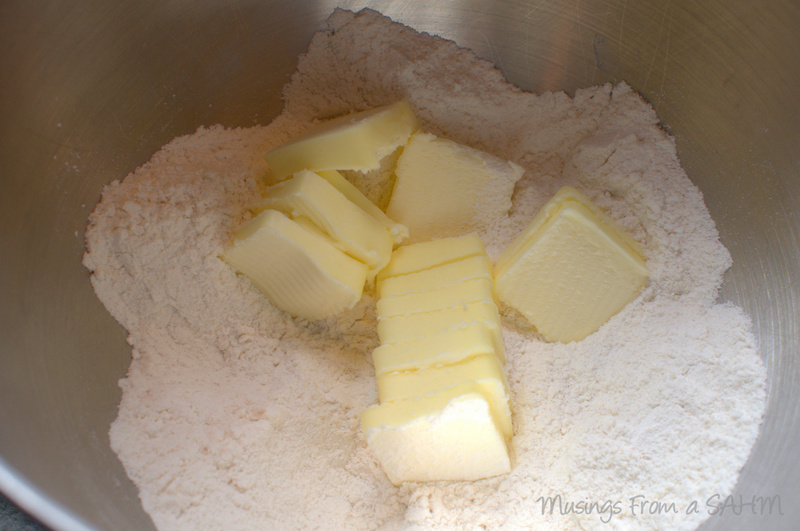 You can cut the butter in by hand with a knife or one of those handy tools. Or just use your stand mixer like I did. I mixed it for about 1 minute.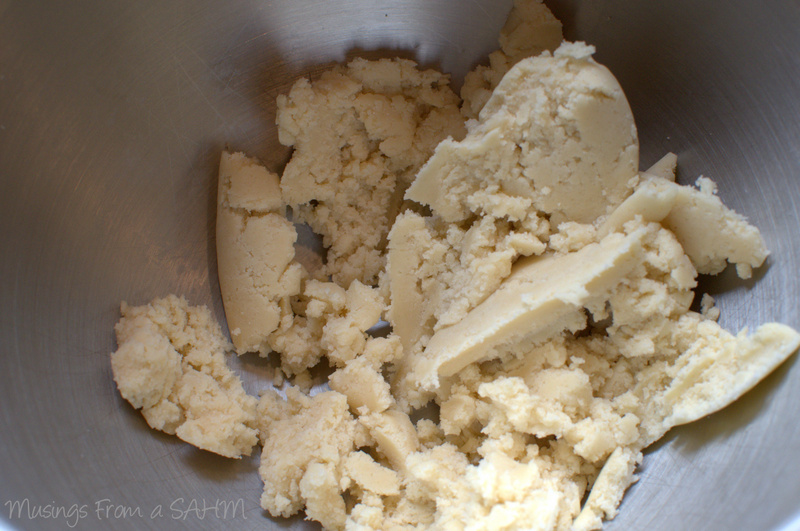 Grease the bottom of a 8×8″ pan (9×9 works too.) I just used the butter wrapper. It doesn't need a lot of "grease."
Next press the butter/flour mixture into the pan.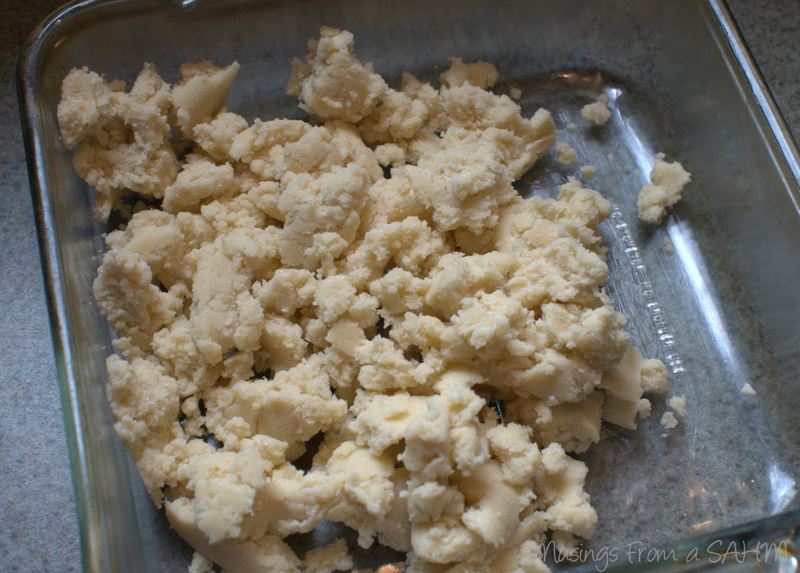 Use your fingers to press it in really good. You don't want this to be all crumbly.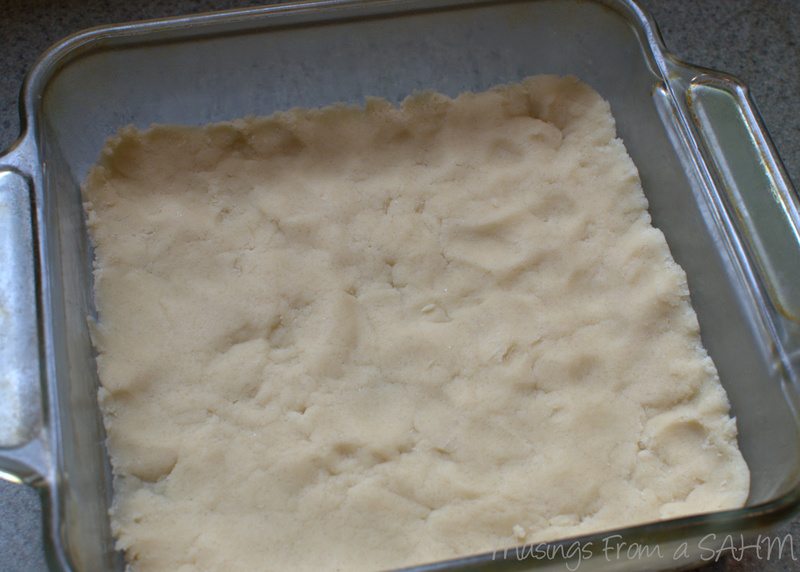 Bake for 10 minutes.
While that's in the oven, we'll make the custard or "filling" layer.
Add the sugar, flour, and orange peel to a mixing bowl.
Next add in the beaten eggs and whipping cream.
*Note: I've substituted whole milk for the whipping cream in the past and it still turned out well. But whipping cream is best.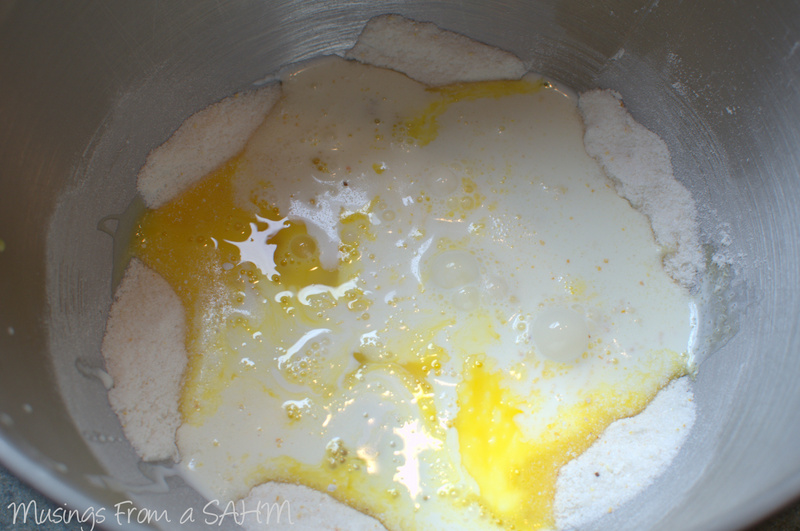 Now add 2 cups of rhubarb.
If you use frozen, make sure you drain it well. You don't have to squeeze it, but you don't want lots of extra liquid either.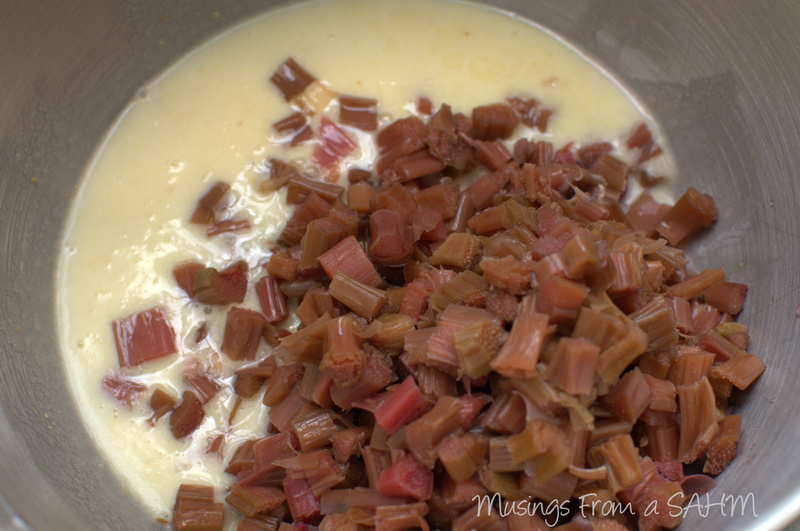 Stir it up.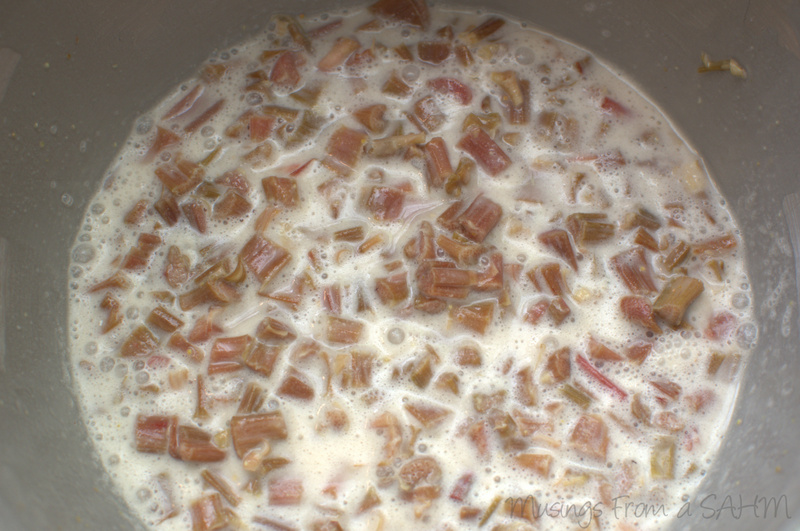 Now, about this time, you should be taking the shortbread layer out of the oven.
It won't look done yet and that's okay; the idea is just to get a head start before adding the custard.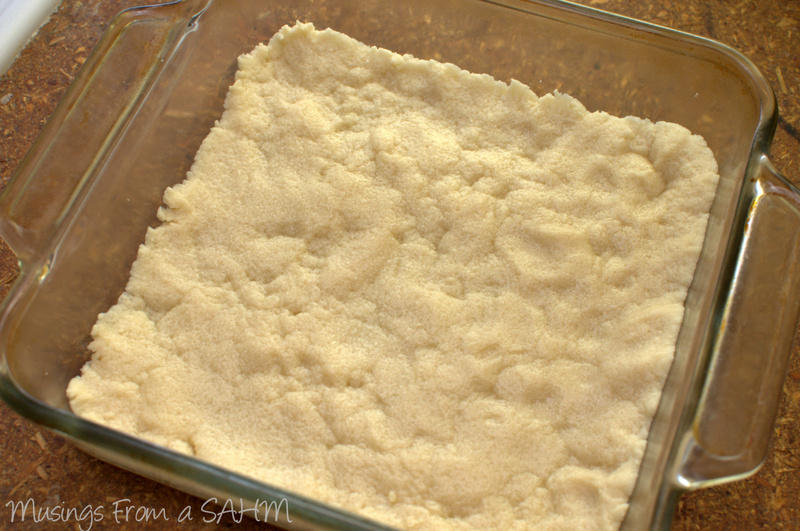 Pour the rhubarb custard mixture over the hot crust. If it took you a little longer and the crust has cooled somewhat, that's okay too.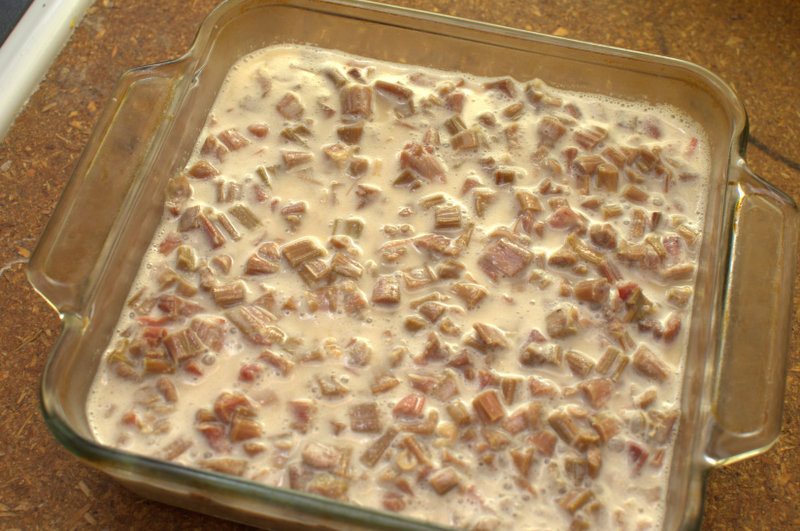 Bake at 350 for about 40 minutes (give or take a little) or until custard is set.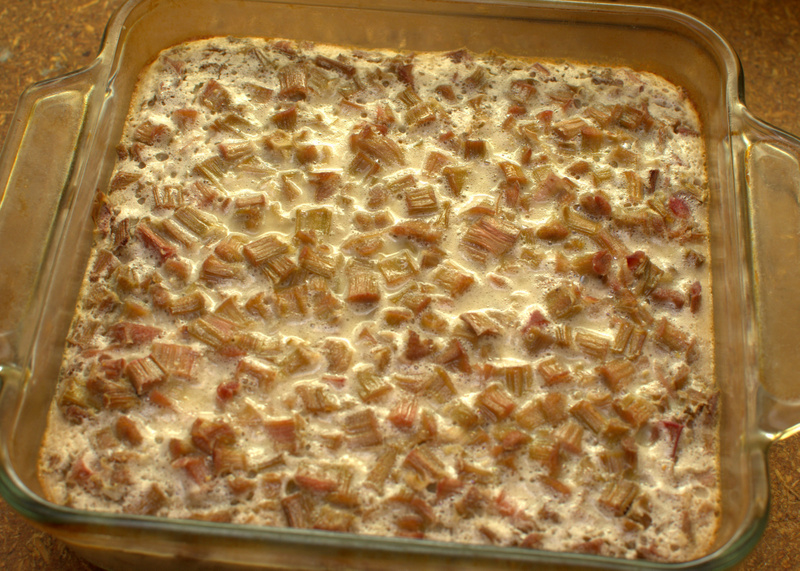 Let this cool completely. I waited about 3 hours.
If you don't wait long enough, the whipped cream topping will melt so don't rush this step!
When you're ready for the topping, beat the cream cheese , sugar, and vanilla until smooth.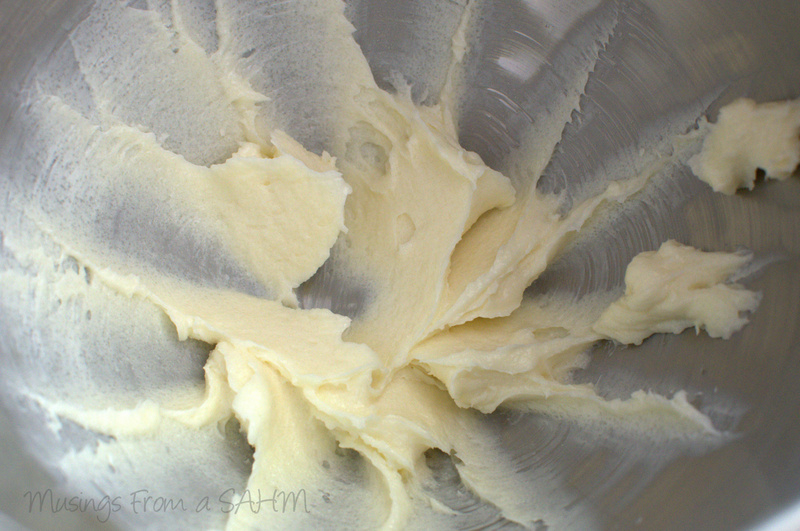 Now you should have already whipped up your whipping cream. If you add it without whipping it first, it will not turn out.
You can also substitute Cool Whip; if you do, just leave out the extra sugar.
I've tried it both ways. The whipping cream is my favorite because it provides a lighter, less-sweet taste, but the Cool Whip version is good too.
Back to the whipping cream –
I added about a tablespoon of powdered sugar to help stabilize it too.
Gently fold the whipped cream into the cream cheese/sugar mixture.
I used a spatula.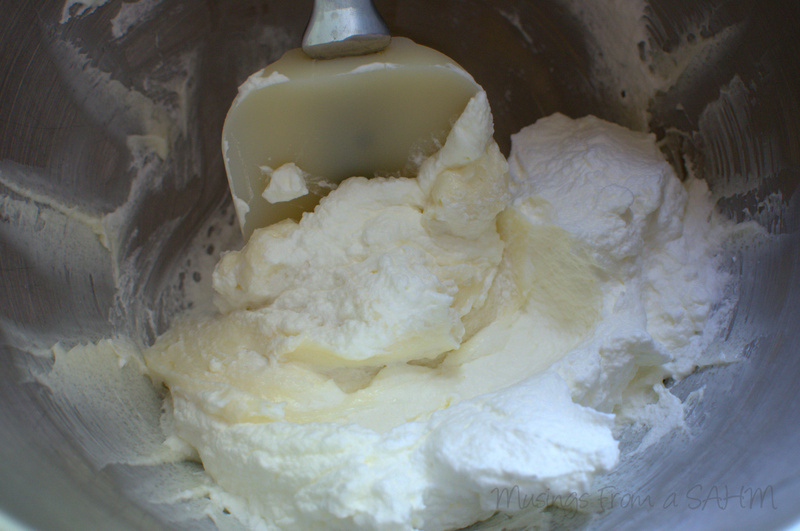 Then spread it over the top of the filling.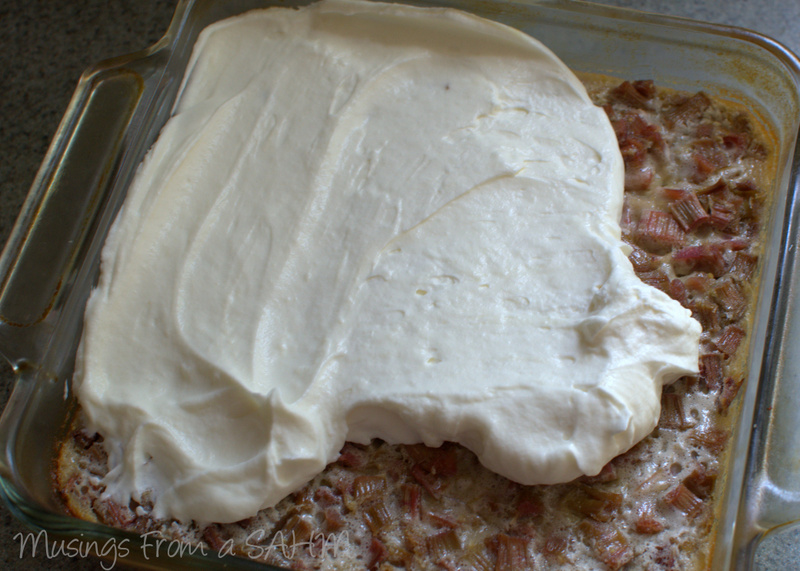 Spread it evenly all over.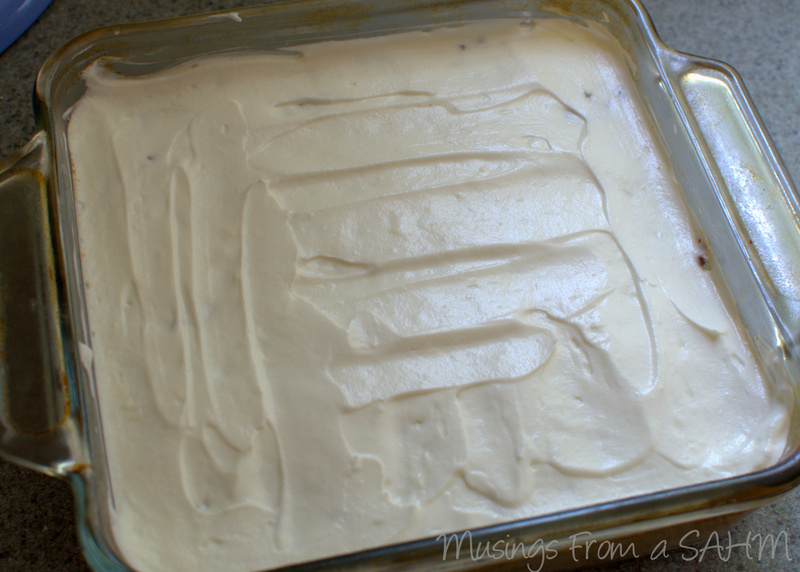 Cover and refrigerate for at least a few hours to chill completely.
I recommend refrigerating it overnight.
Then enjoy your delicious homemade Rhubarb Custard Bars!
1 cup flour
2 tablespoons sugar
1/2 cup (1 stick) cold butter
FILLING:
1 cup sugar
5 tablespoons flour
1/2 cup whipping cream
2 eggs, beaten
2 cups finely chopped fresh or frozen rhubarb, thawed and drained
TOPPING:
3 oz cream cheese, softened
1/4 cup sugar
1/4 tsp vanilla extract
1//2 cup whipping cream, whipped *You can substitute with Cool Whip; leave out extra sugar
Instructions
Preheat oven to 350 degrees.
Combine flour and sugar; cut in butter until well mixed. Press into a greased 8x8" pan. Bake for 10 minutes.
Meanwhile, for filling, combine sugar, flour, and orange peel. Whisk in cream and eggs. Stir in rhubarb. Pour over baked crust. Bake at 350 degrees for about 40 minutes, or until custard is set. Cool completely.
For topping, beat cream cheese, sugar, and vanilla until smooth; gently fold in whipped cream. Spread over top of custard. Cover and chill for at least a few hours, preferably overnight.
Cut into bars. Keep stored in the refrigerator.
https://livingwellmom.com/2012/06/rhubarb-custard-bars-recipe/
copyright Musings From a Stay At Home Mom. All images & content are copyright protected. Please do not use my images without prior permission. If you want to republish this recipe, please re-write the recipe in your own words and link back to this post for the recipe.
If you liked this recipe, please click the "Pin It" button top so others can see it too!
Thank you!
Try this delicious Rhubarb Custard Bars #Recipe -shortbread crust, custard filling, & whip cream/cream cheese topping! bit.ly/LGQpYD

— Erika Bragdon (@Erika105) June 14, 2012