I am really excited to tell you about this addition to our Summer Fun for Kids Event – the PlasmaCar. Because this car is pure fun and excitement!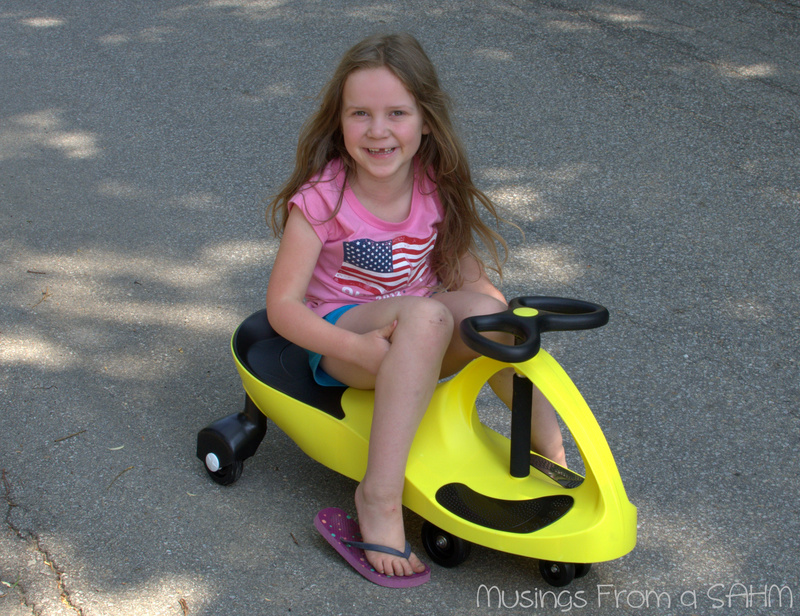 The PlasmaCar has no batteries, no pedals, or gears, yet it can speed up to 6 mph! So how does it work? Kids turn the steering wheel back and forth as the unique design harnesses the natural forces of inertia, centrifugal force, and friction. It's kid powered! Another plus to this? It's QUIET! Well there's no guarantees that your children won't be squealing from excitement, but the car itself isn't noisy.
You would think something this cool would be hard to put together, but it's not.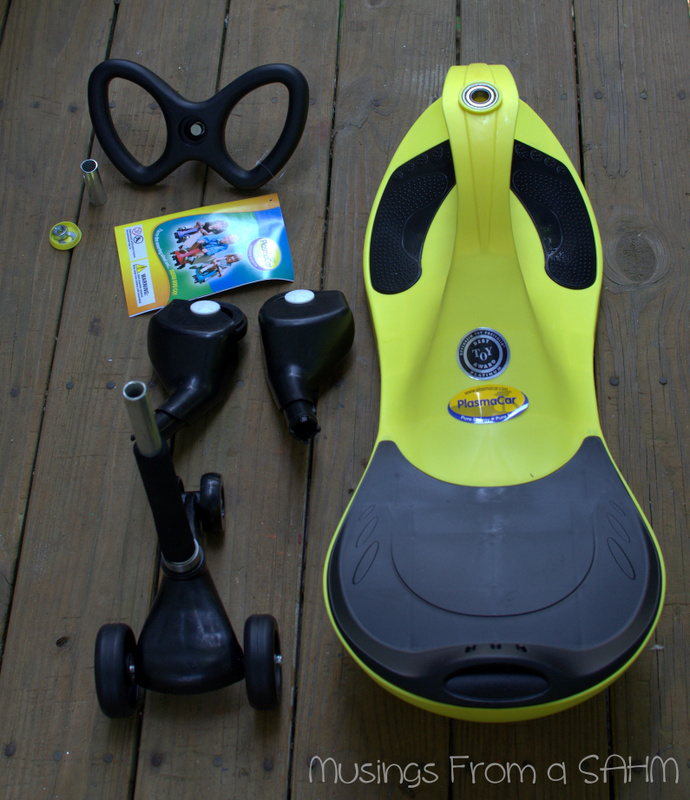 There were just a few pieces and my husband had it assembled within 10 minutes.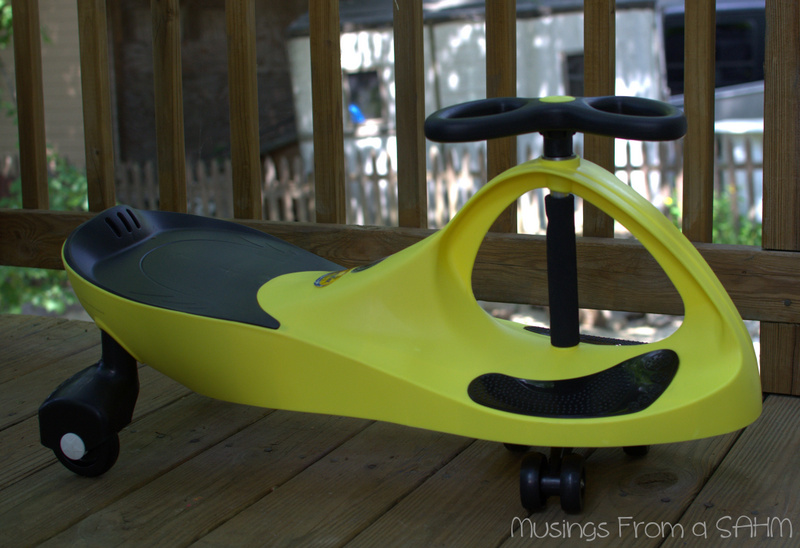 The PlasmaCar is made with high quality plastic and it can support up to 220 pounds. That means even adults can join the fun. That is, if you can get the car away from the kids long enough!
Once our PlasmaCar was assembled, my kids took it outside for a test run. Our road is a great place to try it out because we live on a hill. It was easy to sit on the PlasmaCar and go downhill, but it was even more fun to watch the kids go uphill.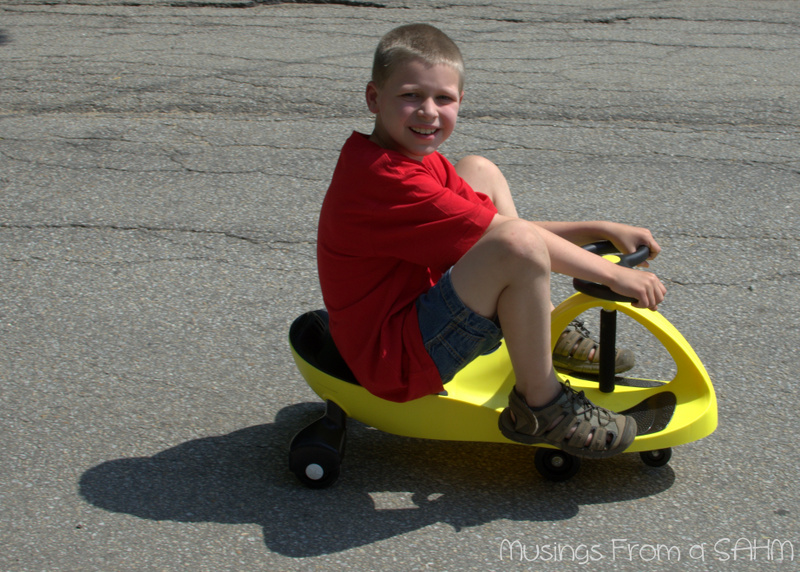 Check out this video where Nathan flew downhill and then used the inertia and motion of the PlasmaCar to go back uphill without pushing it along with his feet!
Emily equally enjoyed the excitement with our new PlasmaCar and was able to go both uphill and downhill with it!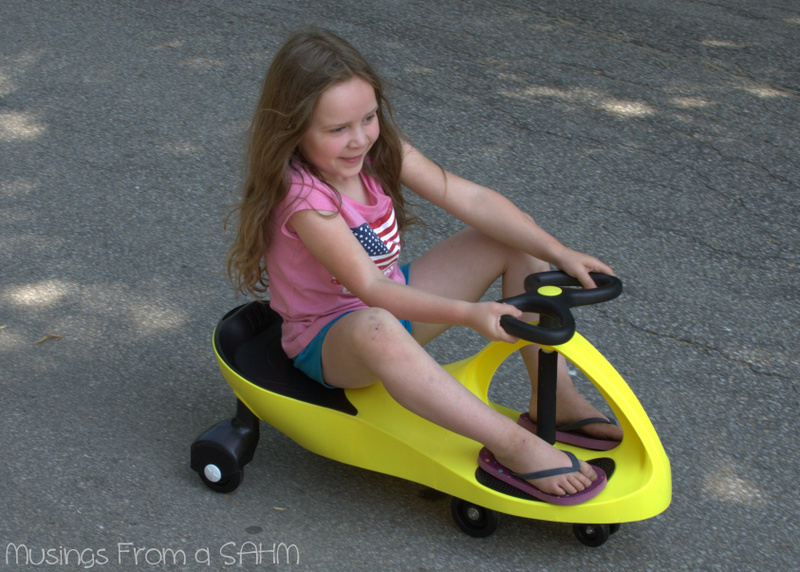 Even my three year old, Joshua, has fun with the PlasmaCar. He's too cautious to take his feet off the ground and go fast right now, but he loves trying it out and I know he'll get there soon.
The PlasmaCar can even be used indoors, although it's not recommended for use on hardwood or laminate flooring as it could cause damage. Still, we brought it on a rainy day and let Joshua (because he's lighter) use it on our floors. It's great to know it can be used inside, especially for later this year when our long winters hit.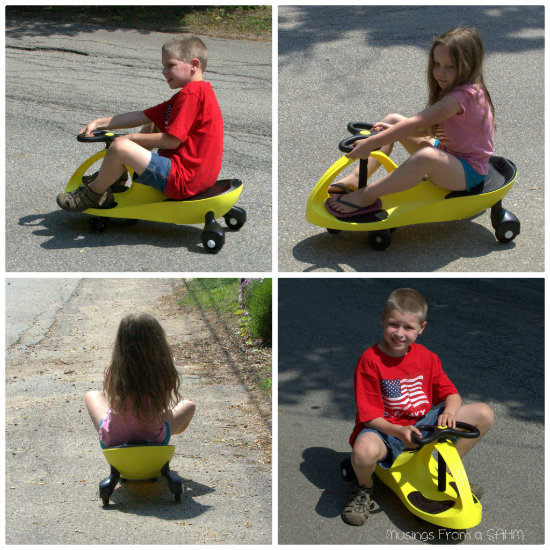 The PlasmaCar really is ultimate fun for kids – as their logo says "It's pure energy and pure fun!" It's no wonder the PlasmaCar has won many awards and can be found at retailers nationwide.
I highly recommend the PlasmaCar. My whole family loves it and I can't say enough about it. I couldn't find one thing I didn't like about it. This is what summer is all about – getting outdoors and just having plain ol' fun with awesome toys like the PlasmaCar.
Buy It:
Click here for store locations nationwide.
The PlasmaCar can also be purchased on (affiliate link) Amazon.com.