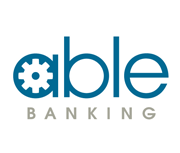 There is so much hurt and suffering in the world these days; it can be heartbreaking. I know we want to help, but it can seem overwhelming to reach out a hand. Where do we start?
That's why I was intrigued when I heard about a new online savings bank – ableBanking. This bank has a unique aspect, unlike any other bank. Instead of spending money on advertising, ableBanking helps their customers give back.
How? It's simple. When you open an account, you are given $25 that you can donate to any charity of your choice. You don't have to choose from a list they provide, but rather it can be any place you want. It could be your child's karate school, your church, the local animal shelter, anything. Then, you're given an additional annual donation of .25% of your annual balance. (Pssst, that's up to 12 times more what other banks give!) Plus, ableBanking doesn't charge the charities any fees, like other banks do. (Can you believe banks would do that?! How rude!)
If you can't think of a charity, that's okay too; ableBanking has partnered with 6 nonprofit organizations in the Boston area (where they are based.) These include some pretty profound places: Boston Children's Chorus, The Greater Boston Food Bank, JVS -Boston, MSPCA-Angell, Rosie's Place, and Teach for America.
I haven't personally tried ableBanking out yet, but I will seriously be considering it as we open up new savings accounts for our kids soon. Not only would we get better rates with no fees, but we would save more money than "typical" banks. Based on their charts, with a $1,000 6-month CD, we could save $39.92/year versus just $10.99 for the average bank rate.
I think it's fantastic to find a bank with "heart." I mean, how often do we see that now days? What's more, this can encourage the whole family to get involved by supporting a charity. ableBanking is a bank we can feel good about joining and that says a lot these days.