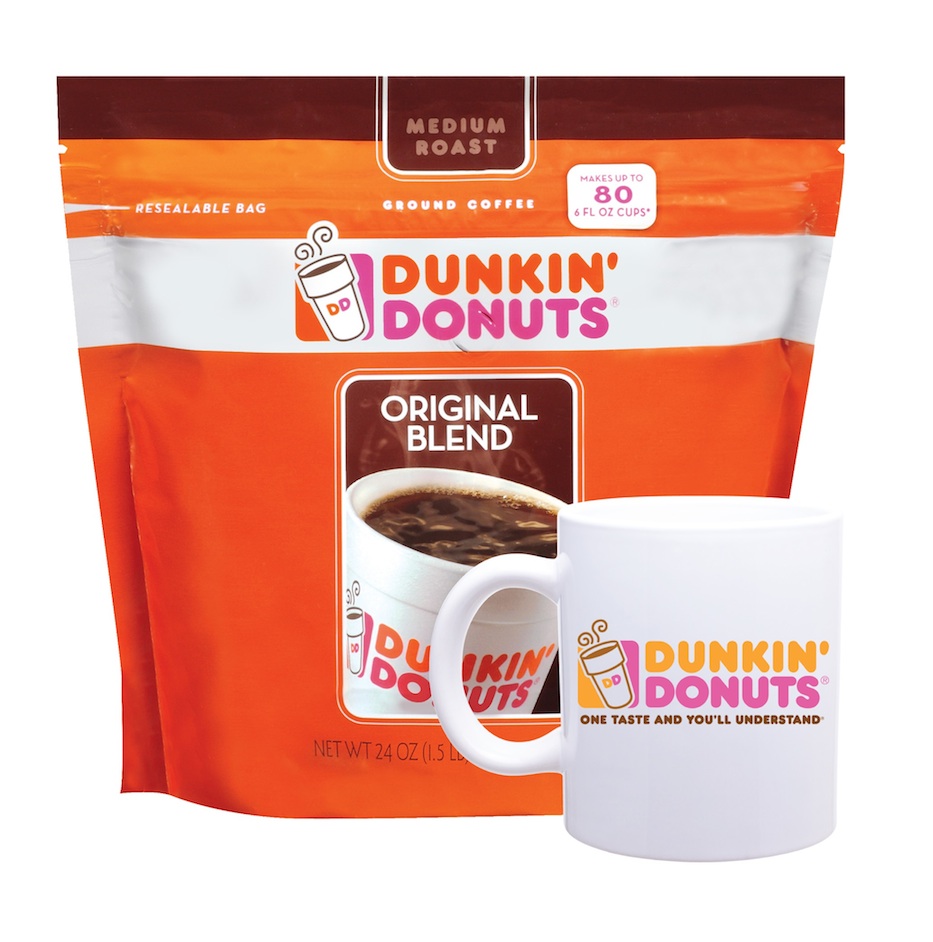 I love my morning cup of coffee. I can't function without it. I don't know if it's because I'm not a morning person or the whole four-kids factor. Probably a combination. But I need my coffee.
There's a funny story about me and coffee. I used to despise it and wouldn't touch it for anything. Then, when I was pregnant with my fourth, all of a sudden, I started craving it. And I've been hooked ever since. I even drink it black! I always say that it took four kids to convert me to a coffee lover and it's true!
Dunkin' Donuts coffee is my favorite. It tastes amazing and while it's great quality, it's not crazy expensive either. And I love that I can pick up a bag (or two…or more!) at the grocery store and be able to enjoy Dunkin Donuts coffee right at home, whenever I want.
Every morning when I get up, the first thing I do is check to see if Nate left me some hot coffee on his way out the door for work (he usually does, sweet man that he is.) Then I get my day started with my coffee cup in hand. I always do some blogging in the morning, check emails, that kind of thing. By the time I get the kids up, my Dunkin' Donuts coffee has kicked in and I'm usually ready to go!
I just found out that Dunkin Donuts now offers larger bags of coffee (22 oz, 24 oz, 40 oz) at the store. Now we can buy bigger without worrying about running out. Because I don't even want to think about that!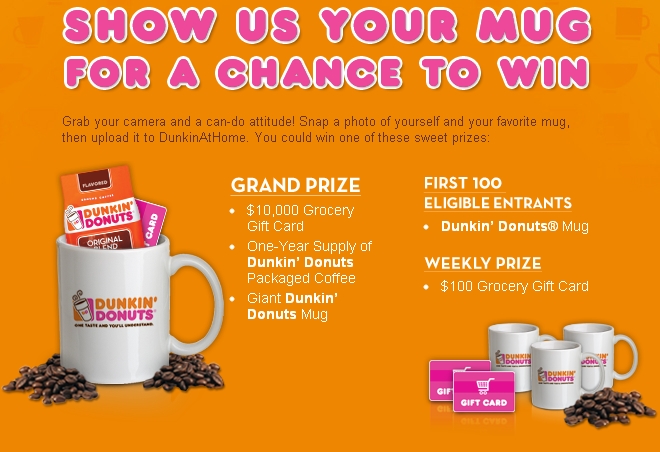 Right now, Dunkin' Donuts has an amazing promotion running, called Dunkin Donuts "Mug Up." All you have to do is upload a photo of yourself holding your favorite mug of coffee and you could win some awesome prizes, including a $10,000 grocery gift card, a one-year-supply of Dunkin' Donuts coffee packaged coffee, and an extra-large Dunkin' Donuts branded mug.
You have to hurry though – the promotion ends on August 26th – just 3 days away! Winners are randomly selected, with the grand prize winner selected on/around August 29th.
Will you enter the Dunkin Donuts "Mug Up" promotion?
Disclosure: I wrote this review while participating in a blog tour by Mom Central Consulting on behalf of Dunkin' Donuts packaged coffee and received product samples and a promotional item to thank me for taking the time to participate.