I did it. I sent my precious baby to public school.
(He may resent the baby remark ever so slightly. Oh well.)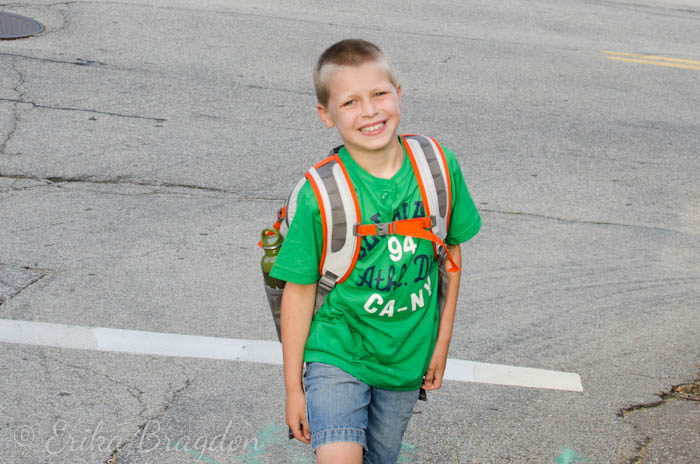 Nathan's first day was on Monday and it went great. He took the bus too.  He's old enough to walk down the road to the bus stop, but on Monday, we all walked down to see him off. For some reason, Joshua woke up on the wrong side of the bed and threw a huge tantrum as we were heading down. I think any neighbors who were still asleep had a very loud early wake up call after that performance.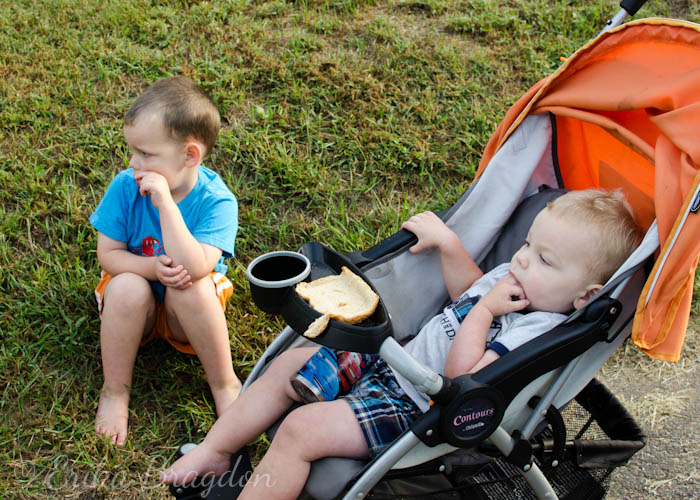 I brought my camera, of course. I got a couple of odd looks but I didn't care. This was a big moment for us! My dad had told me not to do it because it would embarrass Nathan, but I told him that's my job as mom. Haha. Plus I wasn't too obnoxious about it.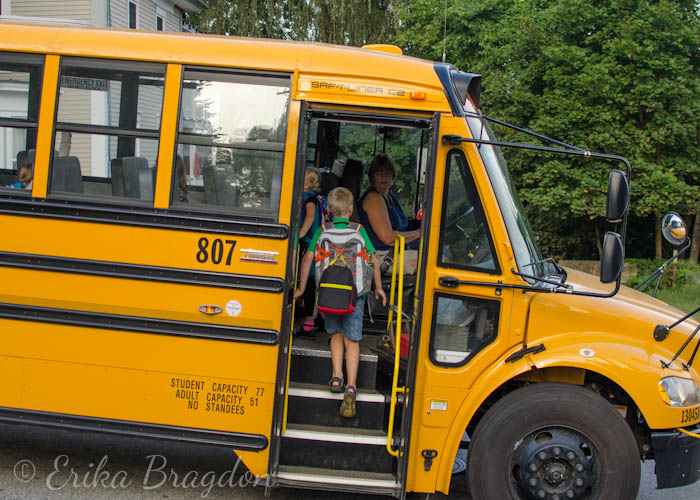 Just so you know – the photo above isn't crooked – we practically live on a small mountain, so the road is very steep.
I admit it – I did have tears in my eyes as I watched the bus drive away. I'm starting to let go. It's scary. But you know the greatest thing? As I'm letting go, I know that the Lord is right there alongside Nathan, never leaving, for everywhere he goes and everything he does. What an amazing promise we have as Christ-followers.
I'm taking this whole "change" as a big challenge to my prayer life as a mom. I've always prayed for my children, but I'm realizing lately just how critical that is. No one, absolutely no one, in this entire world will pray for my children like I will as their mother.
The other neat thing: public school is such a great learning opportunity for Nathan. And I'm not talking about academics. I'm talking about life experience. While I've tried my best to get my kids "out," I know they've been sheltered, just by nature of being homeschooled. One thing that's concerned me for awhile is that my kids don't have a clue as to just how blessed they are. Our family has been blessed with so many things and it's hard to explain to kids that others don't have all that. But I think seeing it first hand is the biggest influencer of all.
Nathan and I already had a great discussion about a boy in his classroom. He said the boy was very quiet and looked "different" (I'm not sure what he meant by that.) When their teacher talked about fire drills, the boy began crying and that really puzzled Nathan. It was a good chance for us to talk about compassion. Nathan listened in a way that he hasn't in the past.
So far, Nathan's proclaimed school to be "very good." Of course, it's just the first week and he hasn't had homework assignments yet.
One funny story: Nathan sometimes gets distracted and doesn't look people in the eyes when they're talking. This is something we've been working on with him. When he came home from school Monday, he said "Mom, I looked Mrs Crucitti in the eyes just like you told me. And she said it was okay to look away once in awhile. I guess I was looking too much, Mom."
It was all I could do not to burst out laughing right there. I can just picture him staring at her. Haha.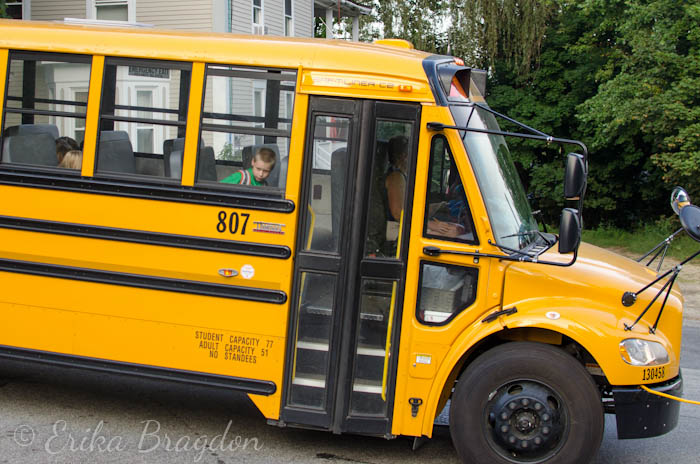 Have your kids started back to school yet?