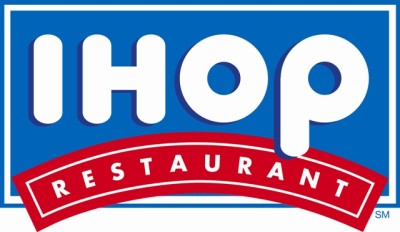 I love going out to eat, but we don't very often because it's expensive to feed our family of six. However one place we do enjoy visiting that doesn't ruin the budget is IHOP. With their famous buttermilk pancakes, there's a yummy treat that each person in my family loves and their prices are pretty reasonable compared to other sit-down restaurants. Plus it's such a family-friendly place that I don't worry about making people mad if Luke yells or Joshua spills his milk.
I always love that IHOP is constantly offering new twists and creations for their pancakes; it's not just the usual buttermilk pancake that we can make at home. This summer, there are three signature pancakes at IHOP on the menu:
Red Velvet Pancakes: Rich chocolaty red velvet pancakes, drizzled with cream cheese icing, a dusting of powdered sugar and crowned with whipped topping.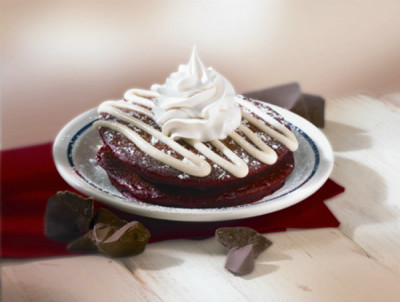 Sweet Strawberry Pancakes: These fluffy famous buttermilk pancakes are crowned with cool strawberries in a glaze, drizzled with cream cheese icing and crowned with whipped topping.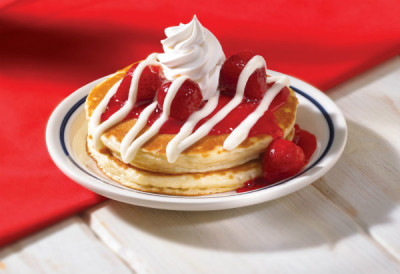 Whole Wheat Pancakes with Banana: Wholesome and lightly sweet, fluffy whole wheat pancakes topped with fresh sliced bananas. Plus they are part of IHOP's Simple & Fit under 600 calories menu options.
These delicious looking pancakes are available for a limited time (now through September 2nd at participating restaurants) starting at $4.99.
I was sent a giftcard from the kind folks at IHOP so my family could try them out. There's just one downside to IHOP for us: there's only two locations in the state of New Hampshire and the closest one to us is about 50 minutes away. Still, it's worth the trip (or better if we're already in the area) and we took the kids on Sunday for dinner. Because it's hard to beat delicious pancakes for dinner, right?
The people are always so nice at IHOP and my family was seated immediately. There's always a lot of commotion when we first sit down because Nate and I are trying to get the little kids seated and Nathan is already looking at his menu and practically shouting what he wants. Once we got everyone settled, we looked at the menu.
I personally love strawberry panckes, so it's lucky for me that there's at least two varieties at IHOP. Originally I had planned on ordering the Sweet Strawberry Pancakes, but I was in the mood for Strawberry Banana so I went with that. It was just as delicious as it looked. A stack of four mouth-watering pancakes! They were so yummy and filling!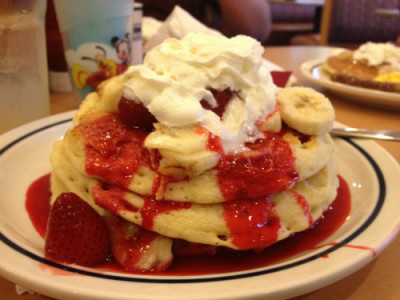 (I didn't dare bring my nice camera and risk the kids getting syrup on it, so these photos are from Nate's iPhone.)
Nate ordered the Red Velvet Pancakes and let me have a bite. I personally thought they were so sweet, they were more of a dessert than a meal. But they were delicious!! Especially the cream cheese icing. Nate really enjoyed them too. He said he doesn't normally like that kind of thing, but he loved these. He had ordered the two pancakes with sausage and eggs meal option.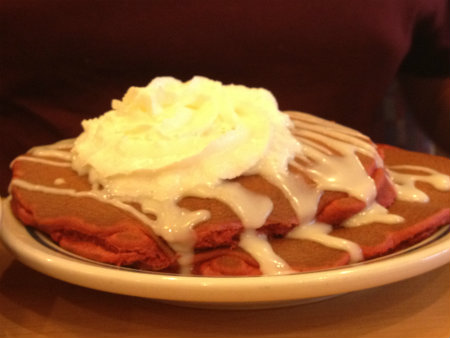 We didn't try the Whole Wheat Banana pancakes, but the next time we go, that will definitely be on the menu for us.
The kids loved their own "Create a Face" pancakes too.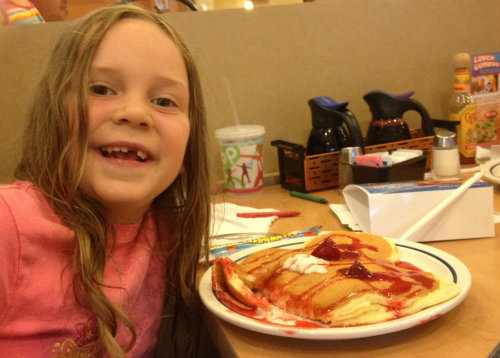 Luke was busy trying to eat with a fork. He made a very big mess, which I felt bad about, but our server was very nice about it. (We left a nice tip.)
We all enjoyed our meal at IHOP. Once again, they have a hit with their summer signature pancakes. IHOP is a great family-friendly restaurant with reasonable prices and I definitely recommend them. Now I wonder what they'll come up with for autumn?
To find a restaurant near you, visit IHOP.com. You can also find IHOP on Facebook.
Disclaimer: I received a gift card to facilitate this review and I did not receive any monetary compensation. My opinions are 100% my own and were not influenced by the sponsor.