Note: this is a guest post from Pam, who blogs at DakotaPam.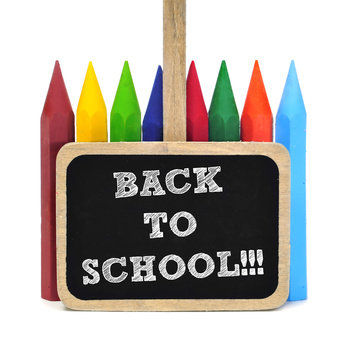 Back to school time is wonderful! Brand new backpacks, fresh, unfrayed shoelaces, and jeans without holes in the knees. All of  these things make a mom's eyes sparkle. I don't even mind the earlier mornings the new school year brings. Those school bell schedules force me out of my pajamas at a more respectable hour!
The downside of my big kids returning to school, is that my little ones lose their playmates and summertime babysitters! You see, I wear two hats.
On the one hand, I am a stay at home mom. This gives me the freedom to be with my kids, to volunteer in classrooms and to closely watch our dinner budget. I love not having to juggle childcare arrangements while I keep all of my other plates spinning.
On the other hand, I am a work at home mom. I am a blogger, freelance writer, editor and Facebook Community Manager. So, while I am home with my kids, I also need to get some work done. Some of my work can be done on the fly, or during strange hours (I am very forgiving about my personal blog publishing schedule, 6 am, noon or 10 pm; I hit publish once I finish!). However, some of my work (read: the paying kind) requires that I do it in a timely manner!
So, when September rolls  around and my older kids rush off to school, I am left with a set of very curious, very busy, toddler twins! How can I keep them happy, and fulfill my personal and work requirements?
Here are 7 tips for keeping a sane home :
Get dressed when you wake up. Yes, moms, I love my jammies too. However, I learned a long time ago after a short stint as a Mary Kay Lady (fail . . . I don't wear makeup): if you work at home, you still need to dress professionally. So, professional for me is often yoga pants. BUT, I make sure that I can rush out of the house at a moment's notice to pick up a puking kid. The sooner I get dressed, the more ready I am to work!
Feed breakfast to the family and then clean, and close the kitchen. During the summer, breakfast is rather casual. I have teenagers AND toddlers. Those two sub-groups have opposing hours. But, once school starts, I reclaim my kitchen. And, I learn from my daycare friends and set a snack and meal schedule.
Keep the Little Ones on a Schedule. While we may hate the order of a schedule, little ones love it! So, we have a predictable schedule, or rhythm to our day.
Mornings are for the little ones, afternoons are for me. This sounds mean. But the truth is, the more time I spend with the little ones in the morning the less they need me later. We go on playdates, have Tot School (preschool activities at home) or go visiting around town. This fills them with much needed "mom" time.
Plan Ahead. Bored kids are super naughty kids. (Especially bored kids with Sharpie Markers). Be prepared for bored moments with a "bag of tricks". I like to stock up on goodies from the Target Dollar Spot (Stickers, little notebooks, books etc.) and pull them out right before  a melt-down.
Remember Nap Time. Even if your kids have appeared to have outgrown naps, a quiet time with a video, or books on their bed, or some amount of time (preferably two hours for me!) where they do not need mom is great. In two hours I can knock out a lot of work!
Treat Your Younger Kids Well.  Remember when you had just one child? Remember the trips to the library? The wonder-filled park excursions? Tours of the fire department? Your little kids need those memories too! So yes, you may have heard "The Little Engine That Could" a bajillion times. Your toddler probably has not. Yes, you have seen that exhibit in the zoo before. It is new to your little one! Go. Discover. Explore!
About: Pam Thompson (aka Dakotapam is a mom of six kids ranging from age 16 down to 2 year old twins). Pam has blogged at http://dakotapam.com for 5 years. She is also the blog editor and Facebook community manager at http://naturallyborn.net. She speaks at MOPS groups and other moms groups and loves to encourage other moms along their way!