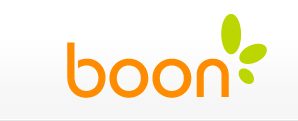 Admittedly, I'm a bit of a type A personality. I like things to be very organized and very clean. Aaaannnnddd, I'm a new mom. To a boy. Yes, I see how my preferences and my new reality are not exactly going to mix well all the time. It is going to make me crazy, without a doubt. I see a lot of deep breathing in my future! However, one area of cleanliness and organization has been taken care of, and that is Samuel's bathtub toys!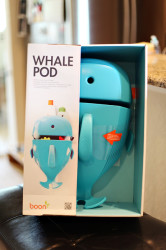 Boon is a fabulous company with a lot of cool, innovative products. One such product is their Whale Pod. You may recall their very popular Frog Pod. Well, the Boon Whale Pod does all the same things, but in whale form. It is a wonderful bath toy storage solution! When I received ours in the mail, I was surprised at just how much it really does look like a whale. It's adorable!
Not only does the Whale Pod provide great storage for bath toys, you can also use it to "scoop" toys up out of the water with the removable scoop (in this case, the main body of the whale), which makes bath toy clean-up easy and fast! I know when he is older, Samuel will love using the scoop; I can already hear the noises he will make as he operates the scooping mechanism.
Once toys are scooped and stored, they can drip dry. Slits in the sides of the whale ensure that water won't be trapped, and thus, reduce the chance of mold and mildew taking over. For me, that is of utmost importance. I hate the thought of Samuel chewing on a toy that has been growing something. Yuck!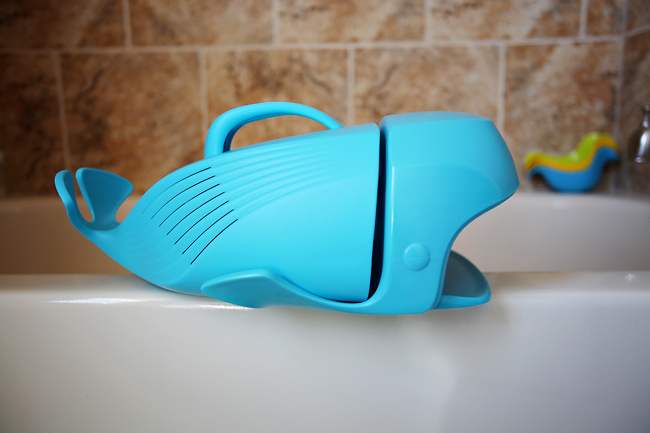 Finally, there is a built-in shelf at the top of the Whale Pod that you can use for storing shampoo, body wash, bubble bath, and anything else you want to keep within reach. Up until now Samuel's shampoo and body wash have just sat on the side of the tub, and inevitably, they get knocked off all the time. And because I'm type A, I have to pick them up each time. But now all of his little bottles are neatly organized (in descending order of height) on our Whale Pod shelf! I love it.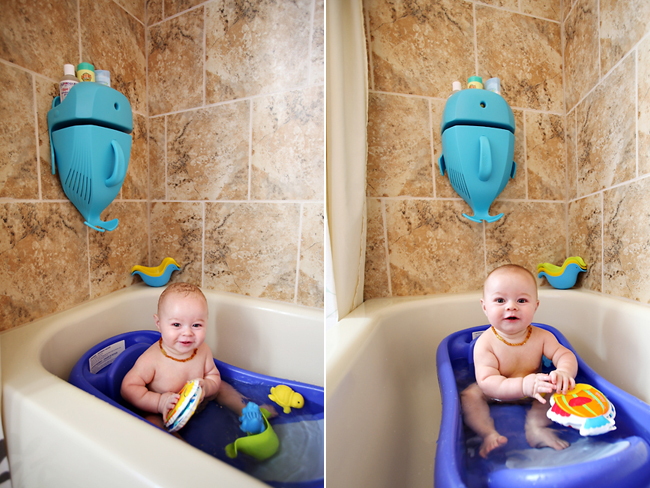 This handy guy is super easy to install. You can mount the base using either the included adhesive strips or the included screws. Because I didn't want to put holes in my tile, I chose to use the adhesive strips, which are semi-permanent and supposedly very strong. After removing the backing on the strips, I carefully centered the base and then pressed it onto the tile, applying strong pressure for 30 seconds, per the instructions. The instructions also advise waiting 24 hours before mounting the shelf and scoop onto the base, and so I did just that. I REALLY don't want this to fall off the wall later on. I did give the base a little jiggle right away and it didn't budge. So I feel pretty confident that with the additional 24 hour cure time, this Boon Whale Pod will be on that wall until I choose to remove it.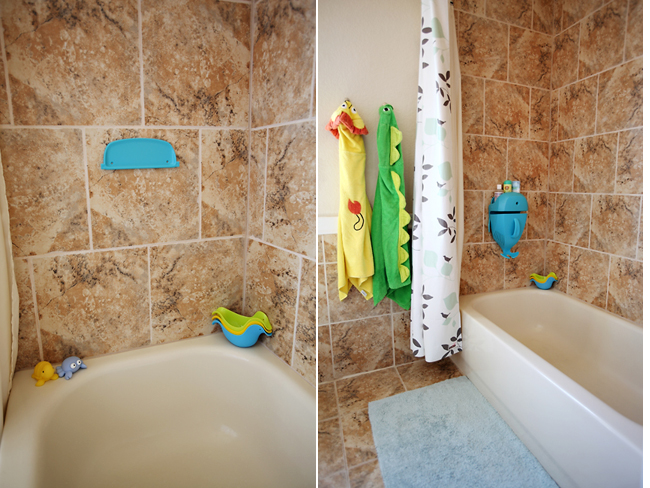 The Whale Pod is -BpA-free, Phthalate-free and PVC-free, and it is available in three different colors: blue, grey, and white. As you can see, we got the blue one, and I love the color! This guy is recommended for all ages, and as such, would even make a great baby shower gift!
Find the Boon Whale Pod and other Boon products on (affiliate link) Amazon and other retailers.
Win It!
1 lucky winner will receive a Boon Whale Pod (ARV $34.99) in their choice of color
CLOSED