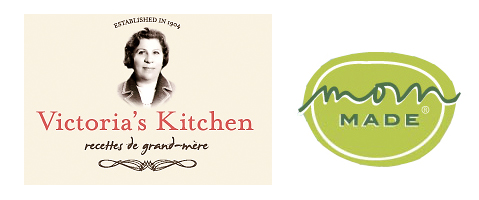 The primary beverages in our house are water and freshly brewed tea. We avoid most other beverages because they generally contain high fructose corn syrup, artificial flavors, and even artificial colors! So, I was excited to have the opportunity to review Victoria's Kitchen Almond Water. I was REALLY impressed with how well the bottles were packaged for mailing. The bottles are glass (which I love!); people at Victoria's Kitchen go out of their way to make sure their product gets to you without mishap.
Victoria's Kitchen Almond Water is made with all natural ingredients and no artificial flavors or colors. Specifically, this delicious beverage is made with water, pure cane sugar, natural almond flavor, and citric aid. That is all! It is just the right amount of sweet and very refreshing. It has a very unique flavor! I have been drinking mine as a special treat after dinner once I get Samuel in bed for the night. However, it would also be wonderful paired with a light, summer dessert!

You can purchase a six-pack of 16-oz bottles at VictoriasKitchenRecipes.com for $11.99.
I was ALSO able to try out some bite-size turkey meatballs from Mom Made! This is a great company founded by a mom who believes in convenient meals that do not sacrifice quality or nutrition. I didn't have to worry about what I was sampling because all Mom Made products are made with organic products and meats raised without antibiotics, all sourced in the USA. We love buying and using products made in the USA, so that alone predisposes our household to loving Mom Made!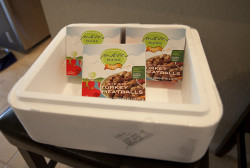 As soon as I got my turkey meatballs from Mom Made, I knew what I was gong to do with them – make meatball subs! I love meatball subs, but I never get to have one because I'm very suspicious of meat at most sub/sandwich shops, so I always end up with a veggie sandwich. Well, let me tell you, this meatball sub did not disappoint, and it was SO easy! I simmered the meatballs (around 25 in a package) in tomato sauce for about 20 minutes in order to completely heat them all the way through. Then I sliced some fresh bread I bought at the local grocery store bakery and piled on the meatballs, making sure to drench it with plenty of the sauce. Then, I sprinkled grated mozzarella cheese on top and popped into the convection oven to toast it for a few minutes. It smelled wonderful, and tasted even better. The sub was huge, and I ate every bit of it! But lest you think I actually ate ALL 25 meatballs….I didn't, though I was tempted. I saved some for another sub tomorrow. 🙂

These meatballs are also wonderful for kids, and even toddlers, because they are bite-size. Once Samuel is a few months older, I wouldn't hesitate to put a couple on his plate. And I'm sure he wouldn't hesitate to join me in devouring them!
Mom Made Bite Size Turkey Meatballs can be purchased from Mom Made Foods for $46 for eight packages, or from a variety of other retailers that can be found on their website.