Note: This is a guest post from Tammilee, who blogs at Tammilee Tips.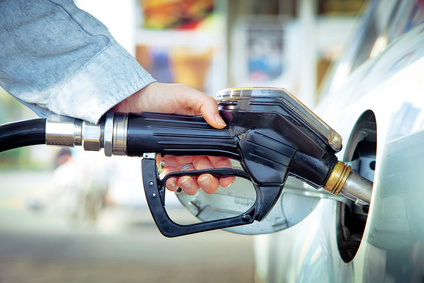 Here are 10 great tips for saving on gas:
1. Utilize Gas Price websites to make sure you are getting the lowest price possible.
The following websites allow you to map out your drive and find the lowest price for gas possible.
Gas Prices
Gas Buddy
2. Gas Discount Cards
Check and see if your local gas stations has a gas discount card.
Shell Fuel Rewards offers an instant win game that you can win up to $.25 off a gallon. You can also earn additional gallons off with their program.
Maverick Gas Stations have a card you can sign up for that saves each time you fill up.
Flying J Truck Stops have a membership card that you can use to earn discounts on gas and also their restaurant/services
3. Grocery Gas Savings
Many grocery stores offer gas savings as an incentive for shopping at their stores. As gas prices go up this is a great way to save at the pump. In our area both Safeway and Albertson's offer gas rewards. Make sure and check the bottom of your receipt to see your current gas savings.
 4. Park so you can pull forward
Park so you can always pull forward rather than use gas backing up.
5. Go the speed limit
The US Dept of Energy says that by going the speed limit and swearing off aggressive driving drivers can improve mileage by anywhere from 12 to 55 percent!
Use 15% less gas by driving 55 mph instead of 65 mph.
6. Use Cruise Control
Edmunds.com found that by using cruise control drivers could increase their fuel efficiency by 7 percent!
7. Warm your car up
Modern cards do not become fully efficient until the engine is warmed up. If you are planning a series of errands drive to the farthest distance first and work your way back.
8. Clean out your trunk
For every 30 pounds of extra weight you car carries you decrease the fuel efficiency of your car.  Miles per gallon can be decreased from 1/10 to 1/100 of a percentage due to the extra weight in the car.
9. Avoid quickly accelerating or braking
Try to anticipate traffic flow and avoid quick accelerating or braking. Steady driving can increase fuel efficiency by as much as 20%
 10. Make sure your tires are properly inflated
Check your owner's manual or the door jamb of your car for the correct PSI. Even 1 tire under inflated by 2PSI will increase your fuel consumption by 1%