Today is my 30th birthday.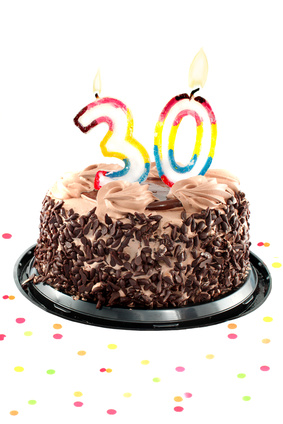 I know a lot of people dread this milestone birthday, but me? I'm looking forward to my 30's.
A lot happened in my 20's. I didn't do the typical go-to-college and party, then eventually find a guy and settle down. I got married at 19 and have had four children (my first at age 20.)  This past year I've celebrated my 10th anniversary with my amazing husband, and almost ironically, I've ended my 20's with a hysterectomy 3 weeks ago.
My 20's were crazy. A lot of wonderful things happened, but I was so young and honestly went through so much as a child that it took me a very long time to start finding myself. It was a decade of new beginnings but also a lot of struggle.
Now? I feel like I have a pretty good idea of who I am. I'm learning to live for the Lord and for me and not for others. And I don't mean that in a selfish way, but just in the sense that I used to live to please other people. Now – not that I don't ever struggle with that, because I do – but I've learned that it's not about that. It's about living for the only One who really matters, and in doing that, I have such a peace and comfort that I've lacked before.
So I'm saying good-bye to my 20's and hello to my 30's. And I'm pretty happy about it.
Nate is taking me out tonight without the kids. Our babysitter is coming and we are going to have fun!
We're going to the outlets first. I have a Banana Republic gift card that I want to use for a new dress or pant set for my brother-in-law's November wedding. Then we'll go out to dinner. I can't decide whether I want to go to my favorite Mexican restaurant with the yummiest chicken enchiladas ever or the best seafood place with their amazing baked shrimp. Whatever we decide it will be fun.
Tomorrow we'll have a small birthday party with the kids. It's so cute how excited they are about Mom's birthday. I think I'm going to bake my favorite chocolate cake and let Emily help me.
It's going to be great.