Nathan's fourth grade class is voting for a "student council" this week and Nathan is running for vice-president.
Maybe I'm just out of the loop, but I was surprised that they were doing this at such a young age. But I don't have to organize it, so oh well!
I asked Nathan why he decided to run for vice-president. He said there were many kids running for president but just one other kid going for vice, and he thought his chances of winning would be greater that way. Smart, huh?
On Friday, he brought this paper home. They were supposed to each write a "speech."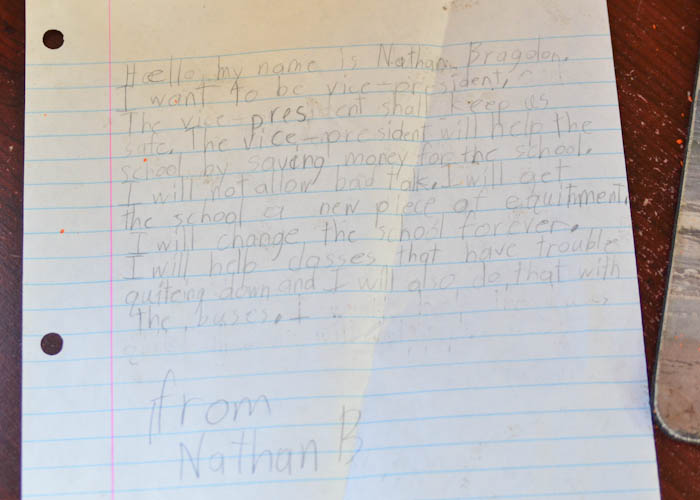 In case you couldn't read that all, he said:
"Hello, my name is Nathan Bragdon. I want to be vice-president. The vice-president shall keep us safe. The vice-president will help the school by saving money for the school. I will not allow bad talk. I will get the school a new piece of playground equipment. I will change the school forever. I will help the classes that have trouble quieting down and I will also do that with the buses. From Nathan B."
I could hardly believe he wrote this all by himself. Already making promises (like playground equipment, "changing the school" forever). Lol.
So yep, that's my Nathan, the future politician. Ohhhh boy! We're in trouble.