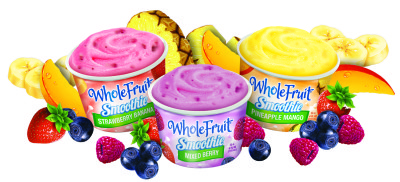 I can't help but need a sweet treat after a meal. Or in the middle of the day. Or in the morning. Or any time really! With a sweet tooth like mine, I need to find something healthy to satisfy.
J & J Snack Foods has a new product called the Whole Fruit Smoothie. I got to try out all three of their flavors and they are definitely here to stay. There are three flavors: Mixed Berry, Strawberry Banana, and Pineapple Mango and after a tough call, I decided that Mixed Berry was my favorite. These smoothies come in a mini cup, frozen, and ready to eat with a spoon or to drink with a straw. And check out these fun facts:
Only 100 Calories per serving
No prep work needed
Real fruit in every bite
Looking for a drinkable treat? Pop the cup in a microwave for 20 seconds, stir and enjoy.
They're also very delicious AND they are a fun way to get more fruit into your diet. I love that they use real fruit because you can taste how fresh it is with every bite.
My favorite part is that I get to eat it with a spoon. I think it tricks my taste buds into thinking I'm eating dessert. My husband loves them, too! He recently told me they were his new favorite dessert and that we need to make sure we buy more so we won't ever be without them! He loves the Pineapple Mango flavor the best and he agrees that it is best when eaten with a spoon.
You'll definitely need to try these, too. They are a great way to substitute for dessert, use as a snack, or even add to breakfast to start your day healthy!
Be sure to like them on Facebook or read more about them on their website.
Delicious Whole Fruit Smoothies can be purchased at your local grocery store for approximately $3.50 for a 4-pack.
Win It:
1 lucky winner will receive a double sample pack (that means two 4-packs of all three flavors!)