February 3rd is the day of the big game. Super Bowl XLVII. My husband is pretty bummed that the New England Patriots won't be in it, but regardless of who's playing and if one of the teams is a favorite, the Super Bowl is always an exciting event.
The game itself is one thing, but there's also the commercials. One of our family favorites is always the Coca-Cola commercials. We love the brand and it's great fun to see what Coca-Cola brings to the game.
That's why I was excited to work with Coca-Cola and introduce you to the 2013 Super Bowl Coca-Cola commercial!
This year, the Coca-Cola Super Bowl commercial is known as Coke Chase. A cast of characters – the Cowboys, Badlanders, and Showgirls – are racing in a desert to reach an elusive but refreshing Coke. But only one group will get the prize. And the ending will be determined by the fans! Watch the full 60 second commercial that will be airing during the Super Bowl 2013 right here now:
Vote at CokeChase.com
Go to CokeChase.com to vote for your favorite! It's free to vote and you can even help your team out by sabotaging the others.
One way to sabotage is to offer another team Domino's pizza. Yum!
I'm voting for the Cowboys myself. Hey what girl can resist a cowboy?
Who's your favorite? Will you vote for the Cowboys, Showgirls, or Badlanders?
The Ending
The ending to the Coca-Cola Super Bowl commercial will be one of three 30-second spots. Which of course depends on your votes! The final commercial will air immediately after the game.
Pretty exciting, huh?
Follow Coca-Cola on Facebook and Twitter too.
Win It!
In addition to that exciting news, Coca-Cola is offering you the chance to win an awesome Coca-Cola prize pack valued at $100! This includes: a $50 Domino's Pizza gift card, an 8″ Coca-Cola football, pizza cutter, galvanized party tub, Coca-Cola t-shirt, and four Coca-Cola 16 oz. cups w/straws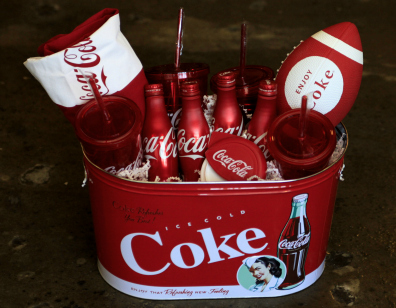 CLOSED