I've always been sensitive to mosquito bites; I swell up quickly and one bite will itch for days. A couple of my kids are the same way. This year, I turned to my trusty essential oils for natural mosquito bite relief and I can't believe how easy and effective it is!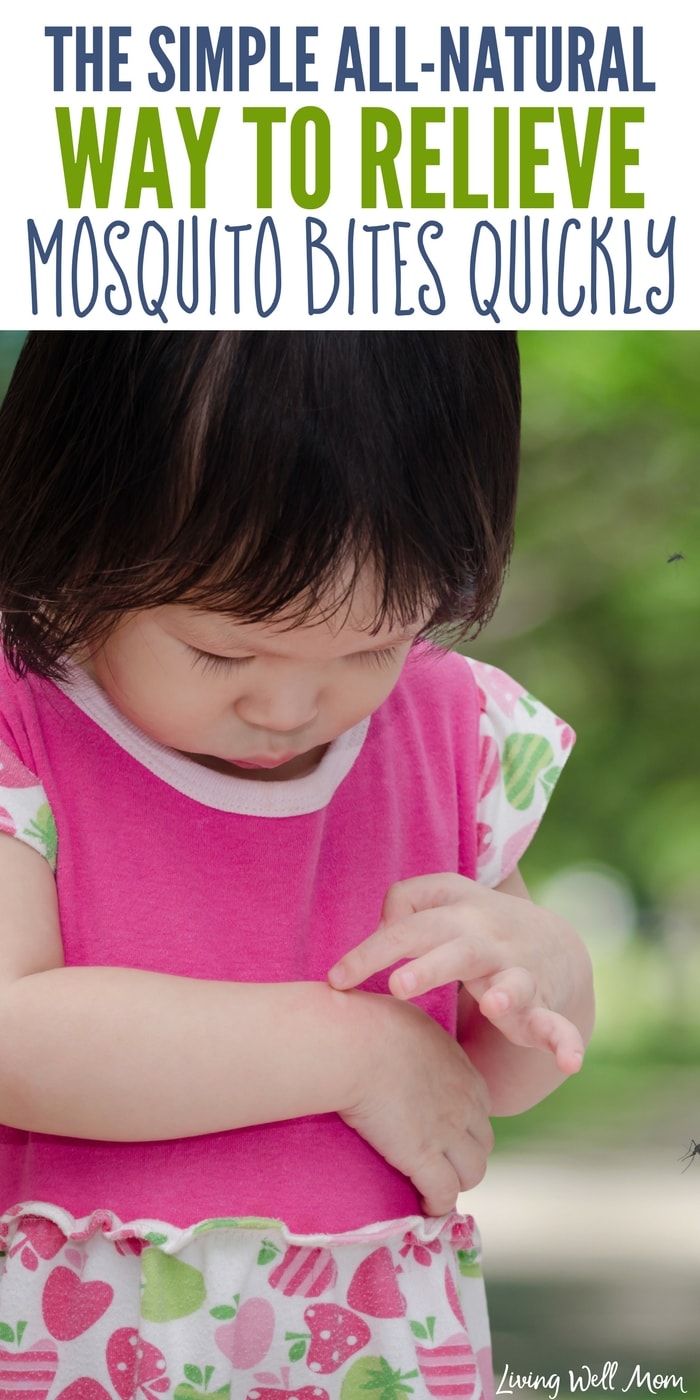 Now, if you want to prevent mosquito bites, check out my DIY essential oil mosquito repellent blend with recipes for a spray and roller blend. But if you get bit because (you're like me) and forget to apply your mosquito repellent, this post will help you today.
I decided to make this an essential oil roller blend because roller blends are neat and simple to apply, plus you don't waste it like you might if it were a spray. You simply roll this mosquito bite relief blend over the bite and within a minute or two, you can experience relief.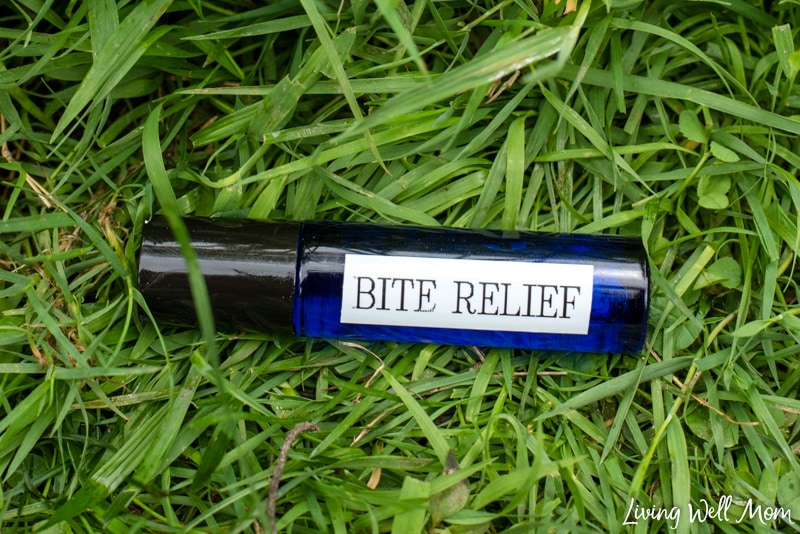 Please note that I am not a medical professional and the information presented here is merely for educational purposes and not intended to replace medical advice. I am simply sharing my own family's experience in the hopes that it might help you too. Check with your doctor or find a qualified aromatherapist if you have questions or concerns.
Also remember that when it comes to essential oils, a little goes a long ways. Start with less in the beginning and if you're not seeing the desired results, you can choose to slowly increase the number of drops.
DIY Essential Oil Roller for Mosquito Bite Relief
You'll need:
Note: I love Rocky Mountain Oils. (I used to use cheaper brands from Amazon, but RMO oils are more effective in my opinion and still affordable.)
I chose three essential oils for this mosquito bite relief blend:
lavender has soothing and healing properties
melaleuca has antiseptic and anti-inflammatory properties
basil contains properties that can relieve itching
All three of these essential oils can be used "neat." In other words, you can apply a drop of essential oil directly from the bottle onto your skin / the mosquito bite. I love to use basil neat on mosquito bites.
But, for me and probably for you too, it's not always practical to carry whole bottles of essential oils around with me where I'm prone to losing them myself, not to mention my kids. So that's where a DIY essential oil roller for mosquito bite relief works well. It's easy to carry around and easily combines these three amazing essential oils into one simple blend.
So if you want to use the essential oils neat, go ahead. But if you want to make the DIY blend, here's how:
Add 30 drops of lavender essential oil, 30 drops of melaleuca, and 40 drops of basil to your roller bottle.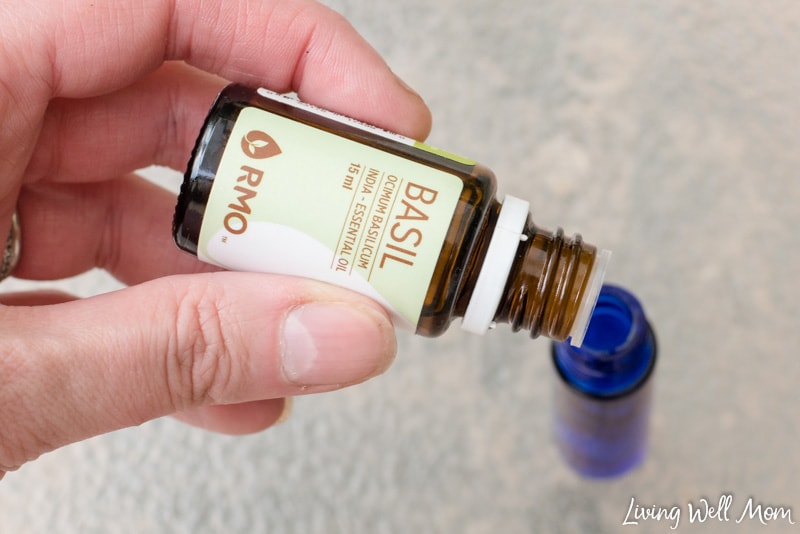 Top with fractionated coconut oil or your favorite carrier oil and put the roller bottle cap on.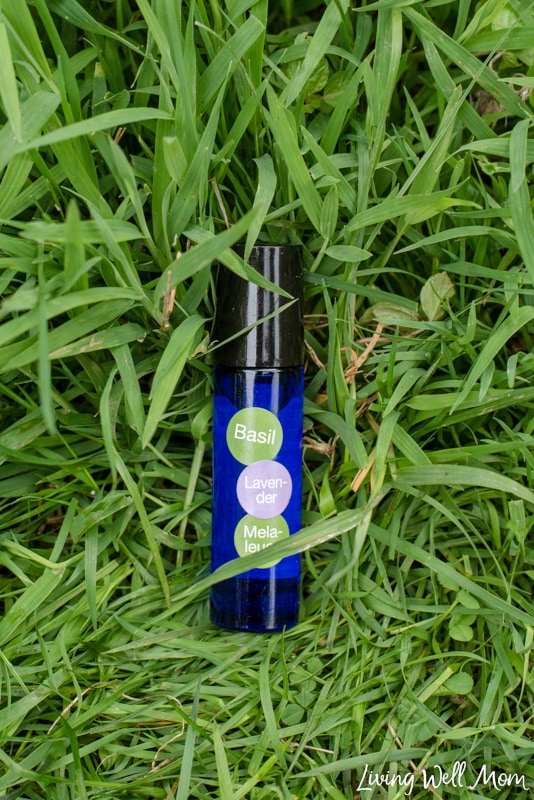 You might have noticed that there's a lot of essential oils in this mosquito relief blend and not much carrier oil. That's because, again, these essential oils can be used "neat" or without diluting and they work better stronger without much dilution.
Simply apply this DIY essential oil roller for mosquito bite relief anytime you experience a mosquito bite and within 1-4 minutes, you should experience relief.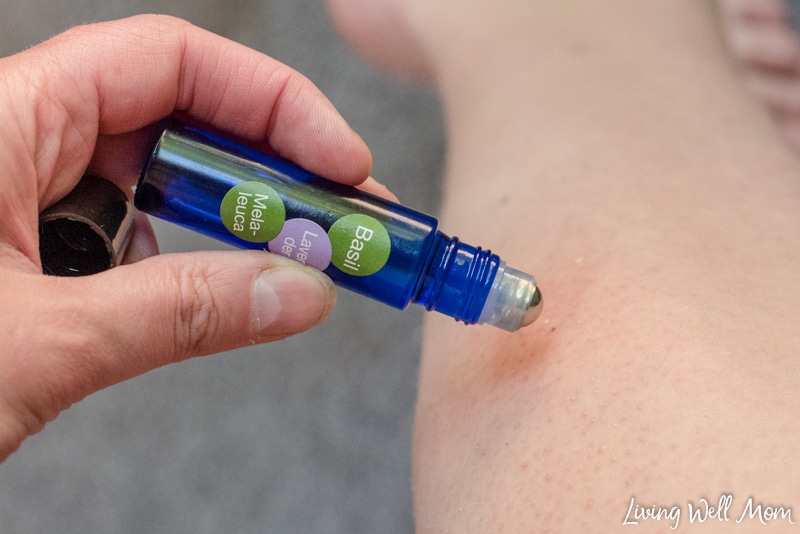 I've been amazed at how effective this simple mosquito bite relief blend is, plus because it's all-natural, I don't have any problem using this with my kids.
My 4-year-old niece gets bitten up a lot by mosquitos too and her mother was equally impressed when we used this roller blend on her. (She immediately ordered her own roller bottles so she can make this blend herself.)
If you've been looking for an all-natural way to relieve mosquito bites, then this is for you. It really works and is much better for you and your kids than many of the typical insect bite relief ointments and sprays out there.
Don't feel like buying the essential oils and making your own blend? This "Don't Bug Me" natural repellent from Herbal Energetics both repels and soothes bug bites. You can read more and buy it here.