To say I've been thrilled with my new Maytag appliances is probably the understatement of the century! I've had my new Maytag refrigerator, range, dishwasher, and microwave for about a month now and let's just say I am so glad I was picked to be a Maytag Kitchen Mom Blogger!
Today, I want to tell you about my Maytag® Ice2O® French Door Refrigerator with Easy Access Refrigerator Drawer.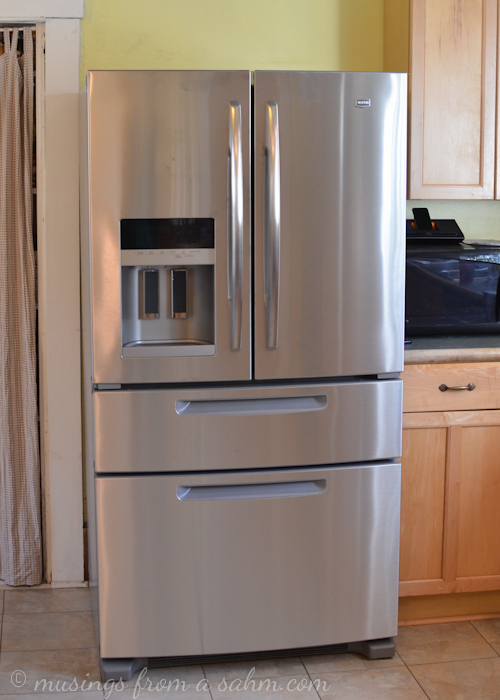 Old vs New
Our old refrigerator was the same size (25 cubic feet) and had a similar concept with the fridge on top and a freezer drawer on the bottom. But the layout inside our new Maytag refrigerator offers a much more open, seemingly-larger area. Which is great, because we need a lot of food with six people in our family.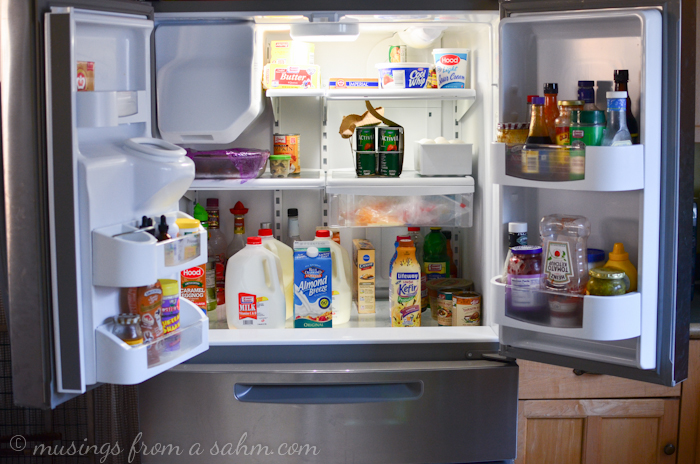 We typically drink 3-4 gallons of milk alone each week. With our old fridge, our weekly 4 gallons of milk seemed to take over the top shelf. Now we keep the gallons of milk on the bottom shelf, where Nathan can easily reach it, and there's still plenty of room for other things.
Unlike our old fridge where we'd occasionally have frozen milk, this Maytag refrigerator has a Maytag temperature control system that keeps temperatures consistent. From the patented door seal that prevents cold air from escaping to the Rapid React sensors that monitor and adjust temperatures as needed, this keeps food fresh longer.
French Doors:
The Maytag Ice20 French Door Refrigerator has four doors – two french doors, an Easy Access refrigerator drawer, and the freezer drawer.
I love how the two french doors open to reveal the whole inside of the fridge. We can both doors or just one. That saves on energy costs too. (Did I mention this is an Energy-Star appliance?!)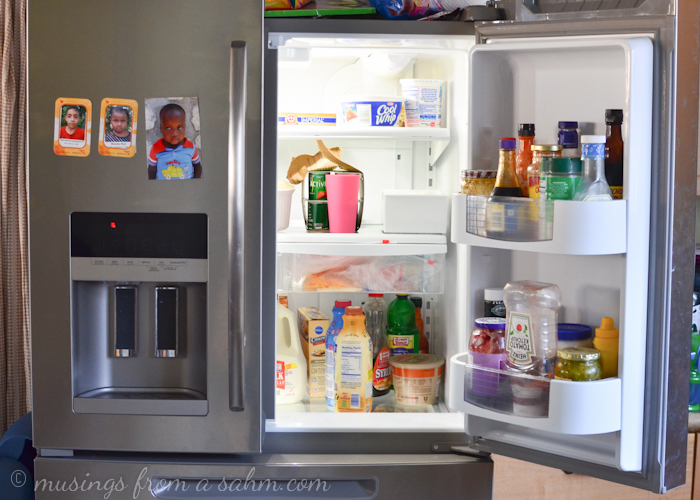 I also like the handy feature where a not-too-obnoxious beep sounds if the doors are left open for more than 5 minutes. You can also see on the display above the water/ice maker that the doors are open too.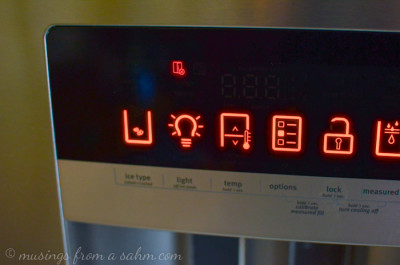 I've noticed less door-storage space in this fridge than my old one, but that's because there's two smaller doors and an ice maker. But that's a price I'll happily pay for the added benefits of the lighter and more convenient french doors and the fabulous ice maker/filtered water dispenser. (More on that below.) And the door storage bins are big enough to hold a gallon of milk! But I don't use it for that since we buy so much milk.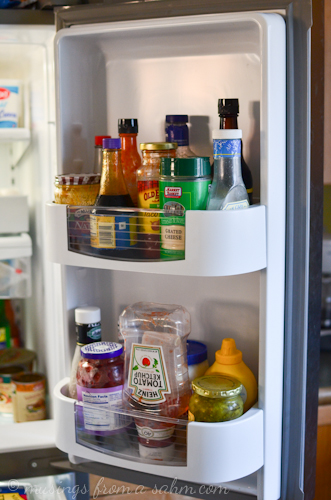 The Easy Access Drawer:
The Easy Access refrigerator drawer is one of my favorite features of my new Maytag refrigerator. This drawer is part of the refrigerator and we can see into it from the main part of the fridge through the glass bottom.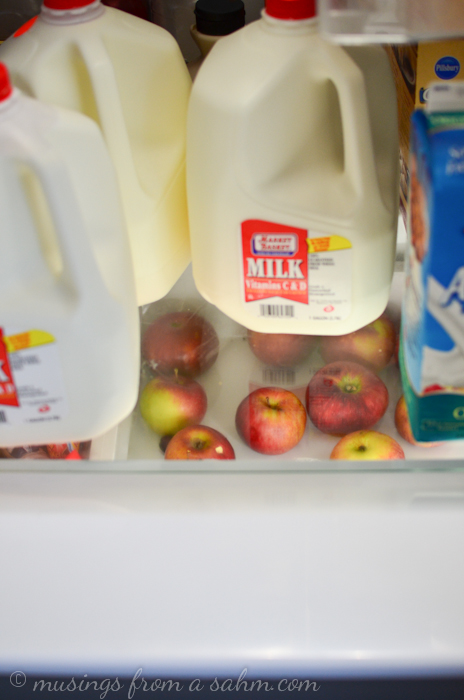 I love that it's lower and easier for the kids to access. It's separated into three sections, which makes it easier to keep organized. I keep snacks for the kids (cheese, yogurt, etc.) on the left, fruit (apples, pears, grapes) in the middle, and vegetables on the right side.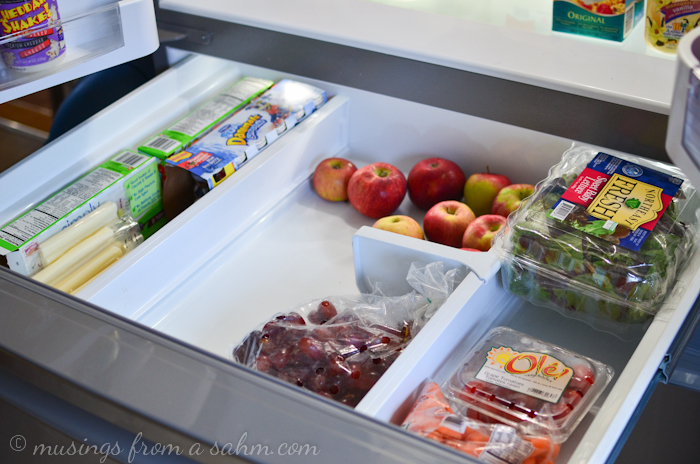 Freezer storage:
Storage in the freezer is fantastic. Like I said, we had a bottom drawer freezer before so this isn't a new concept to us. This new refrigerator took that and made it even better by adding dividers in the freezer. So now, unlike my old freezer, I can keep things organized without everything falling into each other.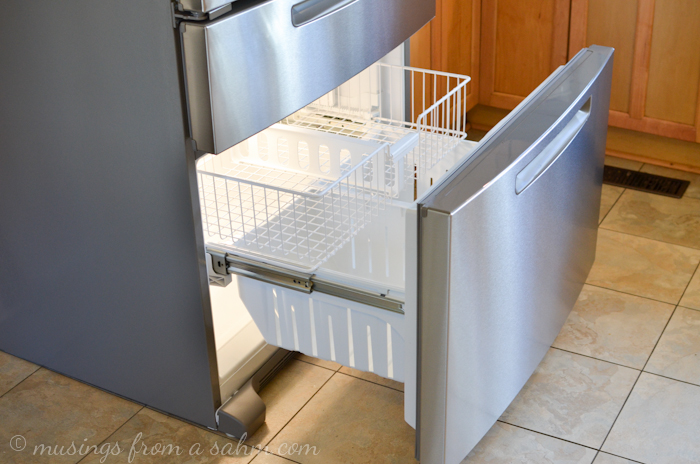 There's also an upper bin that can be pulled out for even more storage. I keep frozen meat in one section of the upper bin and frozen pie crust, pizza, meatballs, a quart of ice cream, etc. in the other half. It's even large enough to fit a 20 pound turkey!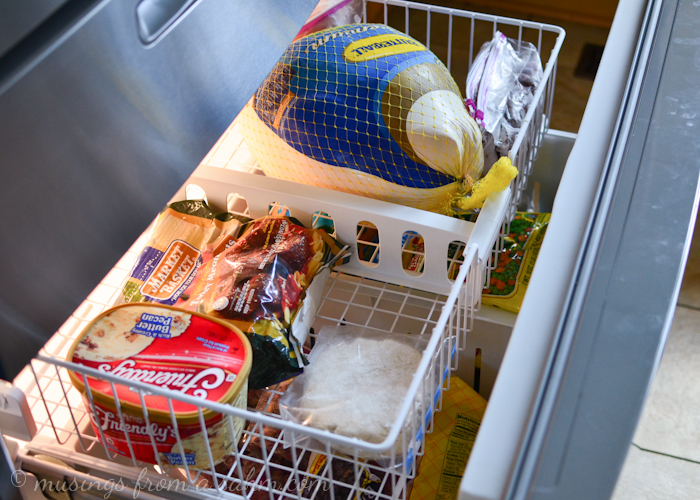 Then for the bottom drawer half of the freezer, I keep frozen vegetables in one half and frozen fruit (for smoothies and baking) on the other half. I love it because now I can just toss the bags inside now.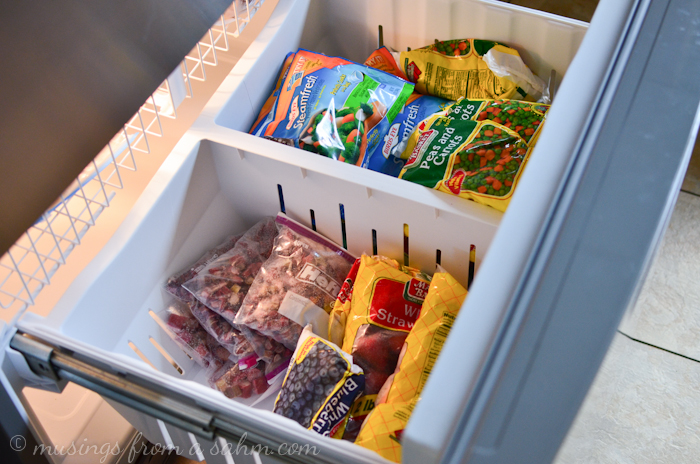 Ice Maker and Filtered Water:
The ice maker and filtered water feature is another of my top favorite things about our new fridge. It's so nice to have fresh ice available at a moment's notice. And we can choose between crushed ice or regular cubed with the push of a button. Even the regular cubed ice is smaller than normal, making it easier to fit into water bottles. The only thing I've noticed is that sometimes the fridge has a hard time switching completely over from crushed to regular ice, etc. and combines the two. And it also sometimes spits the ice out a little crazy-like and misses the glass. But those are only two tiny things that don't bother me.
Our Maytag Ice20 French Door Refrigerator also has filtered water! I prefer filtered water but hate pitchers and faucet filters, so I was thrilled to learn this. It uses a PUR water filter that's hidden up in the top of the fridge. I didn't even notice it until Nate pointed it out to me.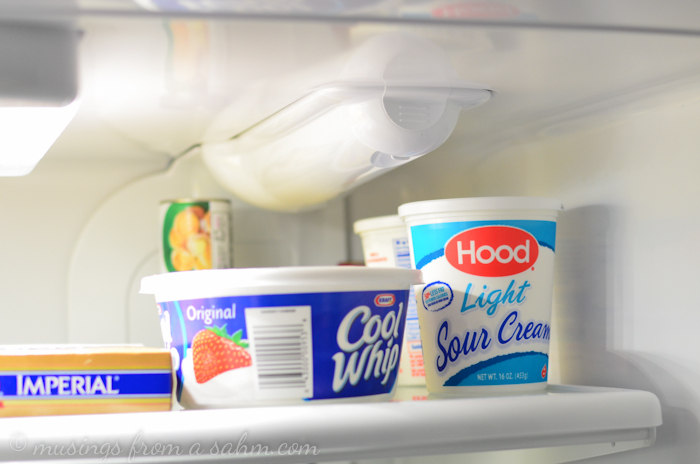 The filter is also supposed to last a long time – we only need to change it twice a year. The display above the ice maker/water dispenser will let us know when it's time.
I also love that the fridge's display tells us exactly how many ounces of water are dispensed. It's great for when I'm keeping track of how much water I'm drinking each day. Then there's my favorite measured fill option. We simply push the buttons to tell the fridge how many ounces we want – ie 8 oz – and it dispenses exactly that much.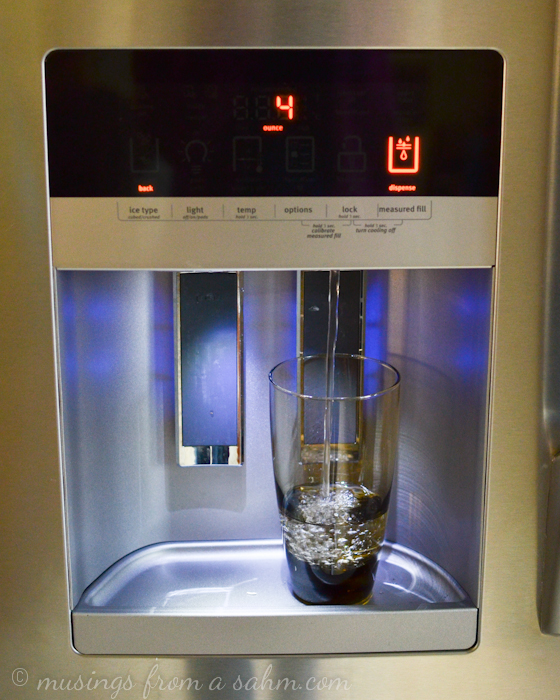 It's SO neat! And my kids are drinking more water too because they love the new features.
Cleaning the Fridge:
Maytag has done a great job of thinking of many features that will make our lives easier. They went one step farther and even included cleaning the fridge. No, there's no automated "clean" button yet (wouldn't that be nice one day?) but the fridge comes with adjustable spill-catcher shelves that slide out and have sealed edges that help contain spills better. Unlike my old fridge, where I had to take out cumbersome bottom shelves to clean yucky spills all the way underneath, I will never need to do that with this fridge.
Luckily, I haven't had any major spills yet (I know that will come soon – it always does), but so far it's been a breeze to wipe out crumbs and minor messes.
A Nice Surprise
I'd have to say that one unexpected bonus to our new Maytag refrigerator that it's easier to find and access food than before, meaning less is going to waste! That's huge!
Maytag really thought of everything with this Maytag® Ice2O® French Door Refrigerator with Easy Access Refrigerator Drawer. Usually I am able to find one thing that I would like improved or changed, but not with this refrigerator – I am in love!
In my opinion, Maytag is taking dependability to a new level with this kind of design. And if you haven't read my previous Maytag Kitchen Mom posts, you should know that these Maytag products are designed, engineered, and assembled right here in the USA!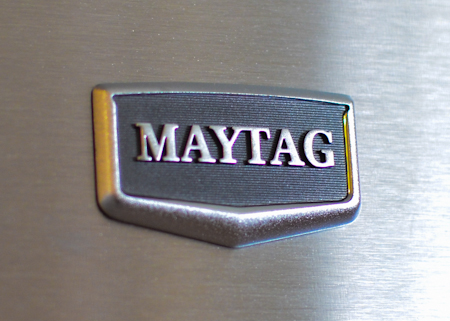 Follow Maytag on Facebook and Twitter for more information!
Disclosure: I wrote this post participating in an Maytag Moms Dependable Kitchen Ambassador program by Mom Central Consulting on behalf of Maytag. I was provided with a Maytag kitchen appliances set, including a refrigerator, microwave, dishwasher, and range to facilitate my post.