I've worked with Aurorae Yoga in the past and I really love this company. Their dedication to their products, their service, and their level of commitment are very apparent. I am still quite a newbie to yoga and don't practice nearly as often as I'd like. But I love that Aurorae is dedicated to all their customers, from beginners like me to the serious student or instructor.
Aurorae has a new deluxe yoga mat that they sent me to try out. The Synergy yoga mat is a slip-free towel-mat combination. I have never heard of a mat like this before because it's a first. And it's pretty amazing. The eco-safe biodegradable 5 mm yoga mat is matched with the lush, ultra absorbent, slip free microfiber towel. I have no idea how the two are so effortlessly combined, but they are. It's the perfect match and provides the ultimate in comfort, protection (for joints), and safety (no slipping!) Truly this is the most innovative yoga mat.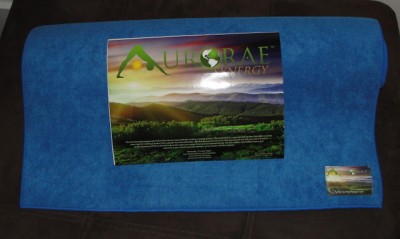 The mat is also extra long at 72″ so it will fit all sizes. It's light weight and easy to carry and made with durable, long lasting material. You can even machine wash the mat (just hang to dry!) The mat is free of phthalates, latex, and silicone so that's one less thing to worry about. All Aurorae products are guaranteed; the company truly stands behind their products.
I enjoyed using this yoga mat. Again, I'm not an expert in yoga, but I found this to be incredibly comfortable. I used it most often for regular exercise such as pilates and it was so nice! I love my Aurorae Northern Lights yoga mat that I reviewed before and didn't think I'd find anything better, but the Synergy mat is fantastic. Even on my carpet, there was no slipping around and the lush material was inviting. With my busy schedule, I can use all the motivation for exercising I can get and the Aurorae Synergy mat provides just that!
Aurorae Yoga has a real winner with their Synergy mat. Whether you are new to fitness or yoga or whether you are an expert, I highly recommend spending the money for this mat. It is worth every cent! Aurorae fully stands behind their products with a guarantee too!
Buy It:
You can find Aurorae Synergy Yoga mats on Amazon.com for $59.95
Disclaimer: Thank you to Aurorae Yoga for providing me with a sample yoga mat for review. I received no monetary compensation and my opinions are my own and were not influenced by the sponsor.