I've been working hard to get back into shape since Luke was born. I've lost a lot of weight thanks to my diet plan and regular exercise. I'm adding pilates back into my workout routine and I've also considered starting yoga. My mom has been raving about how much she loves her new yoga class and how much it helps her. I am tired and stressed a lot of the time and I could really benefit from the relaxing techniques and stretching in yoga.
I was really excited when I was given the opportunity to review the Aurorae Northern Lights Yoga Mat.
Aurorae is a great company with amazing customer service; their yoga mats consistently rate the highest on Amazon. Aurorae was founded by Dennis Ingui, a cancer survivor, who wanted to share his passion for yoga with others. The company offers yoga mats, bags, and accessories and is inviting to both experts and complete newbies like myself. The website says "Remember, It's Your Yoga: Relax, enjoy, and namaste." I love that they make it all about you as an individual, with no pressure.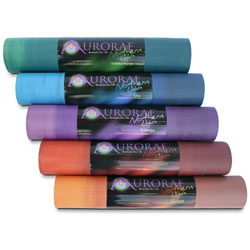 The Northern Lights yoga mat offers many illuminating color choices (the line was just expanded from 1 to 5 colors!) and each one is uniquely made; no two mats are the same. The mat is extra long (72×24") and extra thick (5mm) so it will absorb impact on joints and is made from eco-safe, biodegradable, and phthalates free material. I was thrilled to get my favorite color – purple (otherwise called "energy") and the design is unique and soothing to look at. The thickness of the mat and the comfortable durable feel to it is very inviting.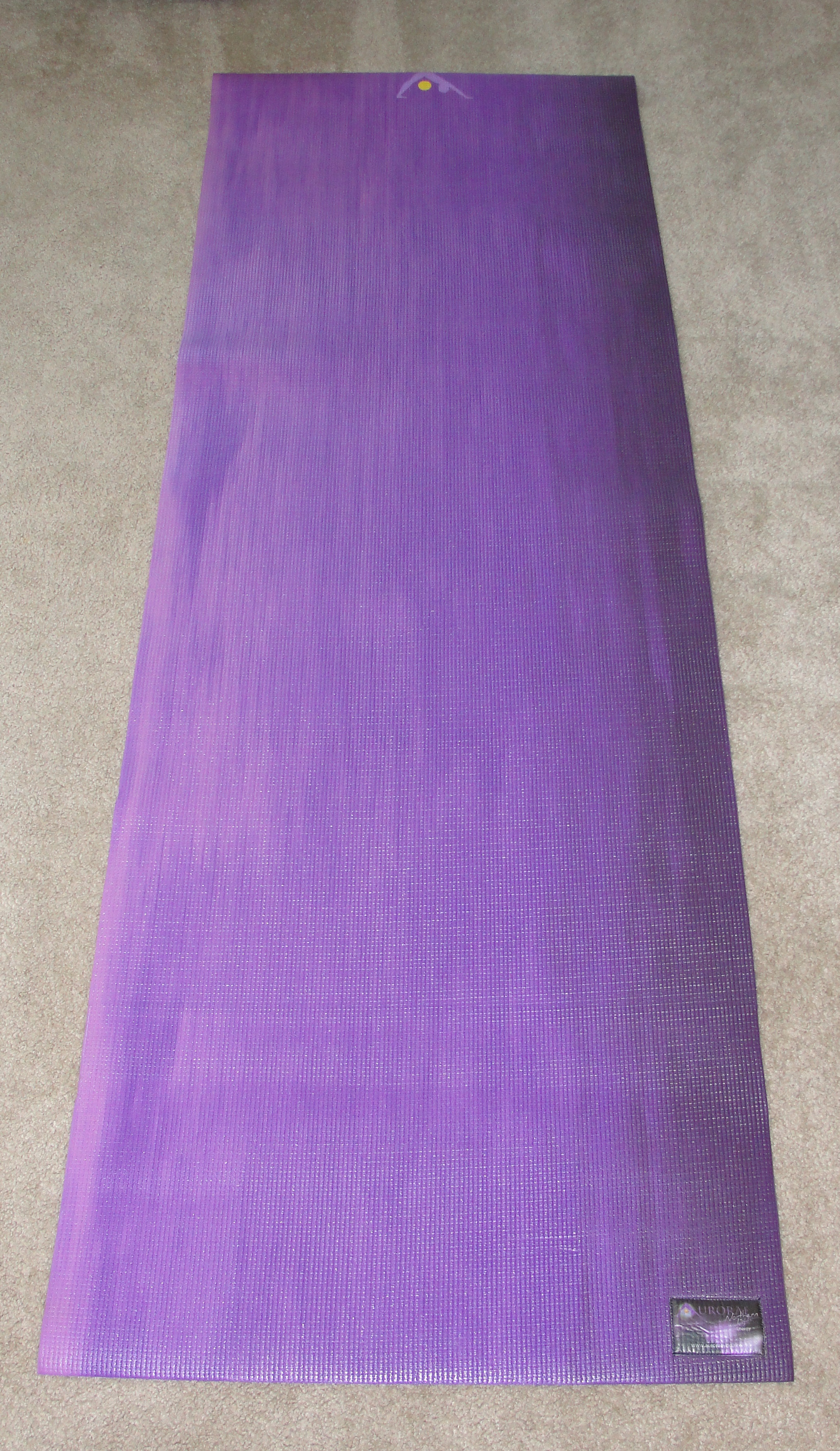 When I laid out the mat, my children immediately wanted to play on it. I had to remind them that this was for mommy, but they could sit on it and try it out. (But then it was mine again!) We have carpet in our living room with wood floor underneath, but its not as thick as it used to be and the floor can feel hard and uncomfortable while doing floor exercise.


The Northern Lights Yoga Mat was very comfortable and I enjoyed doing my exercise without the usual discomfort from the floor alone. The mat is so long, I never had to worry about ending up off it, which was a nice change from my old exercise mat. I can tell my new Aurorae yoga mat is well made and will last a long time. I love that I was sent tips on how to easily care for the mat too and an Aurorae Yoga Rosin Bag, which increases gripping power and absorbs perspiration on the mat.
Aurorae has the full package when it comes to yoga mats and, in my opinion (and obviously many others when you look at the Amazon reviews), there is no comparison.
Aurorae yoga mats include illuminating colors, focal point icon, extra long and extra thick yoga mats as well as yoga bags, and yoga accessories. Browse their best reviewed yoga mats, yoga bags and yoga accessories for all your yoga needs.
I will not be hosting a giveaway today, because Aurorae has agreed to be one of my sponsors in the upcoming Blogorama Bonanza Event, just a month away! Make sure you come back to enter to win a fabulous Aurorae Yoga Mat then!
Disclosure: I received a free product from the sponsor to review. I received no monetary compensation and my opinions are my own and were not influenced by the sponsor.