The back-to-school shopping season can be busy and stressful, between acclimating to new schedules and remembering everything your kids need. It seems like every year kids need more with increasing school supplies lists to new uniforms or even just regular clothes and it all adds up quickly. Even if you are a homeschooler like myself, we have quite a list of necessary things too. And it's not just those long shopping lists, it's finding the time to get that shopping done (I still haven't made it to the craft store for the 'extra' art supplies the kids need for art class) and the money in the budget for it. Prices are going up everywhere, from the cost of gas to a gallon of milk. So what do you do? Do you wear yourself thin shopping at a multitude of stores to find the best bargains and stay in your budget? Or do you just shop at one or two stores but pay more? Or do you sacrifice quality for price?
In a recent survey of almost 1,000 moms, 81% said risings costs have affected their back-to-school budget and nearly half said name value or prices are the most important factor for shopping, with 40% saying quality is the second highest factor.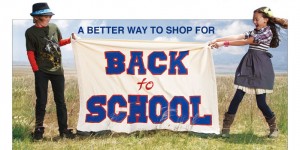 T.J.Maxx and Marshalls want to help with our back-to-school shopping. Did you know they carry many of the same name-brands and quality-merchandise we can find at the mall and department stores but at up to 60% less? T.J.Maxx and Marshalls have a great selection of designers with new trends (not last year's!)and products constantly moving through their doors. Other retailers stock up just once a season, but Marshalls & T.J. Maxx have buyers searching for the best and latest trends every week. Each week thousands of new items are sent to every store, allowing us to have a great selection, even now that the school year is in session.
My mission was to search out back-to-school deals at Marshalls. I went shopping last Sunday and was impressed with the name brands I found. I even found some Ralph Lauren pants at 1/2 price! But I was shopping for school things, particularly for the kids, so I resisted the urge to get caught up in the women's clothing section!
Marshalls had a great selection of baby clothing and accessories. I found a set of Nuby sippy cups for just $5.00! I had seen similar cups at Walmart for $10 the other week! I was surprised with the toys and books section. I didn't really expect to find much in this section, but there was actually a lot. I found a ton of Melissa & Doug products at prices that can't be beat. There were many puzzles for just $6.99 or $7.99 and also a Melissa & Doug abacus that is normally at least $15 for $10! I did buy that as we will use it for school. I also found many quality books I would use in school with the kids.
I was a little disappointed in the selection of children's clothes. There wasn't a wide variety, nor was there anything we really needed. I did hope to find a pair of khaki pants for Emily, but there was nothing like that. However they were restocking with new products with a lot of employees unpacking boxes, so I think I would have found more if I went back a little later. And for what I did find, the prices were really good. I really loved this adorable little girl's coat – it was $19.99, a great deal in my opinion for the quality: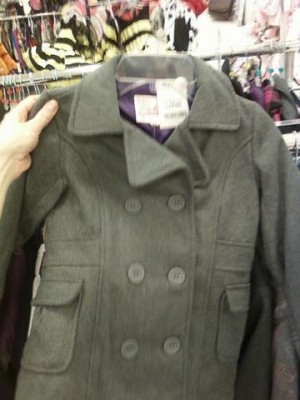 I wanted to find Nathan a new backpack as his old one was more "little kid" and less functional. Even though we homeschool and he doesn't need a backpack every day, he does still need one for bringing homework to various places. I hoped to find one at Marshalls. I was not disappointed. There was a lot of backpacks, lunch boxes, and other school accessories at incredible prices. In my opinion, they were the clearance prices you'd find at other retail stores this time of year, but with the selection of a couple months ago before the back-to-school rush. Look at this cute Tinkerbell lunch bag I found for just $6.99!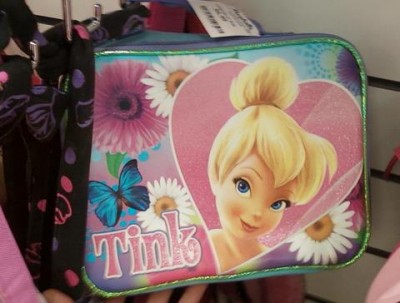 Then I found an official NFL label New England Patriots football backpack for only $10.00! The normal price is $40.00 so this was 75% off!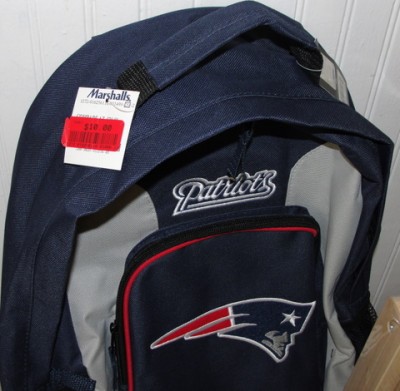 It was sturdy, functional and exactly what I was looking for and the price could not be beat! I was thrilled!
Look what I came home with! All this for about $45!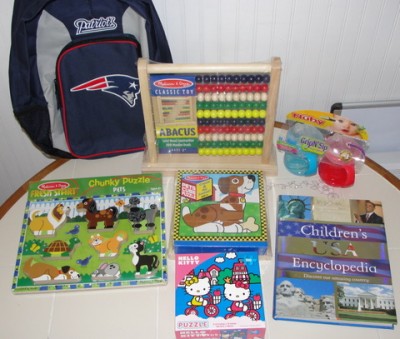 While I didn't find everything I was looking for at Marshalls, I did find the important things on my list and many more items that surprised me. I consider myself to be a very frugal shopper and I would give Marshalls my seal of approval for frugal finds.
If you haven't visited Marshalls or T.J.Maxx before, or if it's been awhile, stop in and check it out. You will probably be amazed and surprised at what you will find. And don't forget they are always adding new things, so even though I couldn't find the pants I wanted for Emily, I will stop in soon and check again. I love that because, unlike a lot of stores, I know there will be something new next time.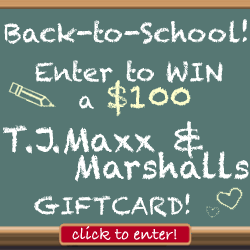 I wrote this review while participating in a campaign by Mom Central Consulting on behalf of T.J.Maxx and Marshalls and received a gift card to facilitate my review and thank me for taking the time to participate.