I have two little ones in diapers – a 2 year old (who will hopefully be potty training soon) and an 8 month old. I used to cloth diaper. I liked using softer material on my babies and knowing that I didn't have to worry about having to run to the store to pick up more diapers. However after my 3rd baby was born, it was too much laundry for me to keep up with and we switched to disposable diapers. And we go through a lot of diapers.
I'm excited to share with you a new-to-the United States premium eco-friendly diaper. Bambo Nature USA is a great alternative to cloth diapering. Actually I think it's more of an inbetween cloth diapering and disposable diapers, because it has the convenience and features of disposable diapers but it's much better for baby's skin.
Here's a few aspects of Bambo Nature diapers:
Non-toxic and hypoallergenic; no chemicals, including chlorine
75% biodegradable as opposed to the 35% in standard diapers and is considered the "greenest" disposable diaper in Europe
Ultra absorbent and incredibly soft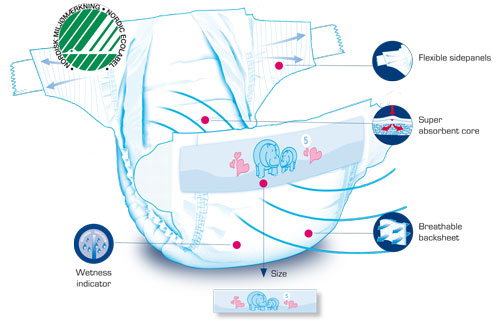 I was sent some Bambo Nature diapers to review and try out with my 8 month old son, Luke. He is 21 pounds so he's kind of inbetween sizes. First, I have to say the service at this company is great. My contact took the time to check what would fit my son and was kind enough to send me two sizes so we would get the best results.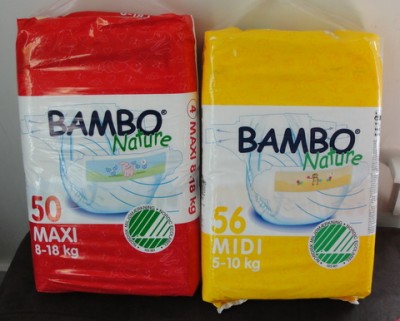 For me, the number one aspect of a diaper is pretty simple. Does it hold everything in? You can have the fanciest or softest or greenest or most "moveable" diaper available, but if baby leaks through or has poo "blow-outs," those features don't really matter.
I have to say I was a little skeptical at first. I've tried some "green" disposable diapers before and I have never been impressed. But these diapers are different.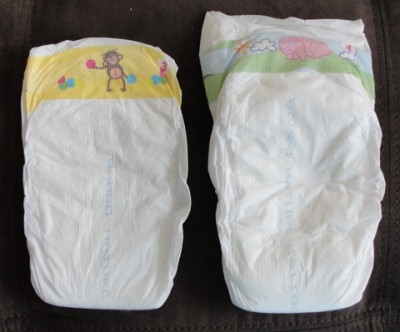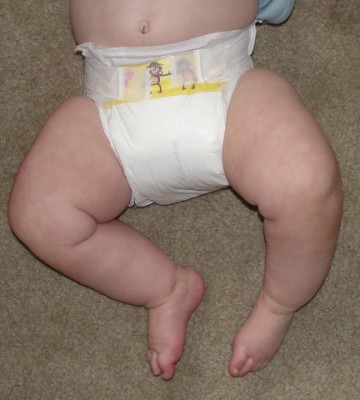 Bambo Nature diapers have re-closeable velcro tab fasteners and stretchy side panels just like "regular" disposable diapers.  While I did notice the side panels aren't quite as stretchy as some brands and the diaper is a little bulkier, I didn't mind because they are so soft and absorbent. And Luke certainly didn't mind – he was ready to crawl away.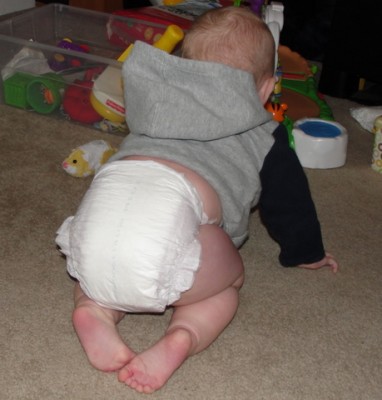 Luke is a tummy sleeper and a heavy wetter. He sometimes soaks through his regular disposable diapers and we've had blow-outs from time to time. Not fun I tell you! Now that's life with babies sometimes, but if you can avoid it, I'm all for it! Well let me tell you that, in the two weeks we've been using Bambo Nature diapers, Luke has not soaked through or blown out once! Not a single time! And I have been using the same sizes as the regular disposables – size 3 during the day, and size 4 at night.
I love Bambo Nature diapers!
Bambo Nature diapers are gentle for babies skin. There are no chemicals, including chlorine, found in these diapers. The occasional diaper rash Luke has had in the past has pretty much disappeared since using Bambo Nature.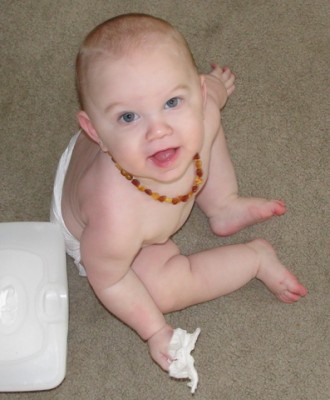 These diapers are better for baby's skin, extremely absorbent, prevent leakage, and are eco-friendly. What more could you ask for in a diaper? The price? At an average cost of $11.95 for a "jumbo" pack of diapers, it's comparable to other diaper brands and not super expensive like some "green" products. I am extremely pleased with Bambo Nature diapers and I can't say enough about them. If you have a little one, I highly recommend checking Bambo Nature diapers out!
Buy It:
You can find Bambo Nature diapers online at Amazon.com
I received one or more of the products mentioned above for free using Tomoson.com. Regardless, I only recommend products or services I use personally and believe will be good for my readers.