Finding the balance between healthy eating and meals my four children will actually eat can be challenging. I don't serve foods like boxed macaroni and cheese, frozen pizza, etc. very often. And we almost never go out to eat, especially to fast food restaurants. I know that helps, but doing little things in my everyday cooking can make a difference too. We only eat whole grain bread. I sneak in extra veggies into casseroles or ground flaxseed into muffins. We often eat baby carrots as snacks. Little things like that help.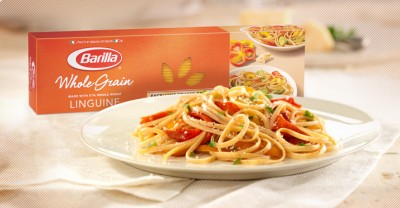 When I heard that Barilla Pasta was introducing whole grain into their pasta, I knew I wanted to try it. I already love Barilla and know that when I serve their products to my family, we are getting delicious goodness. Now our pasta meals can be even better and more nutritious with Barilla Whole Grain Pasta; with 51% whole grain, Barilla Whole Grain Pasta has three times the fiber of regular pasta.
Barilla has created a Whole Grain Taste & Share Challenge in which we are encouraged to try out their new whole grain pasta and then submit a code from the box online where you can print out a $1 coupon for yourself and send two to family/friends too.
As part of this challenge, I was sent a Barilla Whole Grain Taste & Share Challenge Kit containing Barilla Whole Grain Pasta, Academia Barilla olive oil, balsamic vinegar, pesto, Sicilian cherry tomatoes, sea salt with black olives, and a Barilla apron. Talk about authentic Italian goodness with this kit, yum!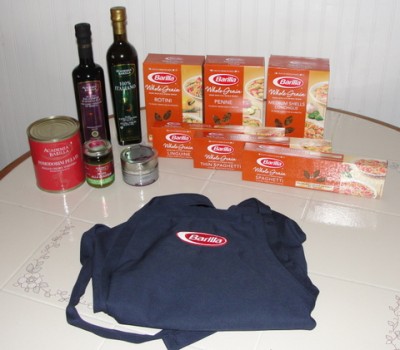 I was eager to try the pasta with my family and the very first night I got the kit, we made spaghetti. Our whole family loves spaghetti and if there is a way to make it more nutritious for my family, I am all for it.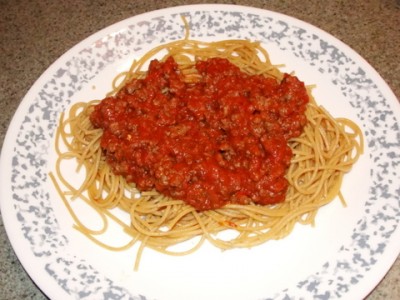 Barilla Whole Grain Pasta was a little "heavier" than typical pasta but it wasn't as heavy as other whole grain varieties from other brands. While I was eating, I almost forgot it was whole grain! I think it has a great combination of whole grain goodness without sacrificing the taste. My husband, who hasn't been a fan of whole grain pasta before, really liked it too. And the kids? They didn't say a word, except to ask for more! I think that speaks for itself right there!
Barilla has some delicious recipes that combine their whole grain pasta with vegetables, herbs, and cheeses, like their yummy-looking The Barilla Whole Grain Medium Shells with Roasted Cauliflower and Cherry Tomatoes recipe!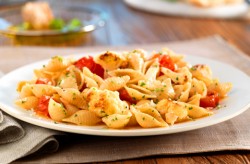 Barilla Whole Grain pasta did not disappoint; not only is it more nutritious than regular pasta, but it still taste delicious. Now you can make your regular meals a little healthier for your family and try some new ones too at the Barilla Whole Grain Dinner Kit page.
Disclaimer: I wrote this review while participating in a blog tour by Mom Central Consulting on behalf of Barilla and received a Taste & Share Challenge Kit to facilitate my review, kits to giveaway, and a promotional item to thank me for taking the time to participate.