It's the "mother" of all time savers. It's even more convenient than picking something up pre-made at the store.
It's the Betty Crocker Shake-N-Pour desserts.
Having a couple of these mixes in your pantry are going to be a new staple for busy moms.
Have you ever forgotten to make dessert for a gathering? You have no time to whip up some homemade cupcakes, you're out of eggs and oil so you can't even make that boxed mix you have in your pantry, and no time to stop by the store? Enter: Betty Crocker's Shake-N-Pour. Grab a mix, add some water, shake-what-your-mama-gave-you, and bake. And the best part? NO DISHES. You heard me. No batter lined bowls, spoons, or whisks to wash. Your kitchen stays clean. Can I get a Hallelujah?
My husband and I had a big group gathering we were going to and we were supposed to bring some treats. Of course, we waited till the last minute and so the Betty Crocker Shake-N-Pour desserts came in real handy. We had a ton of fun shaking them, too, and it would be a great way to get your kids involved. Here we are below shaking our tail feathers because we are so excited for dessert.

After shaking for only 45 seconds, we poured those suckers into our cupcake tins and baking pans and set the timer. 15 minutes later…Ding! Desserts are done and we're ready to go.
It's as easy as that!
They turned out not only delicious, but pretty, too! Oh, and our friends devoured them in maybe…12.675 seconds. New record? Possibly.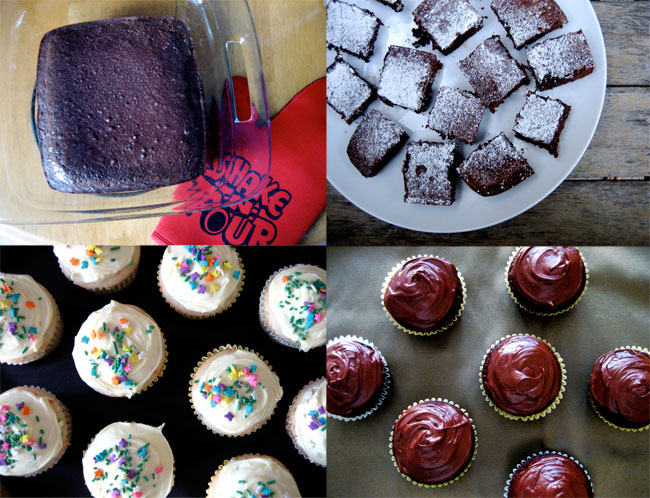 And you know what else is totally awesome? The containers they come in, you can either recycle, or you can reuse! They would be great containers for holding cereal or snacks for your kiddos! They make for great easy-to-pour containers that will help keep your pantry items fresh. It's a win-win for everyone.
Are you convinced yet? Trust me. It'll save your life. And this treat stand the prize pack comes with?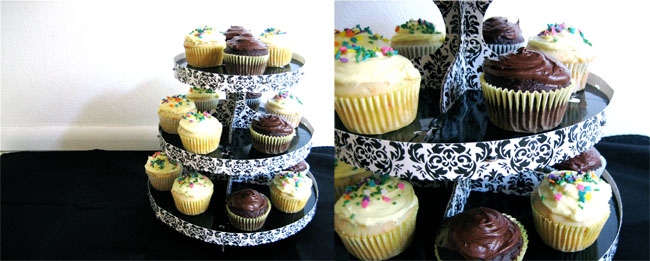 Bonus! How cute is this?
Here's what you could win…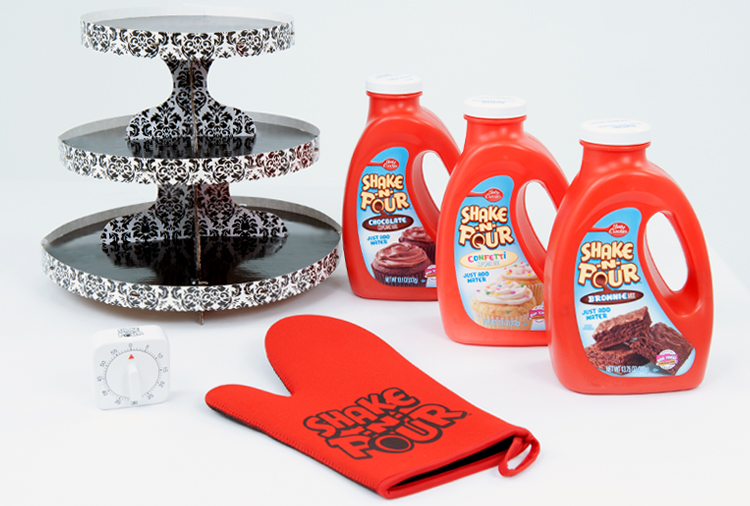 Wanna learn more? Follow Betty Crocker on Twitter, Facebook, and their website.
You can purchase your Betty Crocker Shake-N-Pour dessert mixes at your local grocery store for approximately $3.99.
Win It:
1 lucky winner will receive a gift pack including:
All three varieties of the Betty Crocker Shake-N-Pour Dessert Mixes, a 60 minute baking timer, treat stand, and oven mitt.

CLOSED