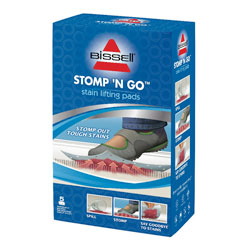 With four children, a dog, a cat, and a husband (he needs his own mention,) my house sees a lot of dirt. Especially my carpet. Some days, it seems its mere seconds after I vacuum that something new is spilled or tracked in. We have both hardwood and carpet and the carpet is the hardest to keep clean. But I love the coziness of carpet and have no plans to get rid of it. So what can I do in the meantime to keep it clean with four children?
I have a Bissell steam cleaner that does an amazing job at cleaning my carpet when it needs extra help. But I need to have the time to not only steam clean, but make sure there is time for the carpet to dry too. There are many times when something will get spilled or dirt gets tracked and ground into the carpet and I have found myself wishing for a simpler, easier way to clean just one particular spot. There are many carpet cleaning products available, but most require you to spray, let it sit for a few minutes, and then come back to "gently" scrub the stain out. I always end up forgetting to come back when the time is up or even if I do remember and do it properly, I wonder if the stain was really removed all the way or just pushed onto the pad underneath will it will lurk and reappear later. (This happens all the time.)
That's why I was so thrilled to hear that Bissell has a new product called Bissell Stomp 'n Go pads. These pads are pre-moistened with an oxy-based cleaner and all you have to do is open the package, place the pad over the spill or stain and stomp on it with your foot. This activates the cleaning power and the pad begins to absorb the stain. You don't have to remember to come back and scrub or anything. That's it! The pad removes most stains within 30 minutes, but extra tough set-in stains may need up to 24 hours.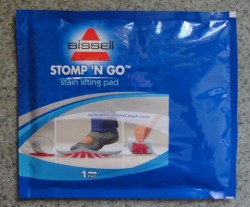 I can't tell you how excited I was to get my Bissell Stomp 'n Go pads in the mail. I waited anxiously for one of my children to spill something or track some dirt in. (I never thought I would say that!) I waited and waited some more. Of course my carpet was practically untouched for a few days. You've got to be kidding me!
So I decided I would try my Stomp 'n Go pad on a set in stain. I don't remember what the stain originated from – it could have been tracked in mud or spilled soda – not by me or the kids, but the hubs – he is forever bringing drinks into the living room and leaving them for the kids or himself to knock over. I still remember one Sunday morning when we were all getting ready for church. Nate had brought a cup of coffee and left it on the ground next to the couch. I wanted to tell him to pick it up, but I decided to be a sweet, non-nagging wife and trust that he would be careful. Mistake on my part. Not 5 minutes later and one of the kids had knocked it over. Grrr!!
But anyways, this particular stain keeps popping back up. I think I've finally gotten rid of it with a good carpet shampoo and then a couple months later it's back.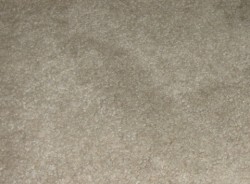 I pulled out my Bissell Stomp 'n Go pad and opened it up. The pad was larger than I had expected which was great – more stain fighting power!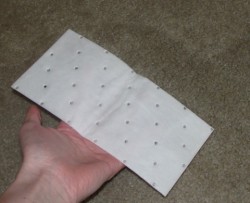 I unfolded it, laid it on the stain, and gave it a good stomp. This is fun too!
I left it on for about an hour. I meant to check after 30 minutes, but as usual, I got busy. But that's the beauty of the Bissell Stomp 'n Go; you don't have to worry about it! When I did check, look what I saw. For this photo, I had flipped the pad over and to the right of the pad is where the stain used to be.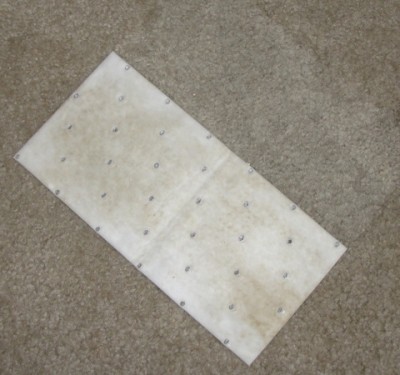 The stain is gone and look at all that dirt on the pad! This thing really works! Now time will tell whether it really did permanently remove the stain, but I am very pleased with the results so far.
Stomp 'n Go pads are great for all sorts of stains, including dirt/mud, red wine, blood, food, fruit juice, coffee/tea (=my husband), and pet messes. And they are safe to use on all carpets, including nylon, wool, and stain resistant.
I am really happy with this great new product from Bissell. I'd have to put this on my favorite new products of the year list. Seriously, this is something every household should have.
Buy It:
You can find this Bissell Stomp 'n Go pads at select Walmarts, Kmarts, and grocery stores.
Pads retail for $4.99 for a pack of 5.
Find them on Amazon too! (affiliate link)
I wrote this review while participating in a campaign by Mom Central Consulting on behalf of BISSELL and received product samples and a promotional item to thank me for taking the time to participate.