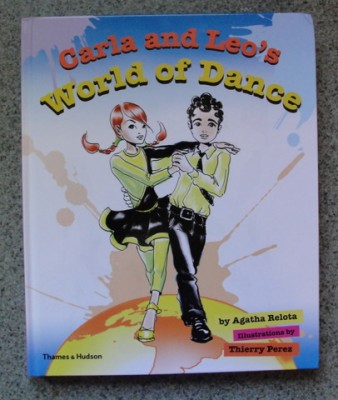 Carla and Leo's World of Dance takes young readers ages 8 to 12 on a journey to the magical dance school of the beautiful Miss Paulina, who leads 10-year-olds Carla and Leo on a worldwide tour of ballroom dance. Their journey covers ten styles: the waltz, foxtrot, swing, merengue, mambo, cha cha, rumba, salsa, tango, and samba. For each style, Miss Paulina provides its cultural and geographical origin as well as rhythmic step patterns. All this is presented with a delightful narrative written by author, fashion model, dancer, and mother of two Agatha Relota. The book pops with more than 50 colorful illustrations from Paris fashion illustrator Thierry Perez, and Jessica Alba penned the charming introduction.
My children are a little young for this book, so I don't think they appreciated it as much as they will in a couple years, but we still had fun reading it together. Nathan was interested in the history/geography part of it and Emily liked the dance part. They even jumped up and wanted to try a few parts based on what the book said. It's a thick book with just over 100 pages, but the print is large and the illustrations are so colorful and fun. I think the recommended age of 8-12 is right on.
I think this is a fun book for both boys and girls who are interested in dance. The author did a wonderful job of sharing the different dance styles and backgrounds. I always like when history is combined with a little fun and the author definitely did that. I learned some things from this colorful fun book too!
Disclosure: Thank you to the sponsor for the free product I was sent to review. I received no monetary compensation and my opinions are my own and were not influenced by the sponsor.