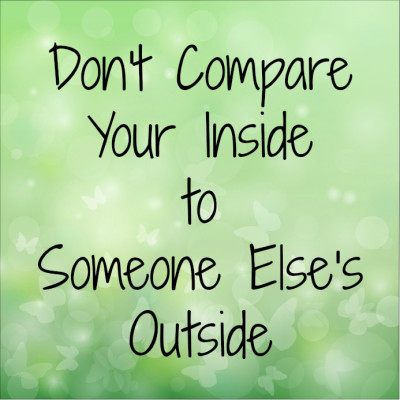 It's easy to fall into the trap of comparing ourselves to others.
Why do we do it? I've been asking myself that question because, once again, I've fallen into the comparison trap. I don't know what started it, but suddenly, I was comparing myself…
To friends.
I'm not as fit as her. I don't work out enough.
I don't do enough in the church. I'm not serving enough. 
To other moms.
I don't do as many creative things with my kids as her. 
She brings each of her children to their own sports practices. I don't have the money, time or the energy to do that.
To other bloggers.
They have more ideas for organizing and crafts and stuff. I could never be that talented.
They're more popular than me. (Boy that one << doesn't change, does it?)
Do you see the pattern? It's not about realizing others' accomplishments, but the negative bringing-myself-down attitude. Maybe you recognize one or more of those negative thoughts in your own life. Fill in the blanks. How do you compare yourself? Maybe you don't even realize it.
I'm not saying we shouldn't compliment others – in fact, it's great to recognize a good trait in a friend, blogger, whoever. But not when we bring ourselves into the picture and make it a comparing game.
Inviting Doubt
My friends, when we compare ourselves, we invite doubt.
Doubt is defined as: a feeling of uncertainty about the truth, reality, or nature of something. Distrust. Fear. Dread.
I've been doubting that I'm a good friend. A good mom. A good wife. A good blogger.
Doubt equals limitations. When we compare and doubt, we limit ourselves.  And we don't allow ourselves room to grow and become the person God intends us to be.
I love this saying:
"Don't compare your inside with someone else's outside."
How is comparing your own secrets to the shiny pretenses of others fair in any sense of the matter? It's not.
My friends, you and I are so much more than that!
"Even before he made the world, God loved us and chose us…" Eph 1:4
Even on those days when you are tired and feel like nothing is going right, remember that God chose you. He picked you, my friend. He picked me. We are His treasures.
The next time you start to compare yourself to someone else, remember that you have been chosen and created to be you.

I turned the graphic I made above into a free printable. It's a reminder for me and you to stay away from the comparison trap. I've put my copy on my wall where I will see it all the time. I hope you'll print it out too and read it and remember every day that you are chosen and loved.