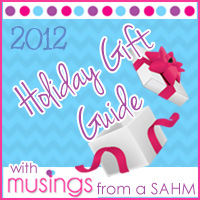 I think most children go through a phase at one point or another where they are fascinated with trains. Especially little boys. But girls can enjoy them too. There's some popular train characters nowdays and one of those are the Chuggington trains. We weren't too familiar with this gang until recently but I knew my kids would love the Chuggington Wooden Railway Koko's Safari Set from Tomy.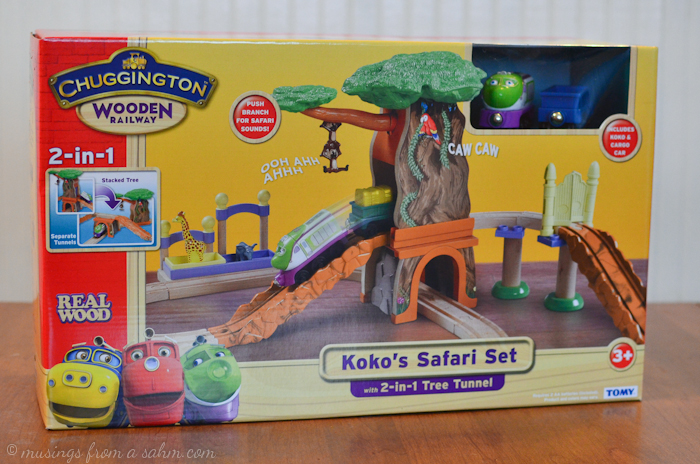 This set is recommended for ages 3 and up. There's 38 pieces, including a 2-in-1 Safari Tree tunnel, a swinging door, monkeys that hang from the tree, a giraffe, elephant, and of course Koko the train, plus more.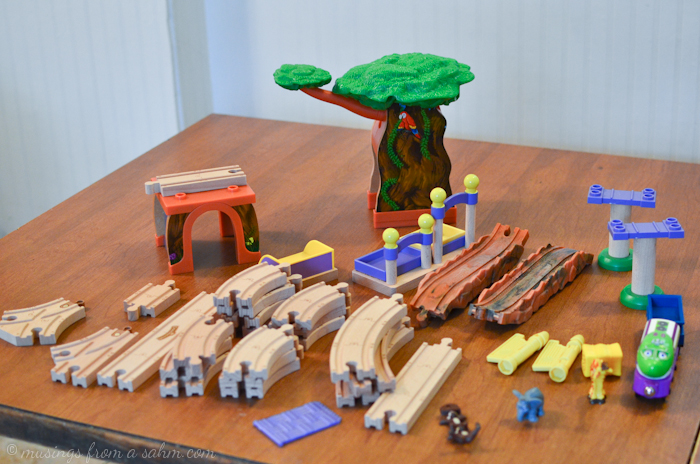 I was impressed that each of the pieces was wrapped very carefully. And not in the annoying impossible-to-break-out-of ties, but simple wraps like this: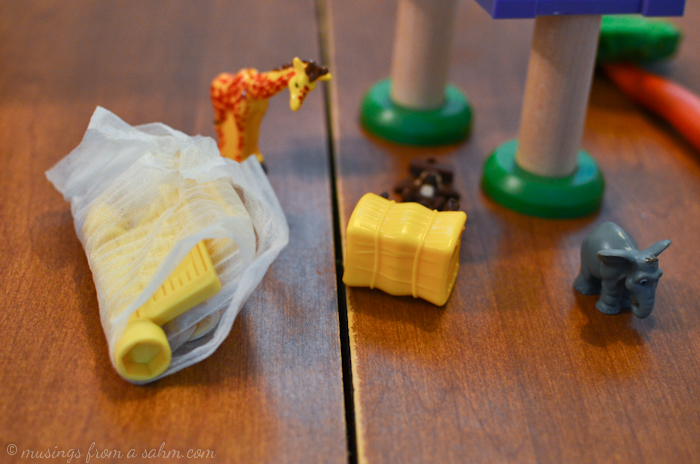 I noticed that the set seemed to be really good quality right away. The wooden tracks are smooth and sturdy. They fit together perfectly and don't fall apart easily like many other train track sets do.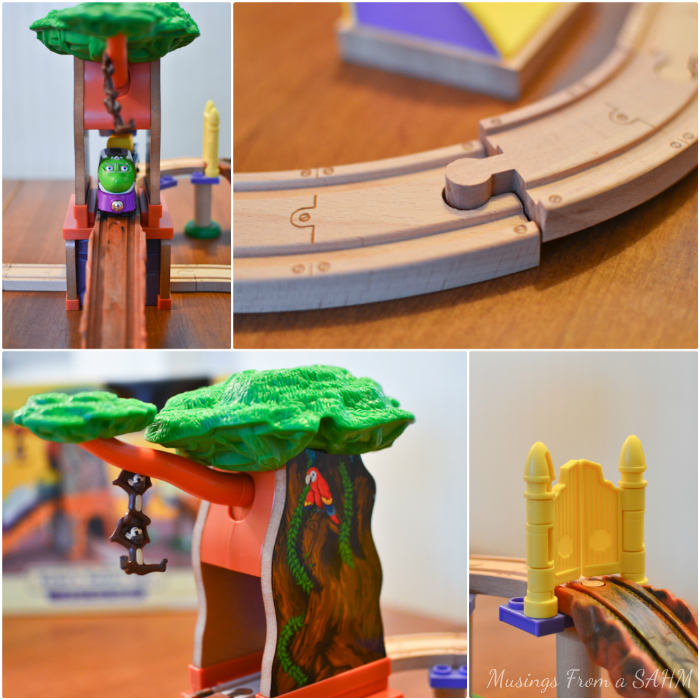 I was impressed with the details too. From the decorations on the trees to the yellow swinging doors, it's really cute.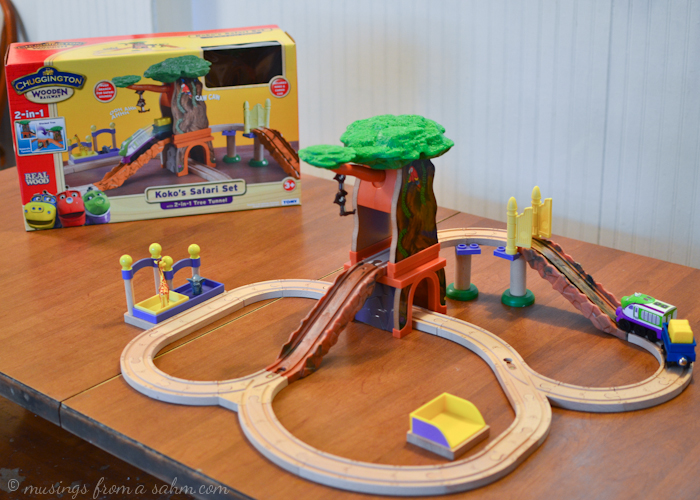 And of course there's Koko the train with his cargo car that can be used for hauling animals or hay bales around: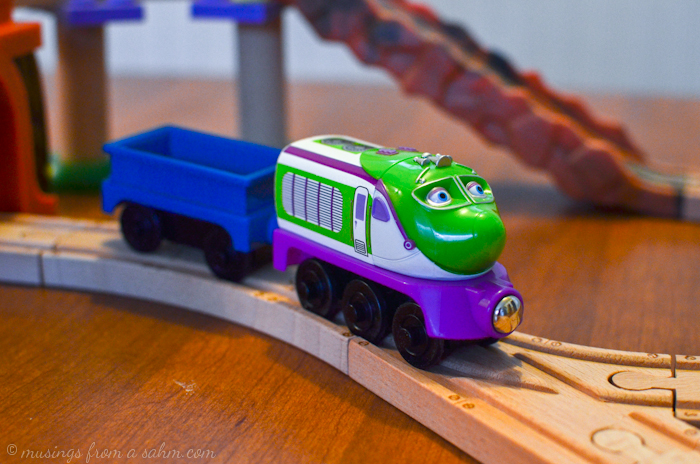 This set is going to be one of Joshua's Christmas presents (I know he'll adore it) so we've kept it hidden from him. But I had to at least put it together to test out for you so I could write an accurate review. So I enlisted Emily to help me out.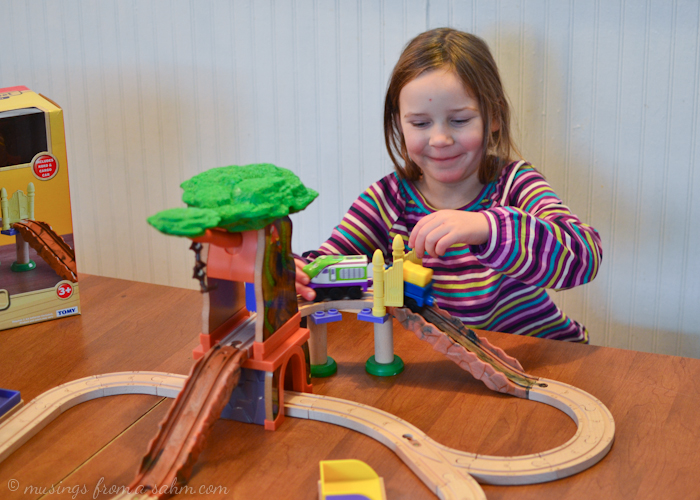 Emily loved pushing Koko the train around the set. That's one of my favorite parts – this is a regular old-fashioned wooden train set. While there are batteries for the set to make animal sounds etc., it's completely optional and actual train play? It's pushing the train around by hand.
The only thing I didn't like about this set was that the ramps are a little steep and if you just let Koko the train go flying down, he will fly off the track. And on occasion the little cargo car would come off the track. But really, when it comes down to it, it's a toy train set. Kids will knock the train off. If it even stayed on most of the time (which it does), that's a big improvement from most train sets. So I'm good with that.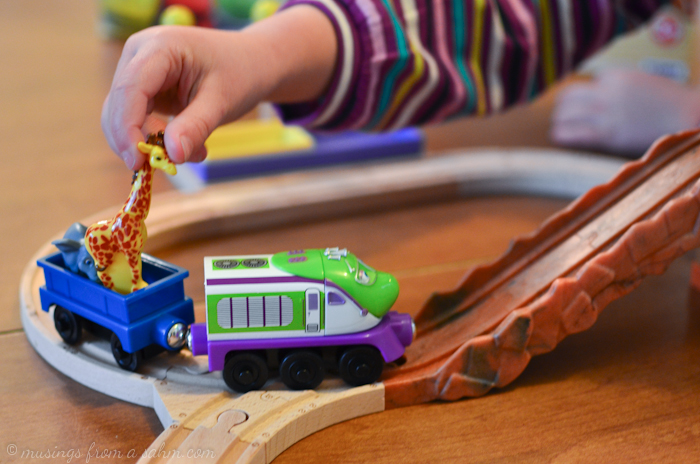 The Chuggington Wooden Railway Koko's Safari Set allows for fun, imaginative play as kids pretend to transport animals and food throughout the "safari." Another bonus is that this set is supposed to work with other wooden train sets. Now we don't have other sets where I could test out that claim, but it sounds pretty good, doesn't it?
Tomy is the maker of this fun set and they've joined Austism Speaks in donating up to 500 Chuggington Wooden Railway playtables and train sets to preschools who serve children with autism. Their goal is bring holiday cheer through Chuggington's imaginative play. Isn't that a great cause? I always love when to hear when a company gives back like this.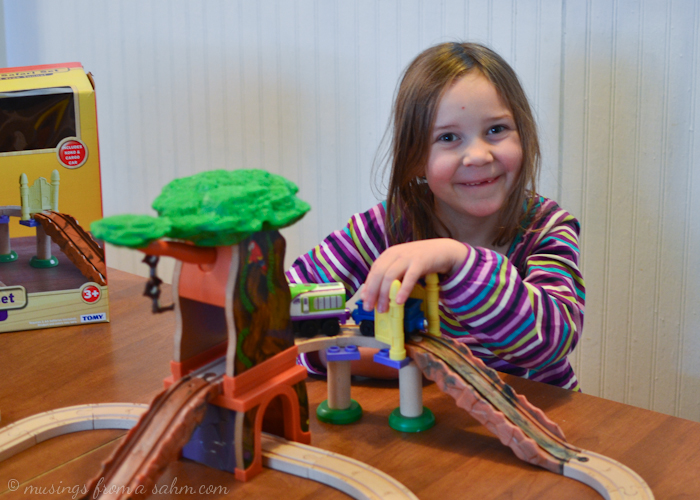 The Chuggington Wooden Railway Koko's Safari Set is one of the best train track sets we've ever had. And with 3 boys, we've certainly had our share of train sets. Even though this set is priced a bit steep (ARP: $99.99), I think it's worth the investment because it's going to last. This is not some cheap plastic set that will break tomorrow. I am confident that our Chuggington Wooden Railway set will last for years of fun to come.
Buy It:
At Toys R Us – on sale now for $69.99
MSRP: $99.99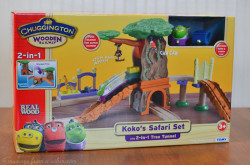 Win It!
1 lucky winner will receive their very own Chuggington Wooden Railway Koko's Safari Set!
CLOSED