When every mom-to-be makes her list of necessary baby items a play yard is generally at the top! At least, it was at the top of mine…and the top of my mom's list and the top of my mother-in-law's list!! And if anyone asks me, it is a must-have for all moms and grandmoms because you just can't beat the portability feature. But, it is nice to have other great features too, and I've found that a lot of play yards out there are lacking, including the one I used to have.
Needless to say, I was literally jumping up and down with excitement (and I may have even clapped my hands) when I found out I had been chosen to review the Disney Baby Lion King Premier Washable Playard by InGenuity Baby! I was so eager to trade my old hand-me-down for this shiny gem! And let me tell you, it didn't disappoint.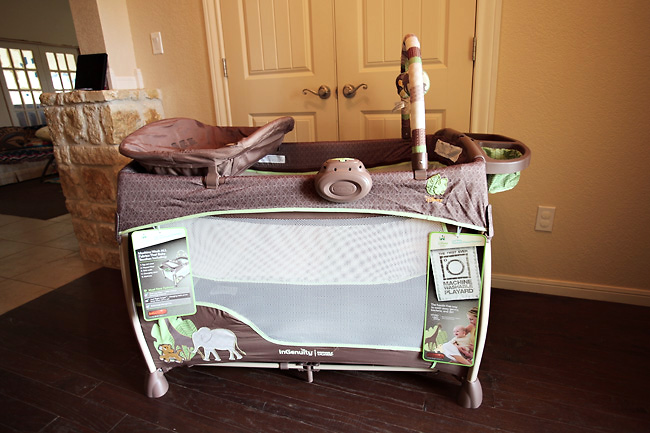 When it arrived, I immediately pulled it out of the box and set it up. Of all the play yards I have set up, the Disney Baby Lion King Premier Washable Playard was by far the easiest. Everything unfolded and snapped into place without the usual struggle. One thing that surprised me is the fact that the removable bassinet portion doesn't actually have to be removed when you fold the play yard up. In fact, it was already in place right out of the box! This is possible because it is held in place by a zipper on the top rather than plastic pieces that fit over the sides of the yard, and there are no metal bars in the bottom of it!
A feature that I LOVE is the changer that pivots out of the way when you aren't using it. While in use it is attached to three of the top rails via four plastic clamps and is very sturdy. Then, when you're done, you can simply flip it back and it rests along the side of the play yard. Brilliant!! I also really like that it is pretty deep, so there is less chance of baby rolling out of it. There is a really handy organizer tray that attaches to the end opposite the changer with a place for wipes, creams, lotions, and any number of other small items you like to keep at hand. And there is also a cute toy bar with two plush toys hanging off of it, and a Soothing Sounds Station that plays music and nature sounds.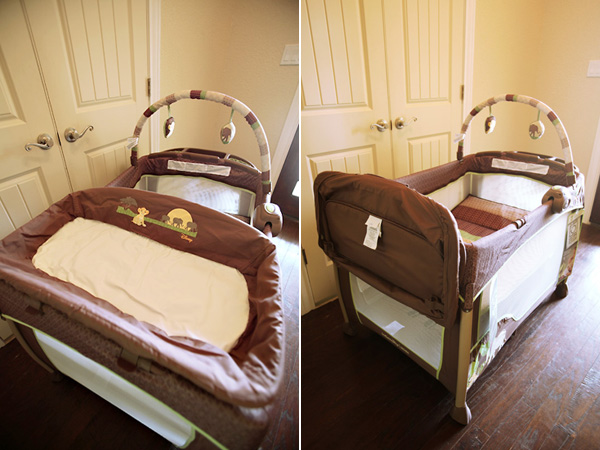 Possibly the best thing about this play yard though is the fact that it is machine-washable! No kidding! With fabrics that simply zip off, you can easily wash away spit-up, spills, and other accidents! This also includes the adorable removable changing table cover and mattress. No more scrubbing. 🙂 I like that!
Because Samuel is so mobile now, I no longer trust him in a bassinet. So I easily unzipped the bassinet portion and removed it. After putting the mattress in the bottom of the play yard, I plopped Samuel in to try it on for size. He seemed pretty pleased with it too!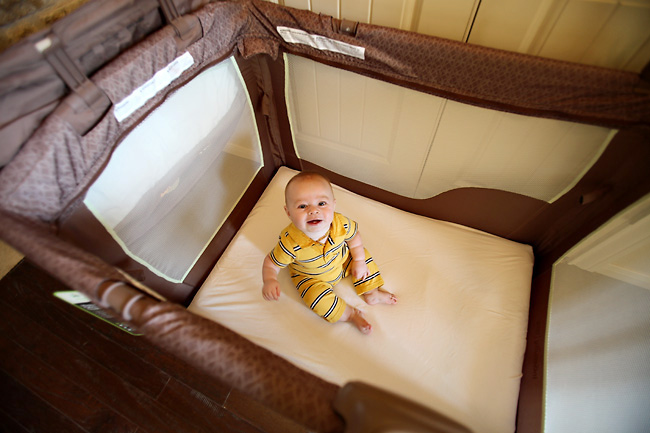 But the real test would come at bed time. Because one end of the play yard is on wheels, I easily rolled it into our bedroom and put it in the corner. The neutral colors are great, making it not only very gender neutral, but it will easily blend in with most color schemes in whatever room you put it. Event though that isn't something I personally would worry about much, it is nice!
Once I had it set up in our bedroom, I prepared it for bed time. Our play yard sheet fit over the mattress perfectly and I put Samuel's favorite lovey in there to wait for him. I already knew he would love this because the mattress doesn't feel like cardboard as our other one did. It is the perfect balance of firm, yet soft, that you want in a mattress for a baby. I'd even sleep on it!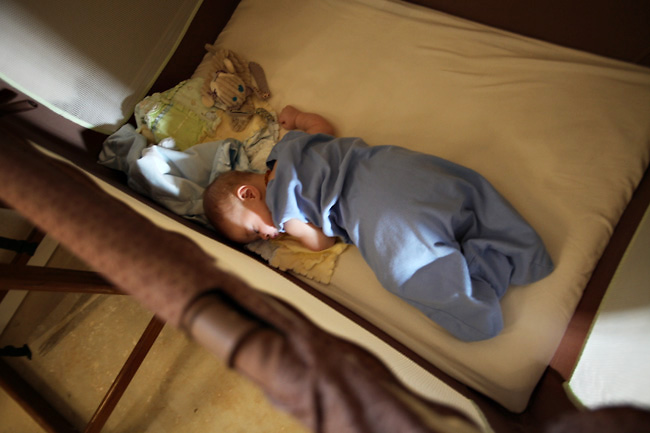 There's nothing better than a sweet, sleeping baby…. But a cute, comfy, completely machine-washable play yard certainly comes close!!!
You can purchase the Disney Baby Lion King Premier Washable Playard at Babies R Us for $169.99