Our simple DIY herb planters were such a hit with my kids, I couldn't wait to take them to The Home Depot Kids Workshop. I knew they would have a blast building a project there.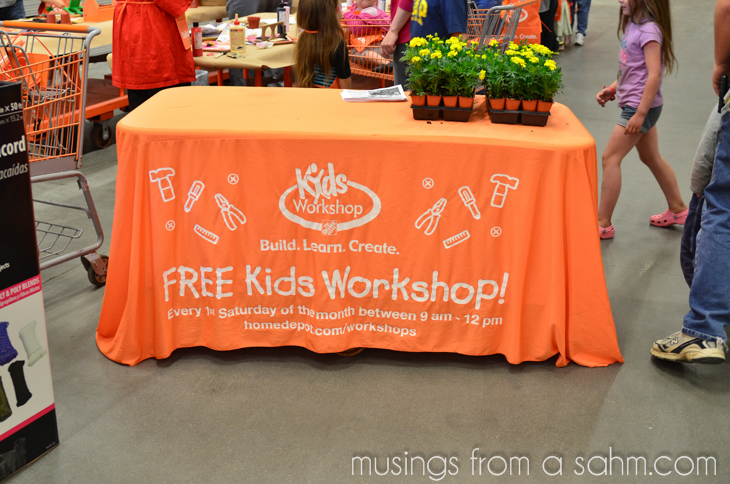 The Home Depot offers free Kids Workshops on the first Saturday of every month. Projects include birdhouses, toolboxes, Mother's Day gifts, and more. Coming in July, kids will make a Despicable Me 2 surprise craft! The best part is that not only are kids having fun learning how to build things, but they get to bring home their project!
Workshops start at 9 am and run until noon. It's recommended that you register online so they can make sure enough materials are available, but it's ok to just show up too.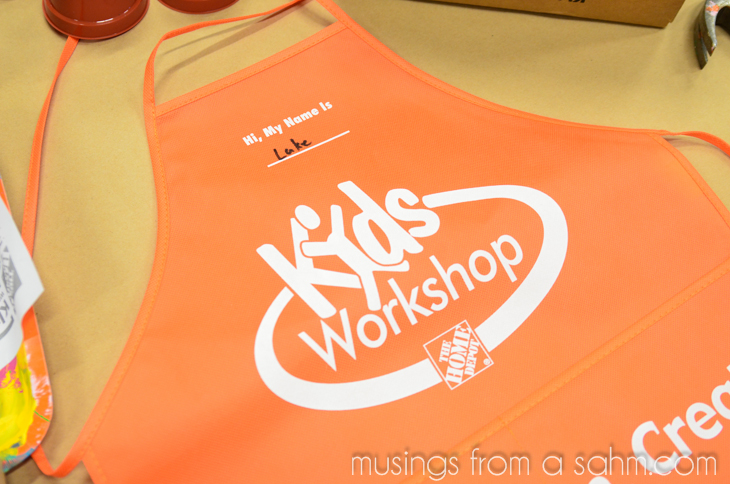 We brought all four kids to this month's Kids Workshop. Each child received their very own Home Depot Kids Workshop apron. They were all very excited to have their names on their aprons too.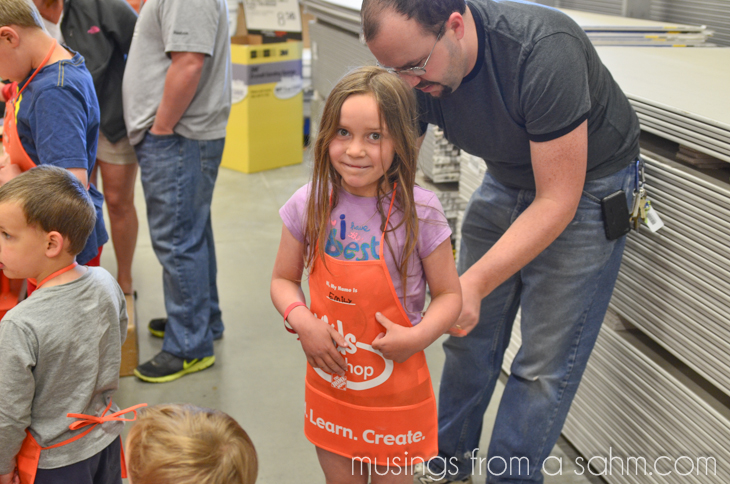 While the projects are recommended for kids ages 5-12, The Home Depot says "little builders" under age 5 are still welcome; they just might need more help from the parents. I was happy to see that our Home Depot was perfectly fine with Joshua (almost 4) and Luke (2) participating too. The Home Depot associate who was supervising the workshop even found a box for Luke to stand on!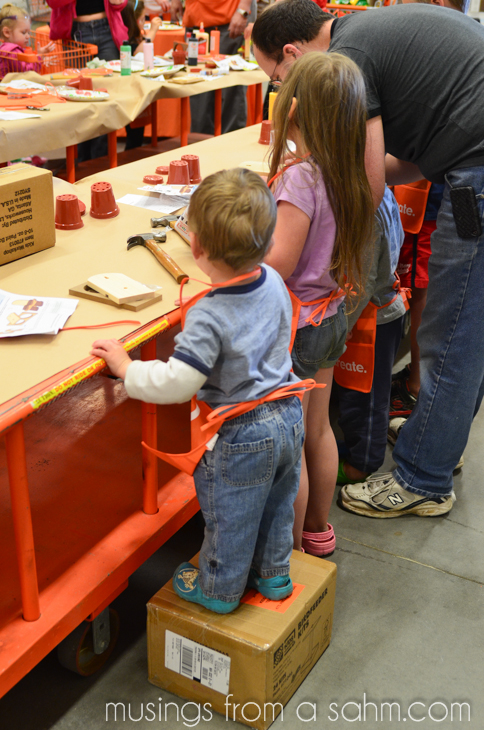 The kids discovered they would be building an herb planter. We had just put together herb planters at home, but this style was different. Here, at The Home Depot Kids Workshop, the kids were going to build wooden planters!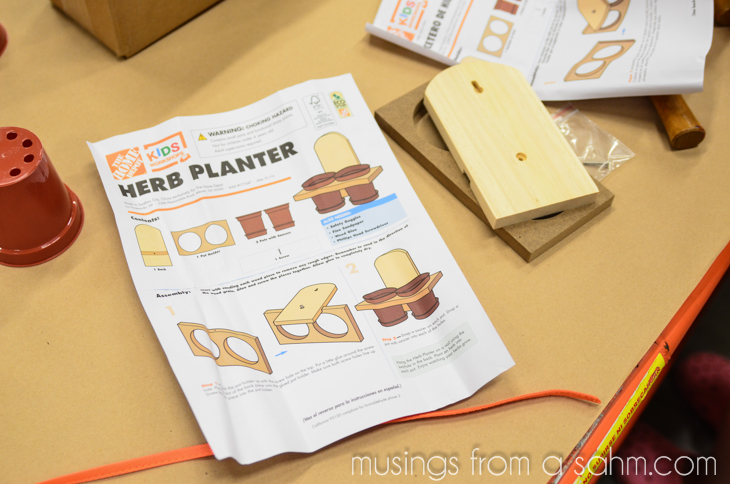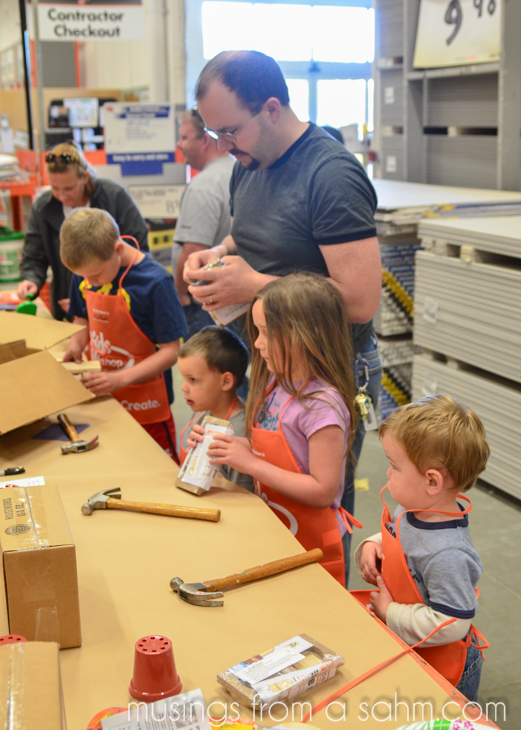 It was fun to watch each of my kids as they worked on their own project. Joshua and Luke needed a lot of help from Daddy (because of course yours truly was taking pictures!) but they could still do things at their own level.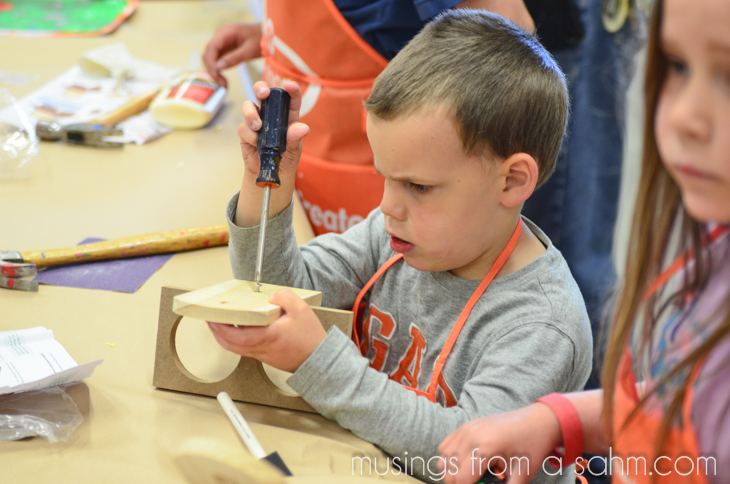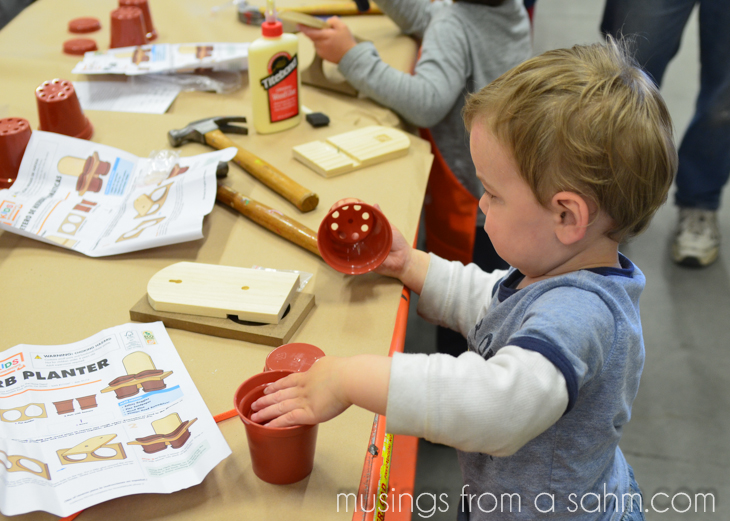 Emily was able to figure out some of the project on her own, thanks to the picture directions.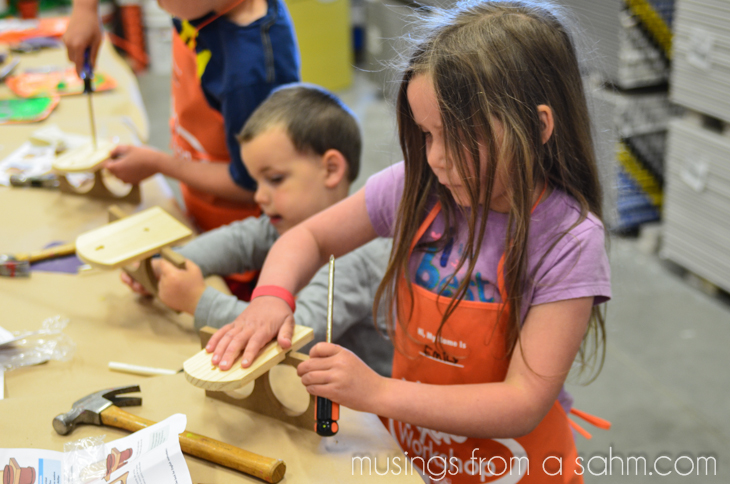 Nathan, at age 10, was quite independent and made his planter completely by himself.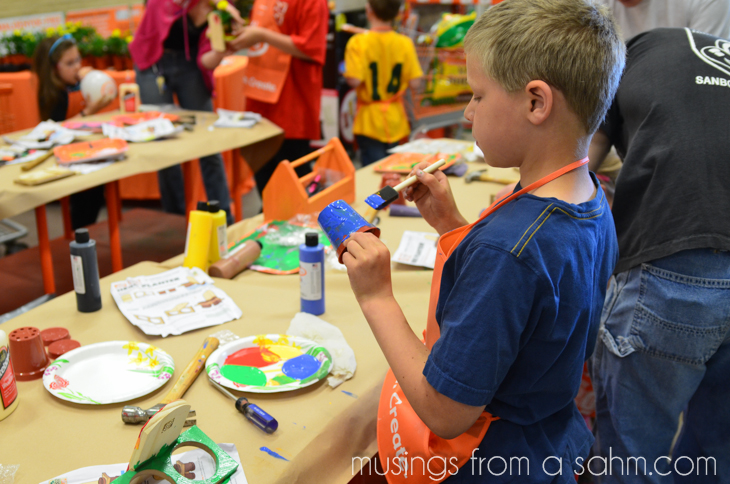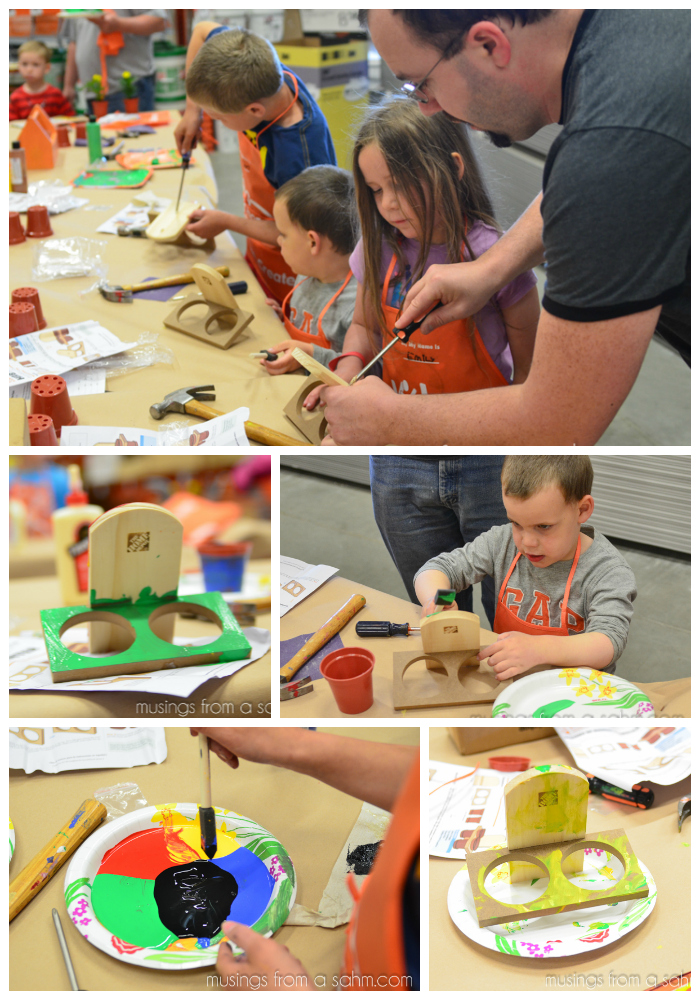 When the herb planters were built, it was time to paint. This was the kids' favorite part. Who doesn't love to paint?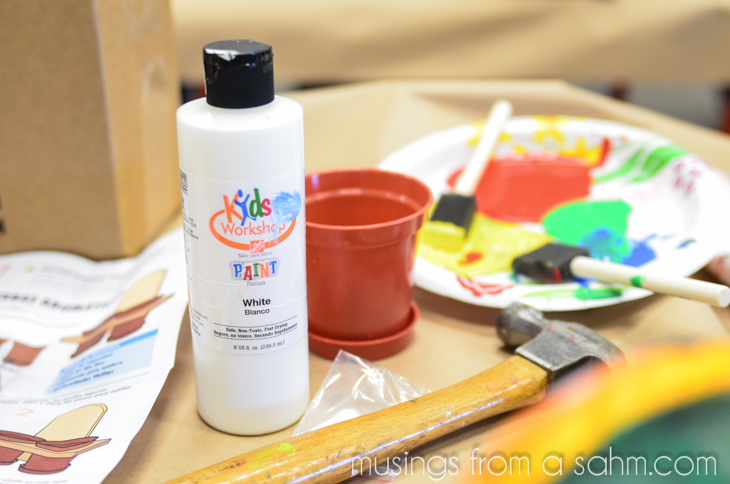 I loved how The Home Depot set it up. Each child had a paper plate to squirt paint onto and then using small sponges on a stick, they could paint.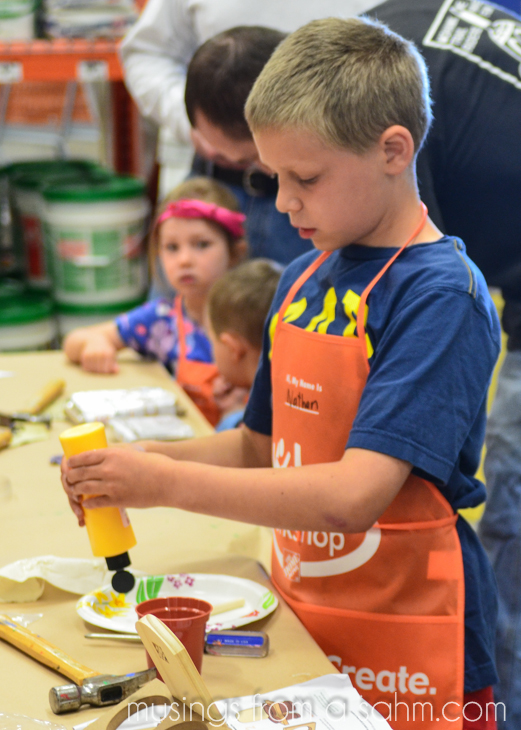 Luke painted his planter too. He was so cute and serious as he worked.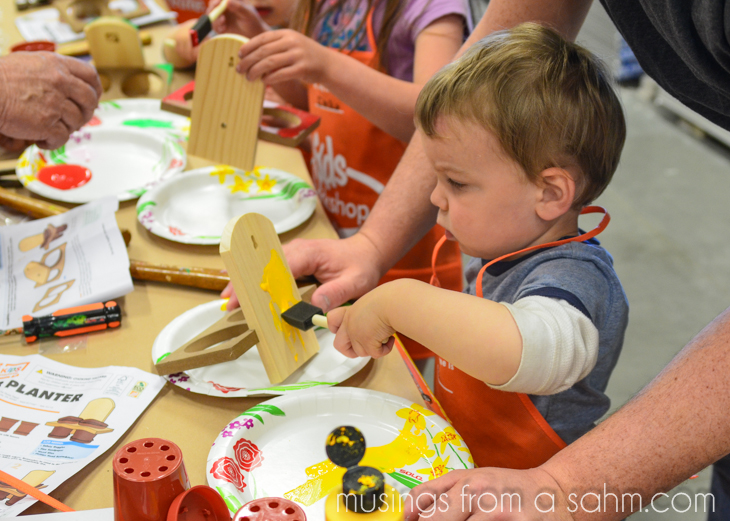 The Home Depot associate in charge of the workshop did a great job. He was friendly and quick to step in as needed, but he also let parents and kids take it at their own pace. Even though my family took up almost a whole section, we didn't feel rushed at all. It was a great experience.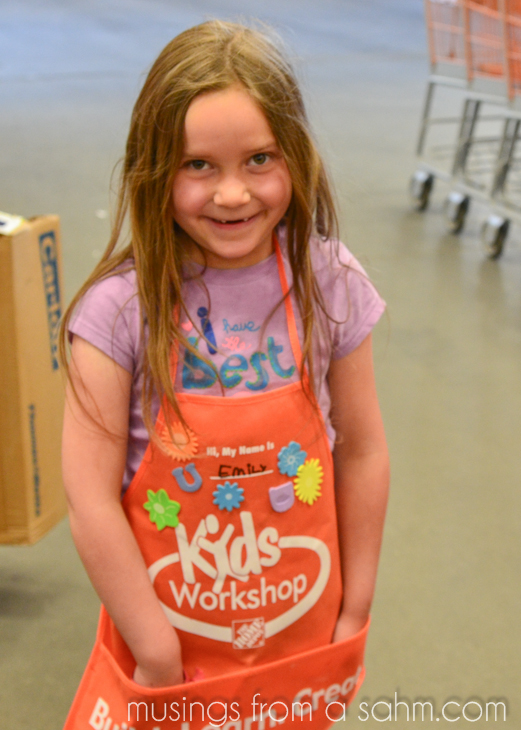 This was just enough of a fun, DIY project for the kids that they had a challenge, but not so much that it took hours. We probably spent an hour total with all four kids.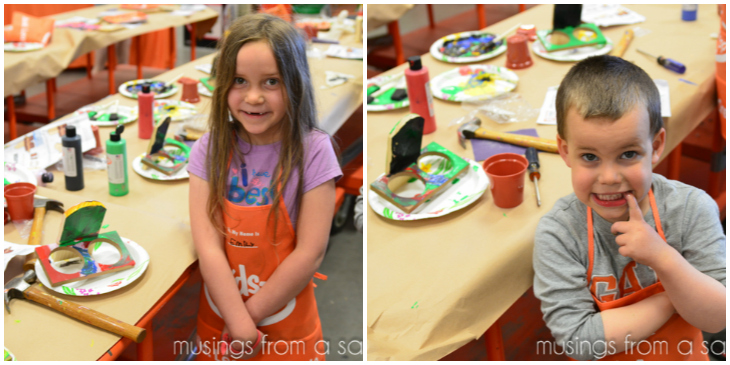 Our whole family had fun at The Home Depot Kids Workshop. Not only did the kids come home with new planters, but they also got to learn more about tools and how to build a project by themselves.
This was not our first visit for a kids workshop at The Home Depot and it certainly won't be our last. It's a fantastic idea for a fun family morning and since it's free, there's nothing to lose!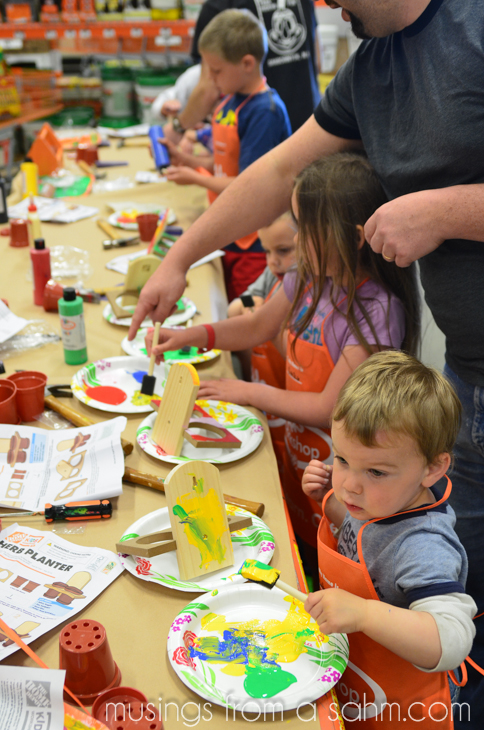 Check on the upcoming projects at The Home Depot Workshops page and plan your visit to The Home Depot Kids Workshop!
Also find info on family projects at The Home Depot Apron Blog.
It's home improvement time, and The Home Depot has everything you need to #DigIn for Spring. No matter what projects you want to tackle, they have great values on all you need. They're ready to help you with renovation ideas and expert advice, too.
Get over $300 in email exclusive savings each year, sneak peeks on new products, monthly lawn & garden ideas for your region and access to The Home Depot's gardening experts. Click here to join the world's largest garden community today! Or go to homedepot.com/gardenclub to see some of the many benefits of membership.
This is a sponsored post written by me on behalf of The Home Depot.