I made some Easter treats with the kids this afternoon. We made a recipe called "Cupcake Easter Baskets." It was really fun and easy.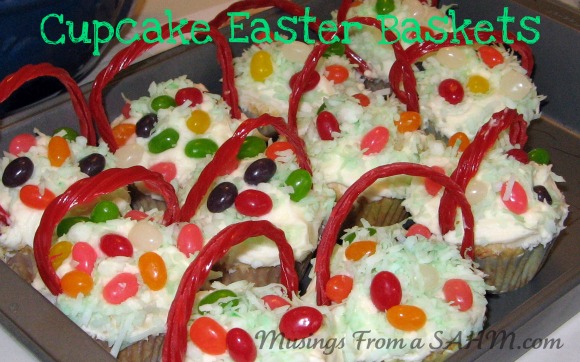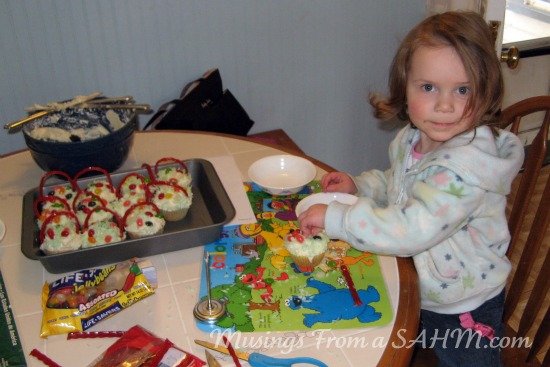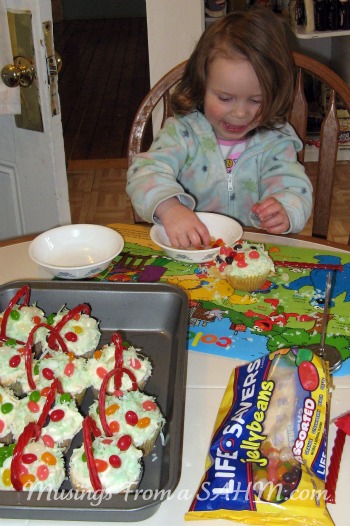 Here's the recipe if anyone is interested:
Cupcake Easter Baskets
These are made from scratch, but you can substitute a box cake mix for the cupcakes and store bought frosting to make it quicker/easier.
1/2 cup butter, softened
1 cup sugar
1 egg
1 teaspoon grated orange peel
2 cups cake flour (or regular flour sifted)
3/4 teaspoon baking soda
1/2 teaspoon baking powder
1/4 teaspoon salt
2/3 cup buttermilk
FROSTING:*
3/4 cup butter, softened
2 packages (3 ounces each) cream cheese, softened
1 teaspoon vanilla extract
3 cups Powdered Sugar
1 teaspoon water
4 drops green food coloring
1-1/2 cups flaked coconut
Red shoestring licorice**
Jelly beans
In a large bowl, cream butter and sugar. Beat in the egg and orange peel. Combine the flour, baking soda, baking powder and salt; add to creamed mixture alternately with buttermilk.
Fill paper-lined muffin cups two-thirds full. Bake at 350° for 20-25 minutes or until a toothpick comes out clean. Cool for 10 minutes before removing from pans to wire racks to cool completely.
In a small bowl, beat butter, cream cheese and vanilla until smooth. Gradually beat in confectioners' sugar; spread over cupcakes. Combine water and food coloring in a large resealable plastic bag; add coconut. Seal bag and shake to tint. Sprinkle over cupcakes.
Using a metal or wooden skewer, poke a hole in the top on opposite sides of each cupcake. Cut licorice into 6-in. strips for handle; insert each end into a hole. Decorate with jelly beans.
Yield:1-1/2 dozen.
*I had lots of leftover frosting, so you could probably half the frosting ingredients and still have enough.
**you can use regular licorice like Twisters, just cut lengthwise in half with kitchen shears.