Matchbox Cliff Hanger sets bring the excitement of a cool Matchbox car set off the floor and onto the table. That means less stuff for us to trip on! The Cliff Hangers safely clamp on the edge of a table or other piece of furniture and then the fun begins. There's three sets in this exciting series: the Fire Station, Police Station, and Airport.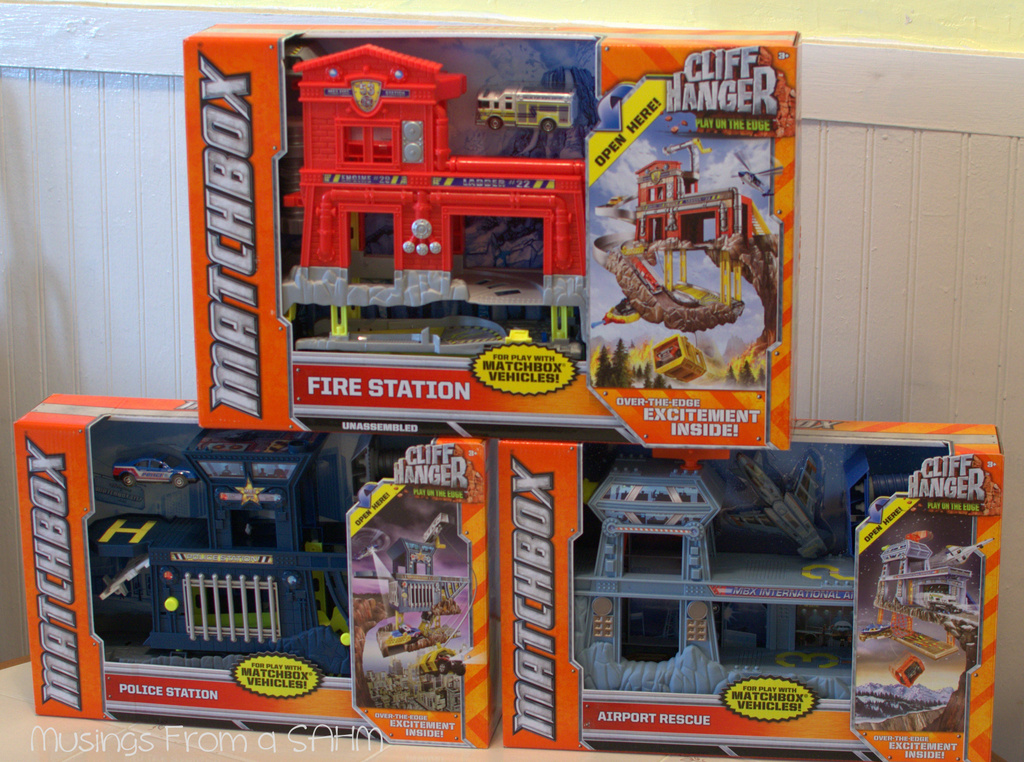 The Matchbox Cliff Hanger Fire Station starts with two levels, but there's a third "secret level" that can be opened for even more fun! It also has a working elevator that lowers all the way to the ground for "ground rescues" and two ramps.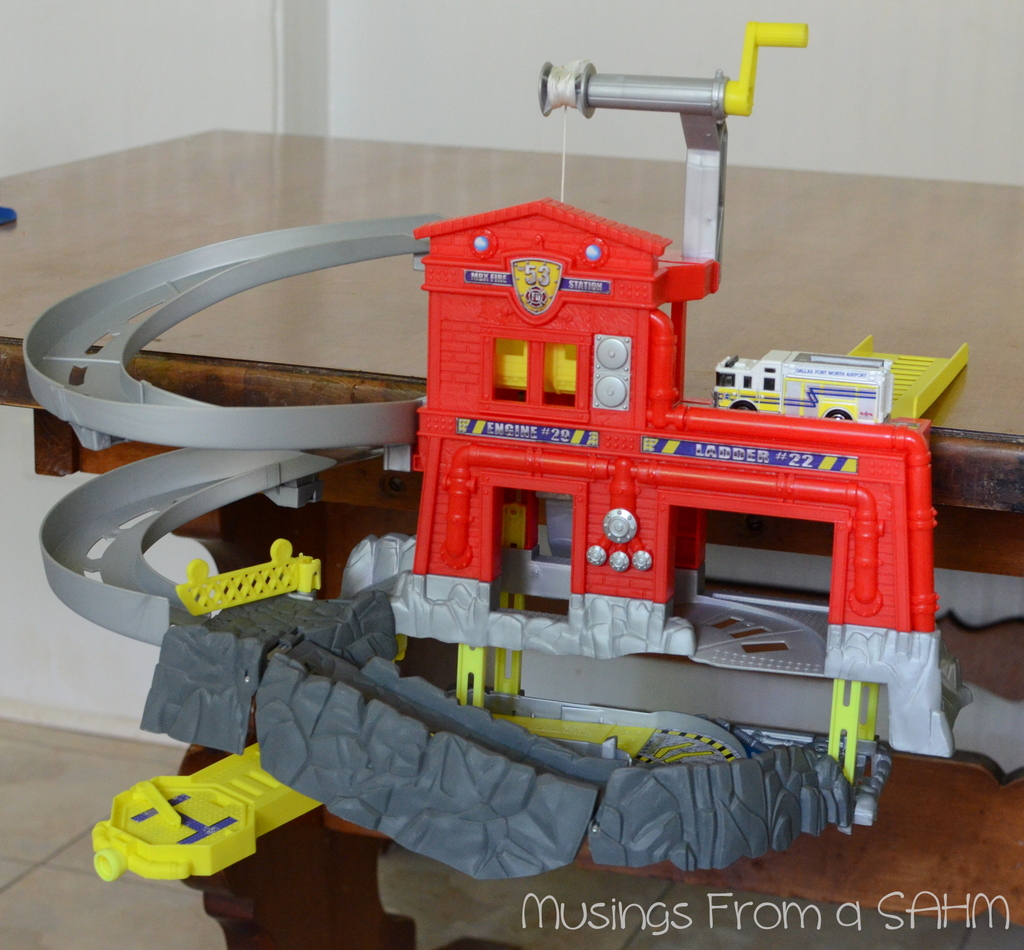 The Matchbox Cliff Hanger Police Station has two levels, a working crane that can pick up and "reel" in the bad guys or help with a rescue, and a helicopter pad.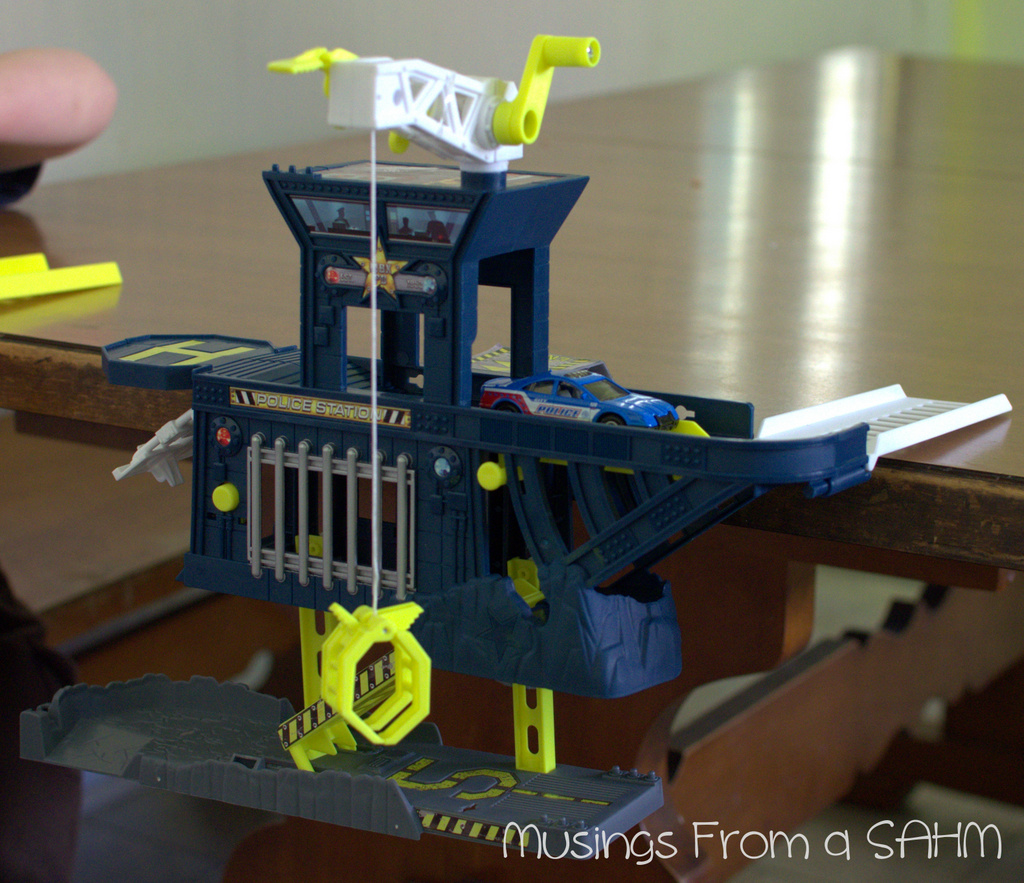 The Matchbox Cliff Hanger Airport comes with an airplane, a fold-out helicopter pad, two levels, and another working elevator.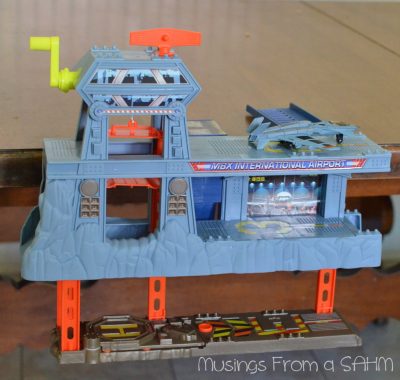 When I first saw these Cliff Hanger sets, to be honest, I wondered if it was another of those toys that look fun, but in reality, doesn't actually work that well. But I was wrong. These sets are fantastic. I can't find anything we don't like about them.
I'll start from the beginning.
Putting the sets together was easier than I thought. It was a little tricky to attach one of the ramps onto the Fire Station, but other than that, it was pretty simple. And once it's all put together, it stays together. We've all encounter those toys that frustrate our kids when they fall apart (and in turn, it drives us crazy too) but in the week my kids have been playing with these? Nothing's fallen apart.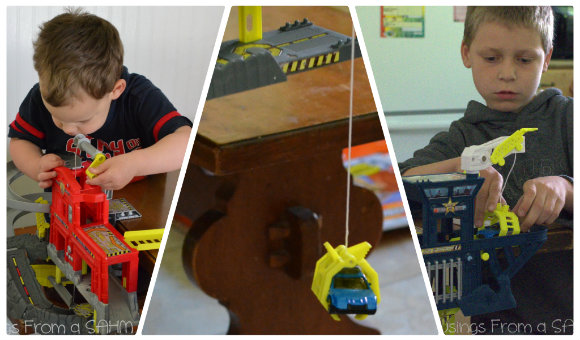 Each set mounts to the table with a clamp and it's actually really sturdy. The clamp is padded so it won't damage furniture.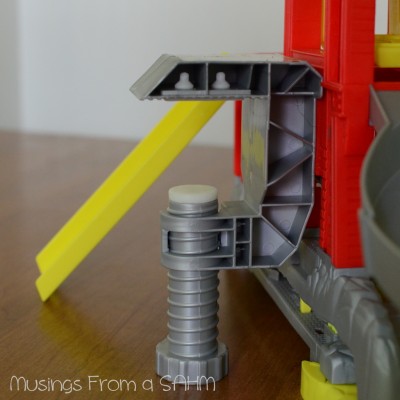 It's not like my table's in pristine condition anyways, but for those of you who do have nice furniture, it's worth noting this fact. It's also worth noting that you don't have to clamp the sets onto furniture; they can be played with flat on a table, but most of the fun is in the cliff hanger part of it, so why wouldn't you?
Here's the Fire Station on the table without being clamped on the edge: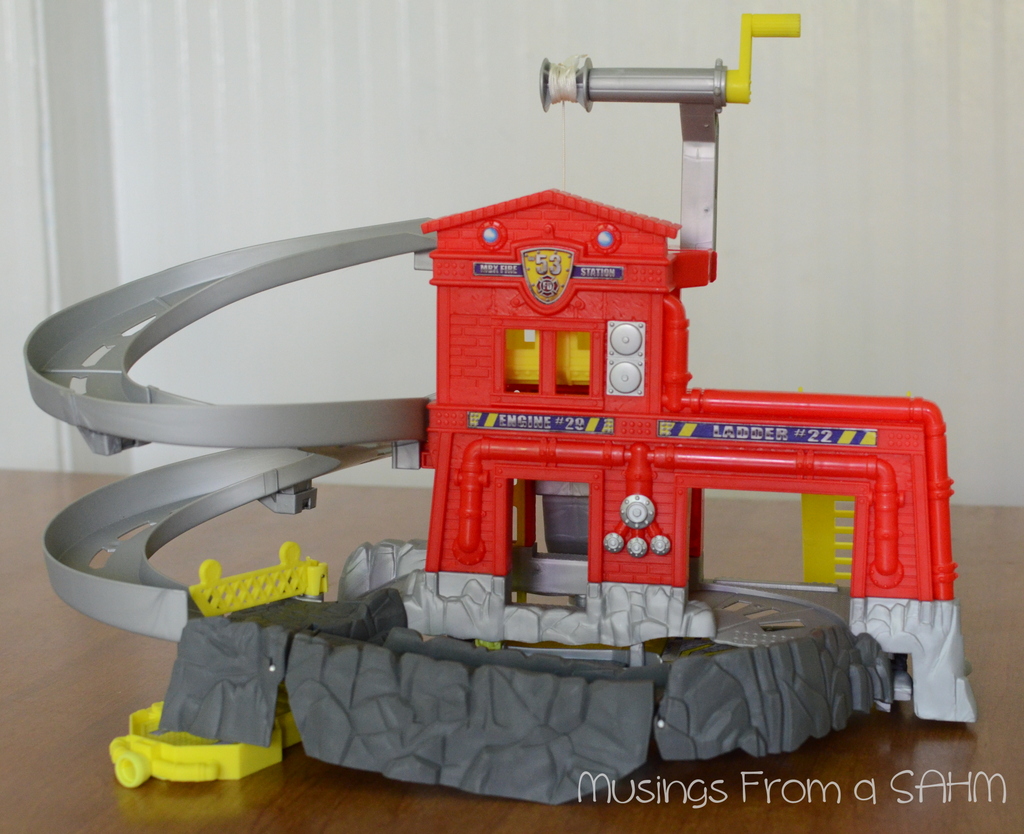 Once it's clamped down, let the fun begin! Cars and trucks can race down the ramps to make their rescues or arrests, movable elevators or cranes can be lowered all the way to the ground, and ramps and pieces can be changed to mix it up too. There's a lot to do with these exciting Matchbox playsets.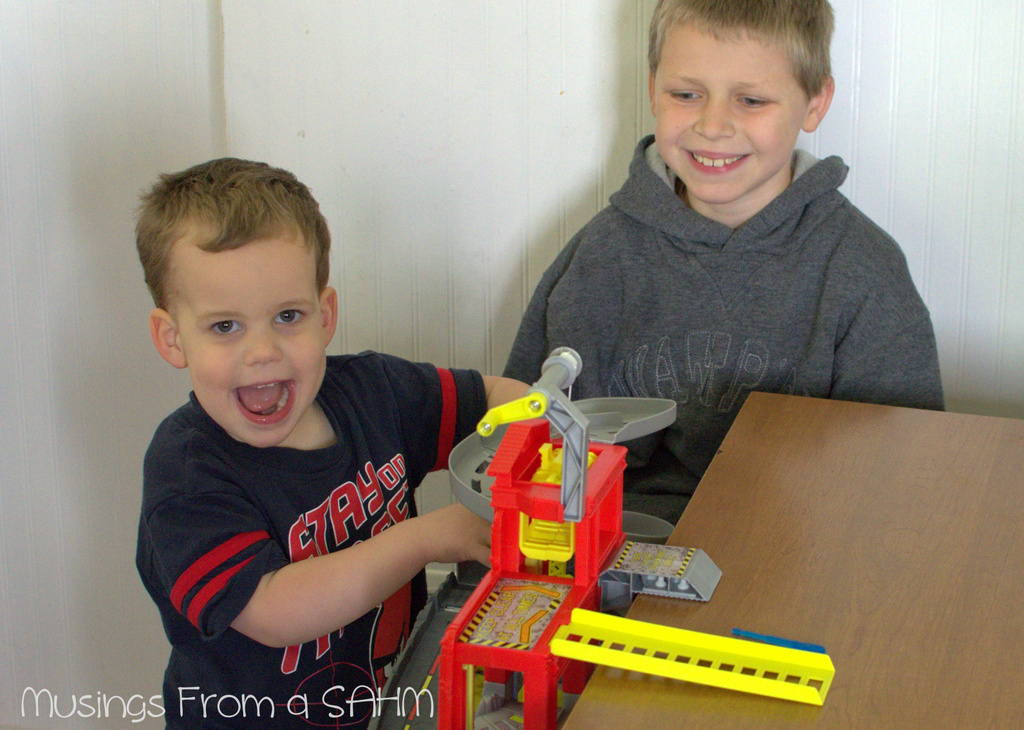 My boys adore these sets. They're recommended for ages 3 and up and Joshua, who will be 3 in just a couple weeks, really loves these. He's my car-and-truck-loving boy and these sets absolutely thrilled him. From racing his vehicles down the ramps to turning the crank to raise and lower the elevator, they've kept him occupied for hours.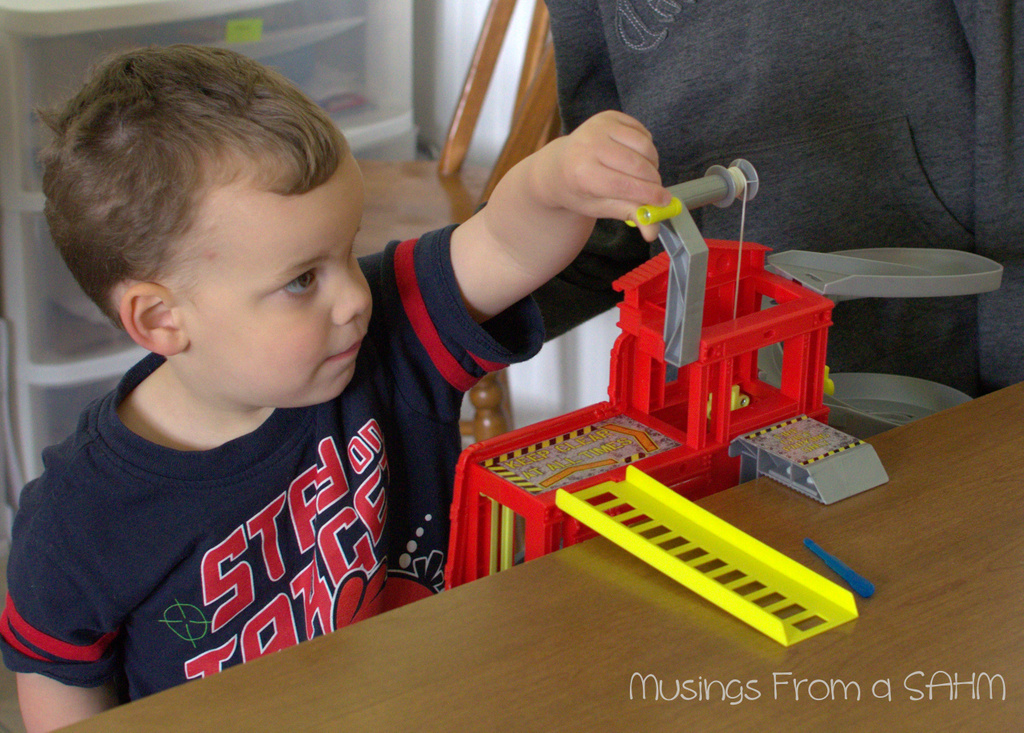 Nathan, who is 9, enjoys playing with them too.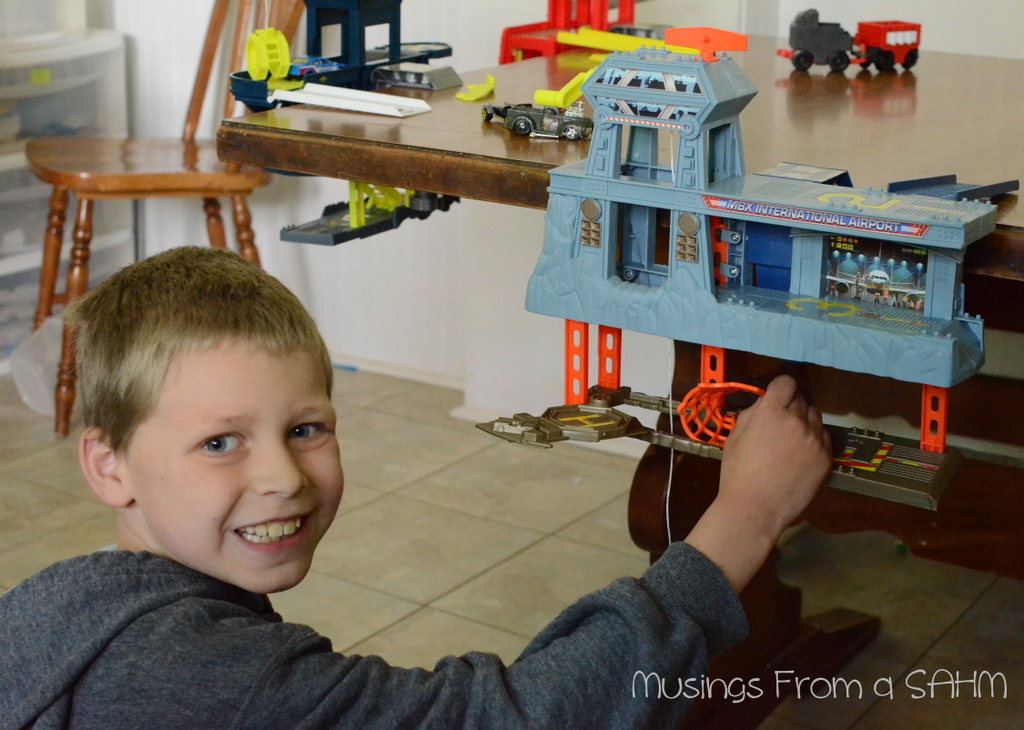 The new Matchbox Cliff Hanger playsets are a really hit in my household and I highly recommend them for all the young car/truck lovers in your family! (Oh and shhh….my husband may or may not have tried these out too! But you didn't hear that from me…)
Buy It:
You can find these nationwide, online, and at Amazon

Matchbox Cliff Hanger Fire Station – ARV: $22.99
Matchbox Cliff Hanger Police Station & Airport – ARV $16.99 each
Disclaimer: Thank you to the folks at Mattel for the free products I was sent to review. I received no monetary compensation and my opinions are my own and were not influenced by the sponsor.